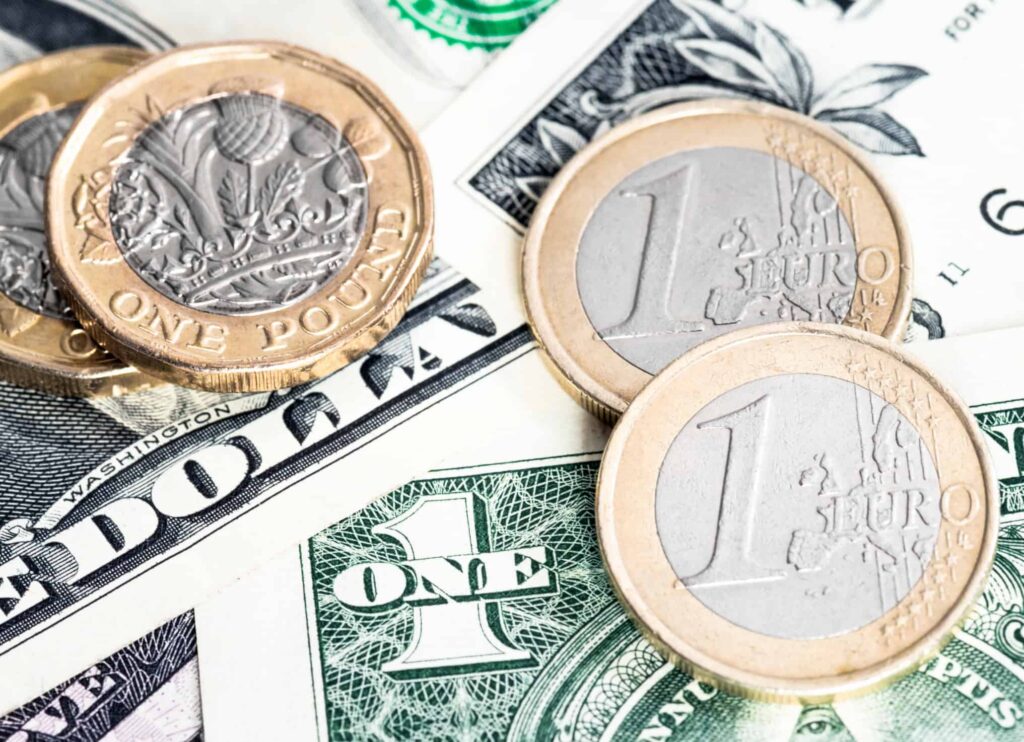 Cable's recovery from record lows continues to build momentum.
Does the touch of 1.2000 mark the start of something more long-term?
Using the Weekly Forex Trading Tips report, we consider the prospects for GBPUSD.
Price action suggests that the most significant trend of 2022 could indeed be unwinding. US dollar strength has been the dominant theme for ten months. But the break of the downward trend line last week has been followed by continued strength in GBP, EUR, and JPY.
Tracking the move to ascertain if the reversal is confirmed could open the door to catching the next trend, a return to risk-on currencies. With the help of the Weekly Forex Trading Tips report of 14th November, we'll track the progress so far of GBPUSD to establish if this reversal is the real deal.
GBPUSD – Retreat from 1.20
Cable started the week trading in the region of 1.1790. As GBPUSD had risen from as low as 1.13339 on Wednesday 9th November, there was considerable upward momentum in the forex pair. A continued upward movement to test the psychologically important 1.20 price level appeared possible, and the fact that that round number level was reached on Tuesday 15th November, points to a groundswell of buying support.
GBPUSD – Daily Price Chart 2022 – Trendline Break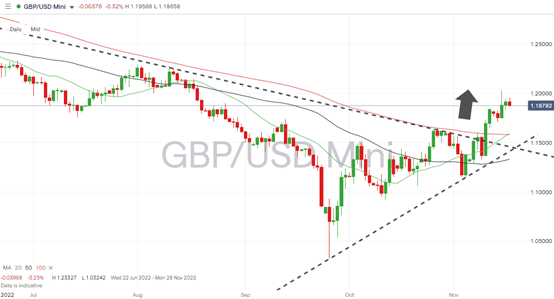 Source: IG
Also read: GBPUSD Forecast and Live Chart
Since Tuesday's dash to touch that 1.2000 price level, GBPUSD has retreated to trade back below 1.9000 and now sits on a critical indicator which appears to be the one traders need to monitor cable's upward path.
The 50 SMA on the Hourly Price Chart is currently the go-to metric for those looking to put on long positions, with the 100 Hourly SMA looking like a nice level at which to set stop losses.
GBPUSD – Hourly Price Chart 17th November 2022 – 50 SMA Support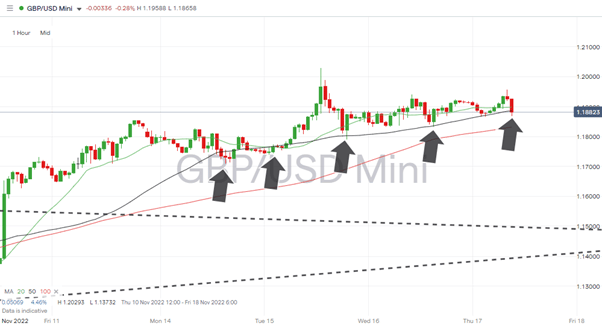 Source: IG
With GBPUSD's long positions having already reached the second price target (1.20) of this week's Trading Tips report, the question is whether price can continue to rise and what resistance might come into play.
In terms of long-term RSI readings, there is still room for moves to the upside. The Monthly RSI sits at a low of 38.4, the Weekly RSI is mid-range at 50.66, and despite the recent price surge, the Daily RSI is at a relatively low 62.37.
GBPUSD – Daily Price Chart 2022 – RSI at 62.37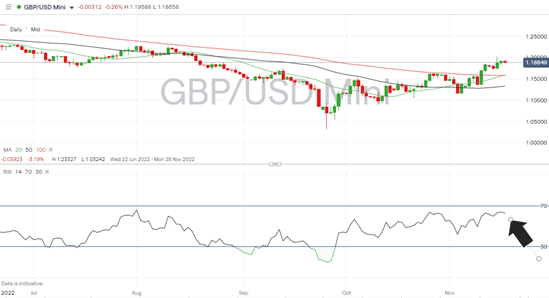 Source: IG
Markets, of course, don't move in a straight line, and one event likely to trigger price volatility is the Autumn statement due to be presented by the new Chancellor of the UK, Jeremy Hunt. His report will be released on Thursday and could well provide clearer indications on which way GBPUSD will head next. For the bulls, it will be a time to buy any dip.
People Also Read
If you have been the victim of a scam, suspect fraudulent behaviour, or want to know more about this topic, please contact us at [email protected]