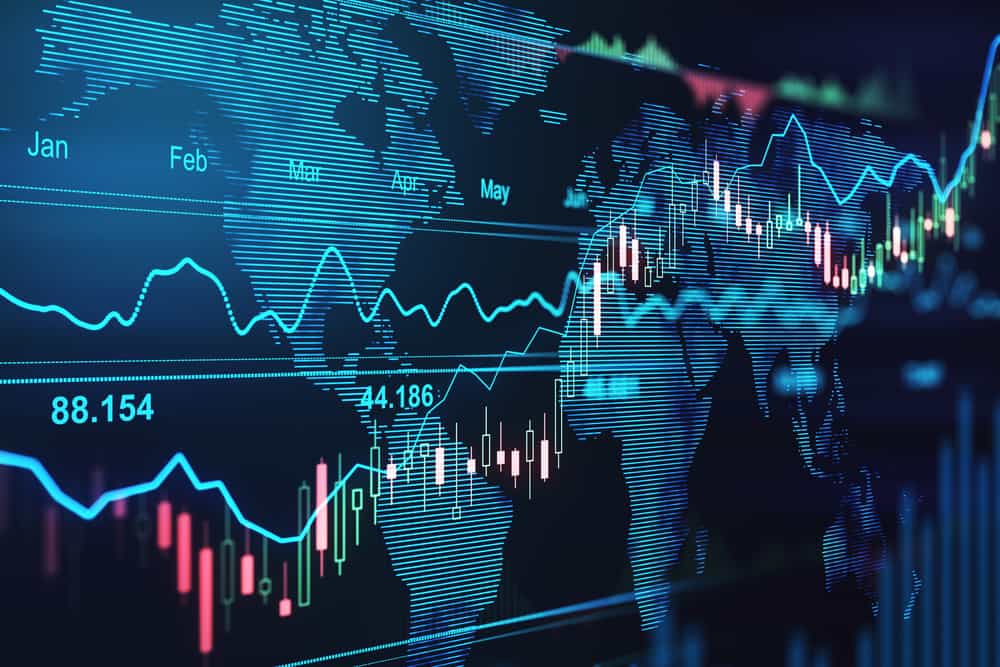 Market volatility picked up on Friday and has led to an overall weakness in assets and a shift in indicators to 'Sell'; however, this could just be another bear trap on the 14-month surge in risk assets. The minor correction continued over the weekend, at least in cryptos, with Bitcoin losing 2.5% in value from Friday's closing price. Risk-on currencies, EURUSD and GBPUSD, posted a red week, as did major equity indices and precious metals. Only crude oil posted a positive return.
| | | | | | |
| --- | --- | --- | --- | --- | --- |
| Instrument | 14th Jun | 7th Jun | Hourly | Daily | % Change |
| GBP/USD |      1.4108 |      1.3806 | Strong Sell | Strong Sell | -2.14% |
| EUR/USD |      1.2112 |      1.1868 | Sell | Strong Sell | -2.01% |
| FTSE 100 |        7,171 |        6,953 | Strong Sell | Strong Sell | -3.04% |
| S&P 500 |        4,251 |        4,147 | Strong Sell | Strong Sell | -2.45% |
| Gold |        1,857 |        1,773 | Neutral | Strong Sell | -4.52% |
| Silver |        2,772 |        2,565 | Strong Sell | Strong Sell | -7.47% |
| Crude Oil WTI |        71.14 |        71.44 | Neutral | Strong Buy | 0.42% |
| Bitcoin |      39,575 |      34,346 | Strong Sell | Strong Sell | -13.21% |
Source: Forex Traders
Asian and European markets experienced an early sell off on Monday, followed by signs of a recovery. Therefore, the week could be one for scalpers rather than momentum traders with prices whipsawing within wide ranges.
The UK's FTSE 100 index bounced 1.30% from the low it recorded 10 minutes into the trading session. News that private equity firm Clayton Dubilier & Rice (CD&R) is eyeing up a takeover bid for the grocer Morrisons could offer more support to FTSE backers. The index has yet to return to pre-Covid levels (7693), and if private equity buyers are circling a market, then it's a sign that it's undervalued.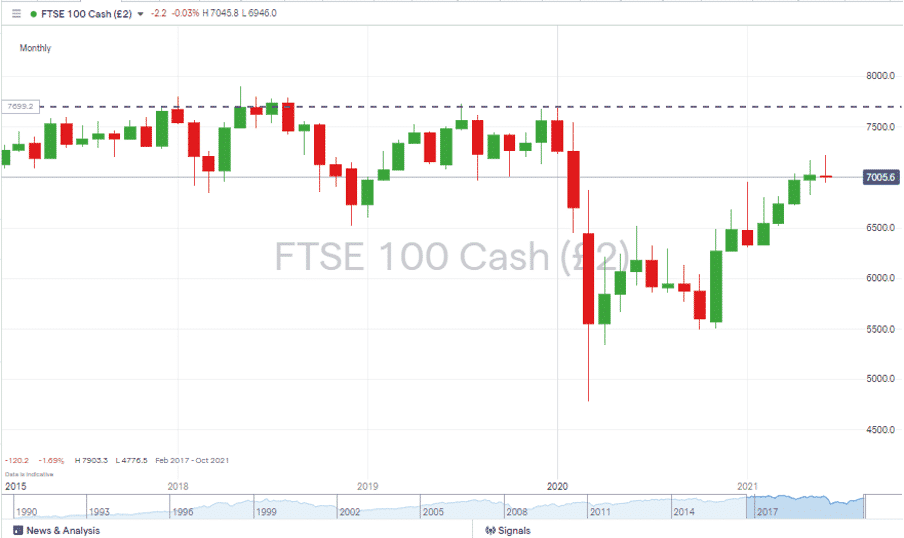 Source: IG
The June low of 6946.5 now forms a support level which could be key this week. There's plenty of room to the upside, with the FTSE 100 trading as high as 7218 only last week.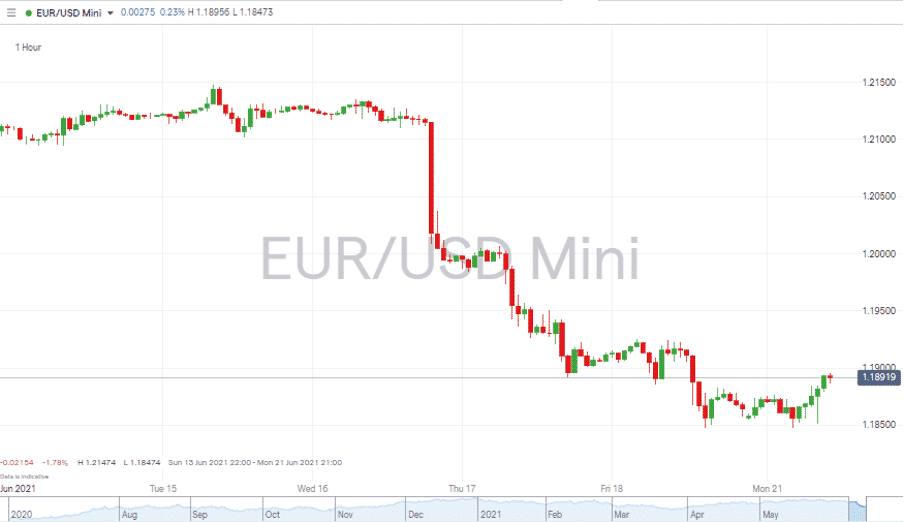 Source: IG
Forex Markets and Interest Rates
GBPUSD and EURUSD lost more than 2% in value over the last trading week, but that shows signs of bottoming out. The signal from the US Fed that it's bringing rate increases forward will have been noted by other central banks and traders. The ECB doesn't meet to discuss rates until the 22nd of July, but the Bank of England will share their latest update on Thursday, the 24th of June. With UK officials likely to echo the murmurings from the US about tighter fiscal policy, there is a chance that GBPUSD will find strength.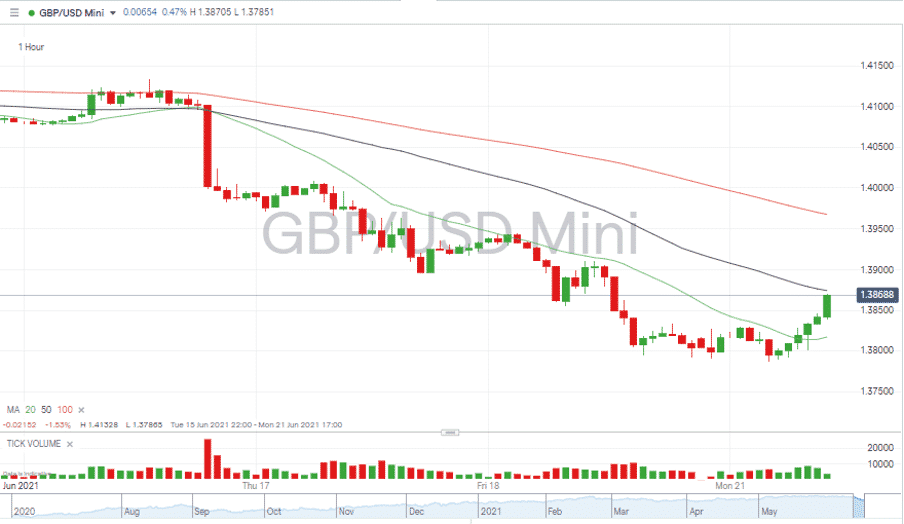 Source: IG
How to Use the VIX
The uncertainty is best reflected in the VIX Volatility Index, which was flatlining until 11.00 CET on Friday and then surged into the US market close. The increase in value of 10.99% was recorded in less than 12 hours.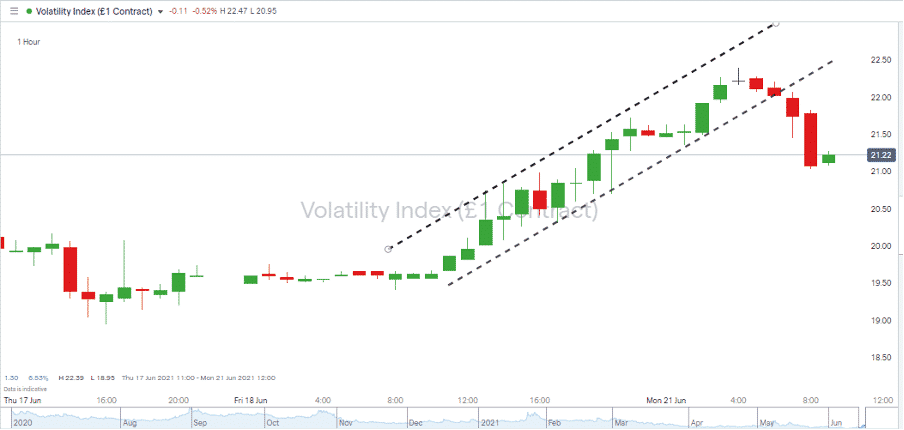 Source: IG
The tapering off in VIX into the early hours of the European trading session has been followed by a bounce in equity futures. The VIX is often seen as a leading indicator and will be the centre of attention on many trading screens this week. Currently at 21.07, the index's price is positioned right in the middle of the descending wedge pattern, which started forming in February. It really is a coin toss as to how the markets respond to news from the US Federal Reserve about interest rates.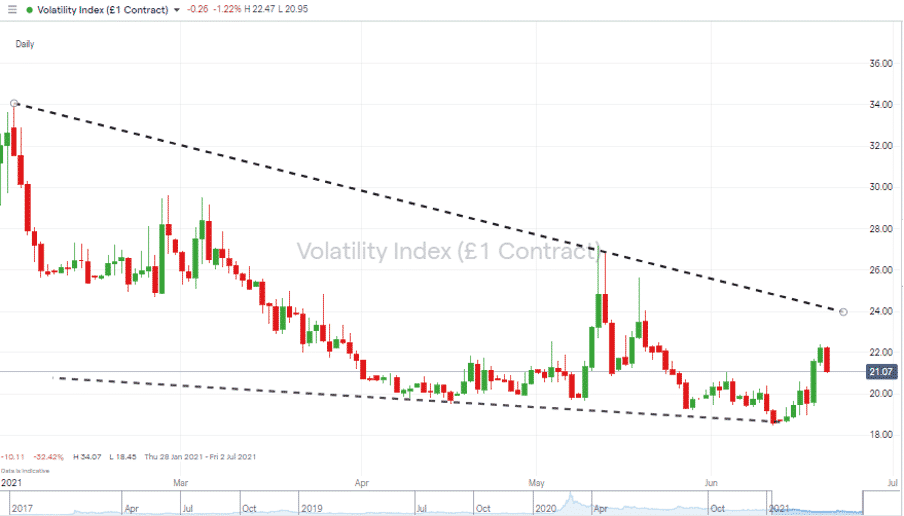 Source: IG
If you want to know more about this topic, please contact us at [email protected]