| Pros | Cons |
| --- | --- |
| Low commissions and fees | Limited portfolio options |
| Cryptocurrency support | |
Trader's Viewpoint
XTB, or X-Trade Brokers, was established in 2002 and has gone on to become a leading broker for European users. After nearly twenty years in operation, XTB has grown in the industry and developed a reputation for ease of use, reliability, and speed. This broker now has eleven offices across Europe in operation, including offices in the United Kingdom, Spain, France, Germany, and Poland.
XTB provides roughly 1,500 markets for trading, which pales slightly in comparison to some of its competitors. However, where XTB takes the leads is in its forward-thinking approach to trading cryptocurrencies. Users can now trade in 9 different cryptocurrencies or 16 different crosses.
As for the trading conditions offered on XTB, they are relatively standard and do not make the broker stand out among its peers. Standard accounts with XTB can see spreads of 0.9 pips, which is lowered to 0.3 for the Pro accounts offered by the broker. Depending on the type of instrument being traded, leverages will vary between 1:2 for cryptocurrencies and 1:30 on major currency pairs.
Trading through the broker can be done through either the familiar MetaTrader 4 platform, or XTB's own platform xStation which was developed in-house. Both of these platforms are reliable, easy to use options which also have options for viewing detailed analytics and charting. XTB has invested in its tech, and it shows – XTB boasts some of the fastest trading execution times on the market and has won a number of awards for its performance.
XTB is a great broker for traders who are just beginning to trade, and who want to learn more and hone their skills. The broker has a number of training resources on hand via the XTB trading academy. This academy has training tools and resources, including video tutorials, detailed articles, and courses, which have been designed to help novice traders learn more about trading and increase their skill levels. Traders who are more advanced can also benefit from XTB's market news and analysis which traders can use when building their trades for the day.
This is a very user-friendly broker and, along with the XTB trading academy, XTB offers customer support in a number of European languages. Local telephone support is even available in seventeen different countries, which makes XTB one of the most accessible and user-friendly brokers out there for new traders and more experienced traders alike.
Although its spread and leverages are not the best in the industry, XTB is a great platform for new and seasoned traders alike because of its innovative, user-friendly platform. Traders who want to learn more about trading and hone their skills will really benefit from XTB's user-focused platform, customer service offerings, and extensive XTB trading academy resources.
More experienced traders who are looking for something new will also enjoy XTB's reliably fast execution speeds and range of cryptocurrency trading markets available. So, although it is not the number one trading platform out there, XTB definitely has something for everyone.
Founded in 2002 as X-Trade Brokers, XTB.com is an online CFD and forex broker based in Europe. XTB has offices in 13 European countries including the UK, Germany, France, the Czech Republic, Romania and Turkey.
The company is rated highly and has won numerous awards, including best broker in its class for Eastern Europe. The company is regulated by the world's leading regulating agencies including the UK FCA, CMB, KNF and BaFin.
The official website for XTB is located at www.xtb.com.
XTB.com does not accept clients residing in the United States at the present time.
Explore The XTB Platform
Open Your Free, No Obligation Demo Account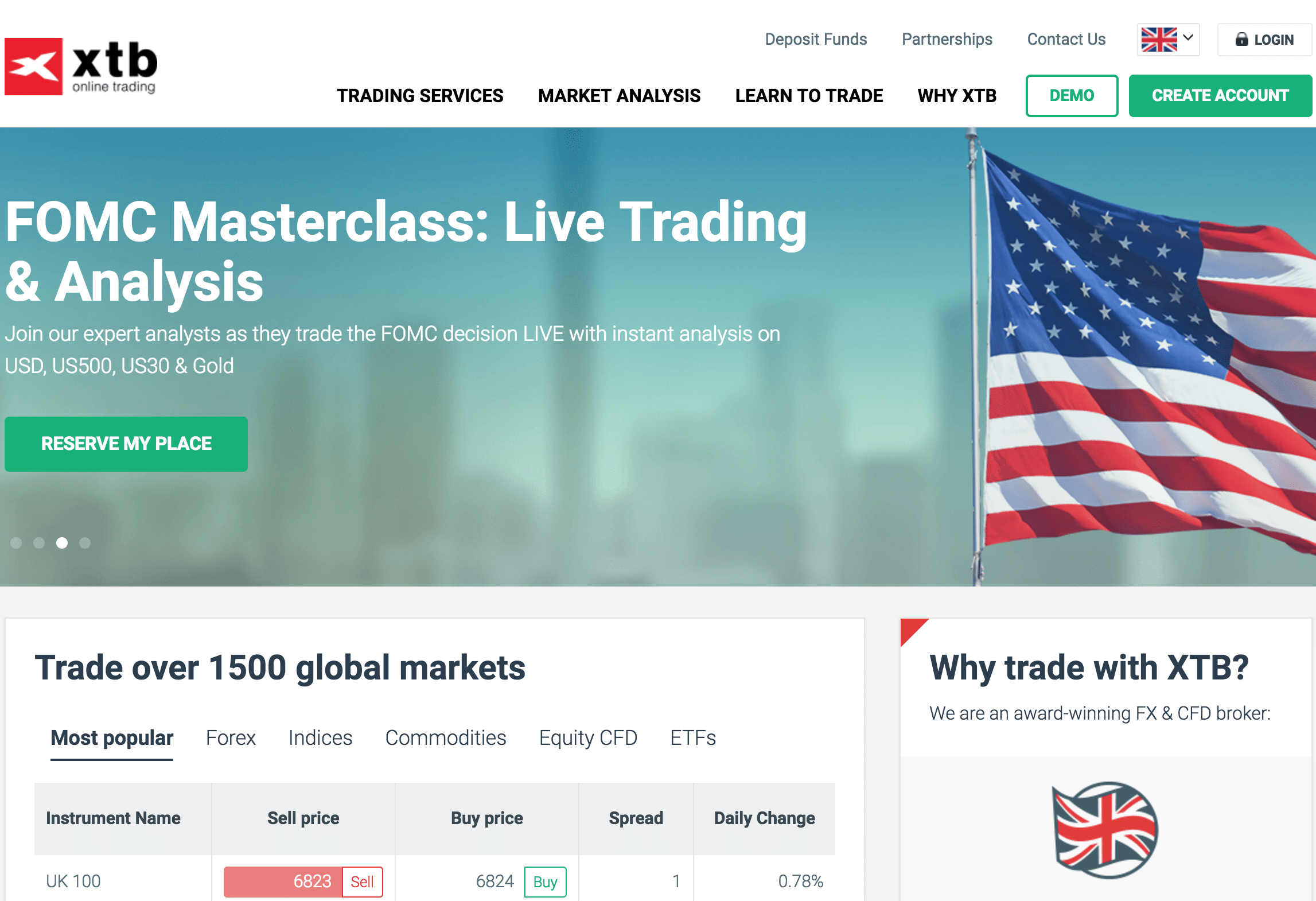 About XTB
The XTB trading platform offers an execution trading service in over 50 currency pairs for forex traders. Their spreads are either fixed or floating depending on your account type choice, and pro STP accounts have spreads on EUR/USD as little as 0.3 of a pip wide.
Trading in currency pairs via XTB can take place around the clock for five business days each week. Positions held overnight are automatically rolled over at published swap point rates, which vary by currency pair and market conditions. These points might be positive or negative depending on the interest rate differential between the two currencies involved.
In terms of the leverage available at XTB, you can access a leverage ratio of 30 to 1 on your forex transactions if you have an account size of less than 8,000 GBP. Execution of trades is especially fast via this broker, with an average forex trade execution time of only 85 milliseconds without any dealing desk intervention.
Order slippage is rare with this broker, and they guarantee the execution of clients' stop loss orders at the entered level for basic accounts during their trading hours.
The broker offers three different types of trading account for traders will different investment amounts and skill level. The Basic account is better suited for novice traders and provides fixed spreads, no commissions, instant execution, a 30 to 1 leverage ratio on forex trades, micro lot trades, and guaranteed stop loss level execution.
Furthermore, the broker's Standard account is aimed toward more advanced traders, with floating spread quotes made at the market depending on market liquidity. Trades are also executed immediately and a 1:30 leverage ratio is available. The most advanced traders can open a Pro account, where actual market spreads are passed through directly to the trader and an execution commission is charged on each trade instead.
For spread sensitive traders, XTB publishes target dealing spreads for all of the forex currency pairs available for trading via its supported platforms. The tightness of the spread you receive will depend on what sort of account you are trading in and market conditions. For example, the target spread for the EUR/USD currency pair is two pips for a Basic (fix) account, 0.9 of a pip for Standard (float) accounts, and 0.3 of a pip for Pro (STP) accounts.
Customers of XTB can feel protected by the UK's Financial Conduct Authority or FCA's oversight of the company. The FCA's rules and regulations obligate the company to hold all of its clients' funds in segregated accounts which are "ring fenced", which means that client accounts are held in trust with XTB clients named as beneficiaries. Client funds are therefore not mixed with the company's funds.
To access personal accounts, a password and username unique to each client is stored on secure servers. Details of payments are encrypted through Ingrain devices, giving tamper-proof protection of cryptographic keys and ensuring the security and privacy of the encrypted data.
Customer funds are protected through the FCA's Financial Services Compensation Scheme or FSCS for up to 50,000 GBP in the unlikely event of the broker's insolvency.
As of August 1st 2018 new ESMA regulations will affect leverage:
1:30 for major currency pairs
1:20 for non-major currency pairs, gold and major indices
1:10 for commodities other than gold and non-major equity indices
1:5 for individual equities and other reference values
1:2 for cryptocurrencies
Supported Platforms
One of the factors behind XTB's popularity among forex traders is its support of the widely popular MetaTrader 4 or MT4 trading platform that can also be used in a web based version, as well as the traditional downloaded program.
In addition, XTB offers its clients access to its own proprietary trading platform called xStation that they claim has a quick 85 millisecond average trade execution time. Traders can try out this highly customizable trading platform by opening a demo account with the broker.
For mobile traders, XTB offers access to their trading accounts via its xMobile, MT4 and XTB-platforms that allow them to trade on popular mobile devices.
XTB Deposits and Withdrawals
To open an account with XTB.com, clients are asked for an initial deposit of $250 USD, €250 EUR or £250 GBP. After the initial deposit, there are no charges on subsequent deposits. All XTB accounts have a maximum leverage ratio of 1:30. Take note that the higher the leverage on an account, the higher the potential risk.
XTB accepts deposits in the form of bank transfers, credit cards and e-wallets. Bank transfers in U.S. Dollars, Pound Sterling, Euros and Hungarian Florins can be made free of charge. For credit card deposits using MasterCard, Visa or Maestro, Euro and Sterling deposits are free of charge, while deposits made in U.S. Dollars are charged at a two percent rate of the deposited amount.
E-wallet deposits are accepted in Euros, U.S. Dollars, Sterling and Hungarian Florins, which are subject to the following fees: for Neteller, four percent of the deposited amount; for Paysafe (formerly known as Skrill), two percent of the deposited amount and for PayPay, two percent of the deposited amount.
Withdrawal of British Pounds can be processed the same day if requested before 1PM GMT. After 1PM, requests are processed on the next working day. For withdrawals in Euros, the request is processed on the next working day or if made after 1PM GMT, within two working days.
For domestic withdrawals in Hungarian Florin, requests are processed the same day before 1PM GMT and the next working day if made after 1PM. All other requests are processed within three working days.
Want To Try XTB Before Depositing?
Get A 14-Day Free Trial With £100k Virtual Funds
XTB Customer Support
Adding to the broker's educational services and security features, XTB also offers traders a market news section on its breaking news portal, Tradebeat. The portal gives traders a wide variety of news articles with market relevant stories, which could present possible trading opportunities.
In addition, XTB offers live market commentary and an economic calendar relevant to the more than 50 spot currency pairs available for trading.
XTB's CFD trading feature also covers more than 20 indices from all over the world, with high liquidity and competitive dealing spreads.
XTB Review Conclusion
XTB is an increasingly popular and well regulated broker overseen by the FCA and various other regulatory agencies. XTB offers a fast execution service in a wide variety of interesting currency pairs, in addition to access to other markets that include commodities, ETFs, shares and stock indices.
Order slippage with this broker is virtually eliminated by its stop loss guarantee that applies during its trading hours, and dealing spreads are competitive. XTB also offers support for the popular MetaTrader platform, in addition to offering its own proprietary xStation trading platform and various apps for mobile device trading.
Basically, XTB is a well-qualified and award winning brokerage company that offers a sound trade execution service. You can give them a try by opening a demo account to get more comfortable with their trading platform and try out their services.
Open Your XTB Account Today
As Approved By Forextraders.com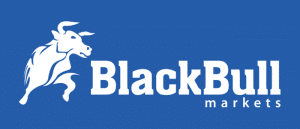 Forextraders' Broker of the Month
BlackBull Markets is a reliable and well-respected trading platform that provides its customers with high-quality access to a wide range of asset groups. The broker is headquartered in New Zealand which explains why it has flown under the radar for a few years but it is a great broker that is now building a global following. The BlackBull Markets site is intuitive and easy to use, making it an ideal choice for beginners.
Please be advised that certain products and/or multiplier levels may not be available for traders from EEA countries due to legal restrictions.