The Canadian Dollar/Japanese Yen currency pair (also referred to as CADJPY and CAD/JPY) is one of the most actively traded minor pairs in the world. In this article, we will examine how CADJPY is performing.
CADJPY Key Stats
2021 high: 93.02
2021 low: 80.55
YTD high: 107.21
YTD low: 89.23
YTD % change: +16.83%
CADJPY Forecast
The CADJPY has been firmly bullish since around the start of 2021. Given the global economic uncertainty, we see another move higher in the near-term, with a target at 107.15. However, due to its significant run higher, we do expect a larger pull back at some point soon. It is important to watch oil prices and the Ukraine-Russia conflict due to the effect on oil prices and the CAD as a result. Furthermore, we will be watching the Japanese economy for a potential signal on when to exit any position, as soaring inflation has put them under pressure to raise rates. While they have not yet budged, some institutional traders believe the BoJ will be forced to act and the JPY will end up rallying.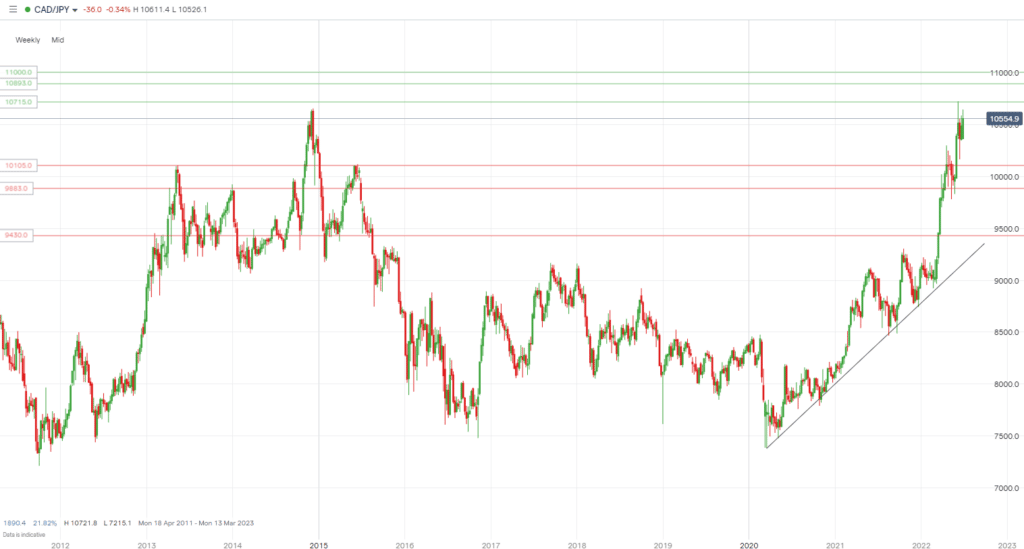 CADJPY Fundamental Analysis
Fundamental analysis is an important tool for long-term investors. Fundamental analysis can help determine a directional bias, analysing data such as economic activity, unemployment, and monetary policy. So, when trading the CAD/JPY it is important you are aware of the current economic factors affecting each country.
The Canadian Dollar often reacts to the price of oil. This is due to Canada's most significant earnings coming from the sale of crude oil.  It is one of the largest producers and exporters of the commodity and with crude oil-producing immense gains this year, the Canadian dollar has continued to surge. Furthermore, a recent hawkish tone from the Bank of Canada has also boosted the currency this year.
The Japanese Yen is considered a safe haven investment, and the Bank of Japan has maintained low rates for several years. The low rates have meant the JPY is a valuable funding source for investments in other nations. Therefore, during economic uncertainty, investors will usually unwind their positions in high-yield, riskier assets, boosting the JPY. However, while the currency has been a safe haven in years gone by, the Japanese yen is having a terrible time in 2022, despite the global economic worries. A surging dollar and concerns about inflation and the Japanese economy have seen the previously safe haven yen tumble.
Furthermore, with Japan being a large exporter of goods, it has resulted in currency intervention from the BoJ to sell the yen and keep exports competitive.
CADJPY Technical Analysis:
Support Levels:
Resistance Levels:
Support and resistance levels offer areas where price may react in one direction or another. A strong bullish run for the CAD has seen the pair smash through various levels in recent months.
The nearest key support level on the daily chart is at 103.50, which it recently bounced off after an initial close above. Below that, 102.00 is key as it is also a strong psychological level to watch out for, with the price pulling back to that area and bouncing as recently as mid-June. Furthermore, 101.05 was also recently broken and previously acted as a strong resistance level on the weekly and daily charts. A long-term lower level is 98.83. History dictates it is a stubborn level that has been tested both as a support and resistance, many times previously.
The CADJPY recently reached its highest level since 2008. A near-term resistance level to watch out for is 107.15, which was tested multiple times in 2008 and recently remained strong in 2022. It may be a difficult level to break in the future. Beyond that, we have our eyes on 108.93, another level with multiple tests in 2008. The final, long-term level to watch is 110.00. However, it is quite a distance away and would take another strong bullish move higher before getting near to that price.
Trade CADJPY with our top brokers