The Euro/Singapore Dollar currency pair (also referred to as EURSGD and EUR/SGD) is an exotic currency pair. In this article, we will examine how EURSGD is performing.
EURSGD Key Stats
2021 high: 1.6299
2021 low: 1.5262
YTD high: 1.5443
YTD low: 1.3720
YTD % change: -7.2%
EURSGD Forecast
The Singapore dollar has been on a considerable run so far in 2022 against many other major, minor and exotic currencies, and the euro falls into that category, with the pair down significantly over the past couple of years. However, given recent US inflation data, we think a near-term rise in the pair is on the cards as the euro gains strength on the back of easing US inflation. In addition, it will provide markets hope that the Federal Reserve will ease the pace of its rate hikes. As a result, we see more positive risk sentiment, although we have our eyes firmly fixed on any potential increase in the current market headwinds.
We initially view 1.4237 as an initial area to target.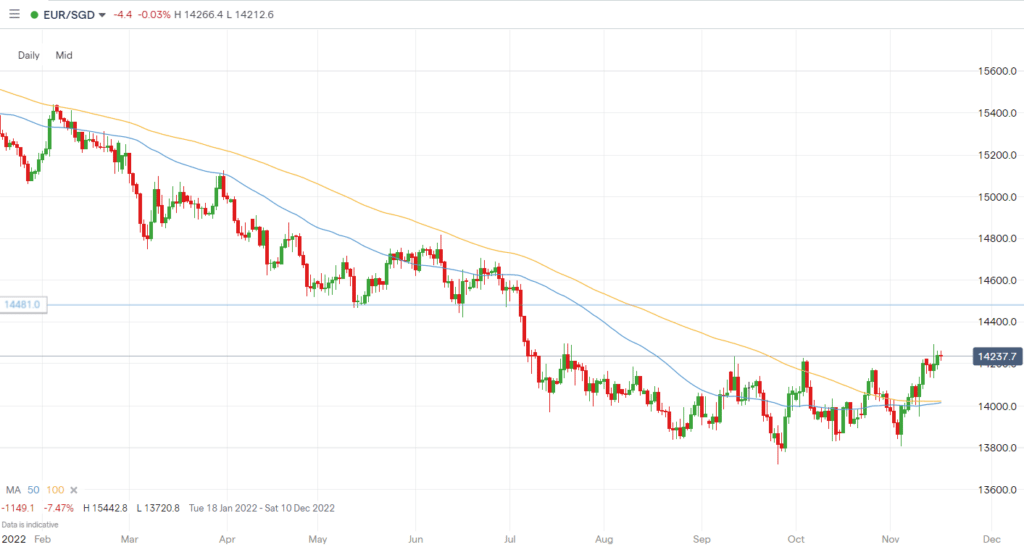 EURSGD Fundamental Analysis
While technical analysis can be a great tool, fundamental analysis can also help traders ascertain a directional bias in the markets. Many forex traders will analyse a country's economic health via data releases and the current geopolitical climate with a view on how to trade its currency.
Since the beginning of the year, the euro has been negatively affected by the ongoing situation between Ukraine and Russia, which resulted in a halt to gas supplies and heightened fears about a deepening energy crisis throughout the continent. As a result, the euro had, at one point, a significant inverse correlation with natural gas prices. As a result, with energy prices rising, inflation has soared, sending the euro lower. Europe has attempted to break away from Russian supplies; however, it has been challenging for the economy. As a result, the ECB has begun raising rates and has continued to do so to combat inflation, which continues to rise.
Singapore has been a favored choice for offshore investors as it has a growing financial centre and stable housing prices, resulting in a boost for its currency. Its high growth rate is down to its extremely business-friendly regulatory environment for entrepreneurs. In addition, the country is a major trading hub, and its manufacturing and services sector remains one of its key growth drivers.
---
Related Articles
---
EURSGD Technical Analysis
The EURSGD has fallen significantly in 2022, although in the last few months, it has stabilised and begun ranging somewhat. The current move and our directional bias suggest we will see a near-term move higher. Price has crossed its 100 and 50 MA, and while technically, the current pattern suggests a potential bear flag, our directional bias changes that view. A break and close higher from current levels will confirm our near-term theory. We see 1.4481 as an initial key level to watch.
Trade EURSGD with our top brokers