The Singapore Dollar/Japanese Yen currency pair (also referred to as SGDJPY and SGD/JPY) is an exotic currency pair. In this article, we will examine how SGDJPY is performing.
SGDJPY Key Stats
2021 high: 85.45
2021 low: 77.79
YTD high: 106.29
YTD low: 84.19
YTD % change: +22.28%
SGDJPY Forecast
The SGDJPY has been on a tremendous run since the beginning of the pandemic, climbing over 24% in the last 12 months and over 22% in 2022. Given the current economic climate, that rise may well continue longer. However, in order for the JPY to strengthen, we may need to see the BoJ raise interest rates which is something they will probably not do. As a result, we see the pair reaching its most recent high of 106.29 once again in the near term.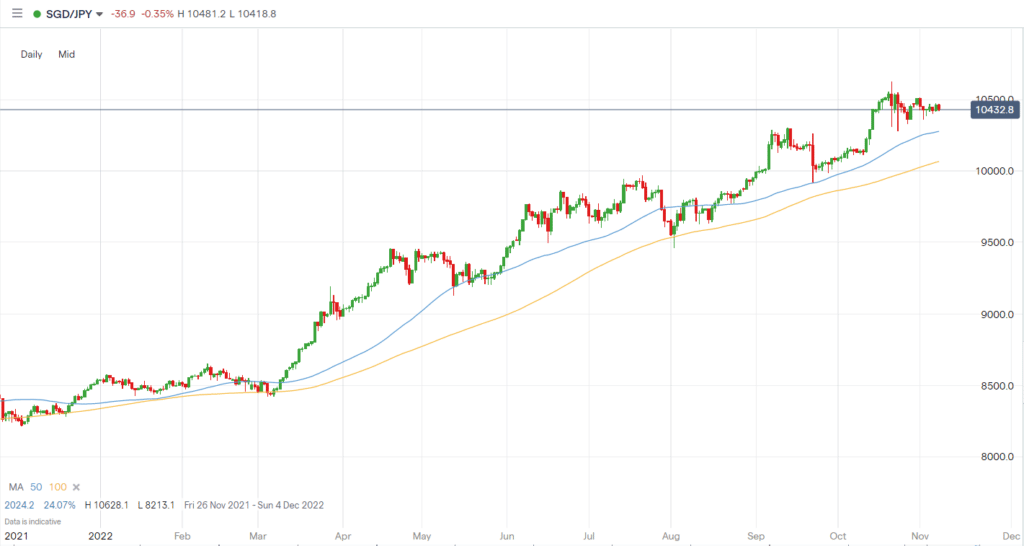 SGDJPY Fundamental Analysis
Fundamental analysis is an excellent tool in helping forex traders define potential long-term trends in a pair such as the SGD/JPY. The current economic situation in both Singapore and Japan has resulted in one currency strengthening and the other weakening. There are various factors to watch out for when it comes to fundamental analysis, such as interest rates, inflation, unemployment, spending data, and more.
If we look at the Singapore Dollar, we can see it has been a favored choice for offshore investors as it has a growing financial centre and stable housing prices. Its high growth rate is due to its business-friendly regulatory environments for entrepreneurs. In addition, it is a significant trading hub, and its manufacturing and services sector remains one of its pivotal growth drivers. As a result, assessing Singapore's current economic climate to develop a bearish or bullish bias on its currency is a great way to evaluate the direction the currency could trade in.
Due to its low rates, which the BoJ has decided to keep low, the JPY is a valuable funding source for investments in other countries. As a result, during times of economic uncertainty, investors typically reduce their holdings of riskier, higher-yielding assets, which helps the JPY. However, that hasn't been true recently. While the currency has been a safe haven in years gone by, the Japanese yen has weakened significantly in 2022. This has been fuelled by the Bank of Japan sticking to its low interest rate policy despite rising inflation. Inflation for Japan currently sits at 3%, yet rates remain unchanged, as they have done for many years, at -0.1%.
---
Related Articles
---
SGDJPY Technical Analysis
Technical analysis can help traders to enter, manage and exit trades based on how price moves. And so, it is best to use both technical and fundamental analysis together, although many traders will only stick to one.
The SGDJPY has been on a major bull run, as explained above. It is currently trading above its 100 MA on the daily chart, which has previously acted as a support level for potential pullbacks, providing a possible area to look for a bullish move. In addition, the price is creating a bull flag, so a break higher is not out of the question. To the upside from here, 105.45 is a level to watch for a potential break, and to the downside, we have our eyes on 102.90.
Trade SGD/JPY with our top brokers