This is the second article in our ATR series. If you haven't already we suggest that your check out the first article about the ATR Indicator. In that article, we covered the background of the "Average True Range", or "ATR", indicator, how it is calculated, and how it looks on a chart. Traders rarely use the indicator to discern future price movement directions, but use it to gain a perception of what recent historical volatility is in order to prepare an execution plan for trading.
The ATR is classified as an "oscillator" since the resulting curve fluctuates between values calculated based on the level of price volatility over a selected period. It is not a leading indicator in that it divulges nothing related to price direction. High values suggest that stops be wider, as well as entry points to prevent having the market move quickly against you. With a percentage of the ATR reading, the trader can effectively act with orders involving proportionate sizing levels customized for the currency at hand.
How to Read a ATR Chart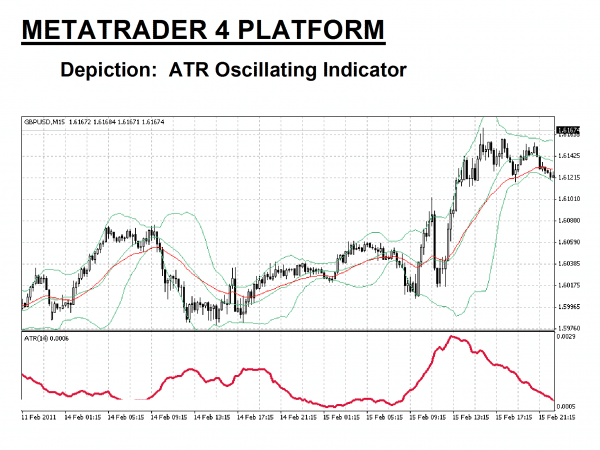 The ATR with a period setting of "14" is presented on the bottom portion of the above "15 Minute" chart for the "GBP/USD" currency pair. In the example above, the "Red" line is the ATR. The ATR values in this example vary between 5 and 29 "pips".
The key points of reference are highpoints, lowpoints, or extended periods of low values. The "ATR Rollercoaster" tends to work better for longer timeframes, i.e., daily, but shorter periods can be accommodated as shown here. The ATR attempts to convey pricing volatility, not pricing direction. It is traditionally used in tandem with another trend or momentum indicator to set stops and optimal entry point margins.
As with any technical indicator, an ATR chart will never be 100% correct. False signals can occur due to the lagging quality of moving averages, but the positive signals are consistent enough to give a forex trader an "edge". Skill in interpreting and understanding ATR signals must be developed over time, and complementing the ATR tool with another indicator is always recommended for further confirmation of potential trend changes.
In the next article on the ATR indicator, we will put all of this information together to illustrate a simple trading system using this ATR oscillator.
Next Article >> Metatrader ATR Settings >>
Previous Article << ATR Indicator Explained <<

Forextraders' Broker of the Month
ForexTime (FXTM) is an award-winning platform that certainly has the feeling of being set up by people who know what they are doing. The firm demonstrates an understanding of what helps traders make better returns, and its success can be measured by the fact that it's doubled the number of clients it supports in recent years. The fact that the broker has grown to have more than two million accounts suggests it is getting things right for clients.