This is the second article in our EMA series. If you haven't already we suggest that you check out the first article about the EMA Indicator. In that article, we covered the background of the "Exponential Moving Average", or "EMA", indicator, how it is calculated, and how it looks on a chart. The EMA was designed to smooth out the effects of price volatility and create a clearer picture of changing price trends. Traders use an EMA, sometimes in concert with another EMA for a different period, to signal confirmation of a change in price behavior.
The benefit of the EMA indicator is its visual simplicity. Traders can quickly assess the prevailing trend of price behavior from the direction of the EMA. Care must be taken since the EMA is a lagging indicator and may not adjust rapidly to volatility in the market. The EMA indicator will respond more rapidly than an SMA with similar settings since recent prices are given more weight.
How to Read an EMA Chart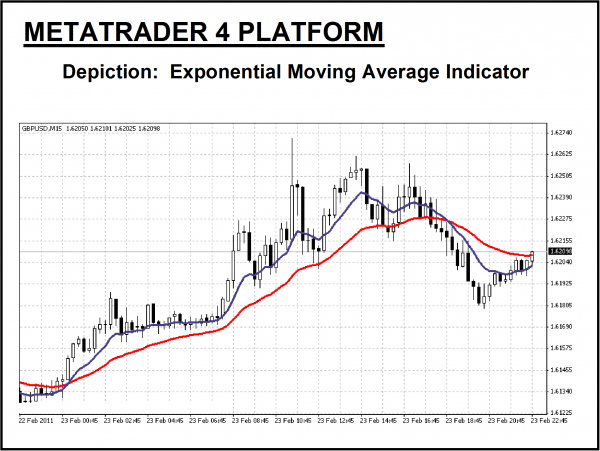 The EMA works best when there is a strong trend present over a long period as in the above "GBP/USD" 15-Minute chart. The EMA "Red" line follows the upward trend, lagging below and forming an angled support line until the trend begins to reverse its direction. The "lagging" tendency of this indicator is emphasized in the latter portion of the chart when prices fell very quickly. The period setting is "28" in the above chart. The "Blue" line EMA has a setting of "13" and reacts more quickly. False signals will prevail if an EMA is used in a ranging or sideways trending market, especially one with a short setting.
The key points of reference are when the EMA crosses over the pricing candlesticks or another EMA. If prices are going up and a crossover occurs, that is viewed as a "Buy" signal, and vice-versa.
As with any technical indicator, an EMA chart will never be 100% correct. False signals can occur, but the positive signals are consistent enough to give a forex trader an "edge". Skill in interpreting and understanding EMA alerts must be developed over time, and complementing the EMA tool with another indicator is always recommended for further confirmation of potential trend changes.
In the next article on the EMA indicator, we will put all of this information together to illustrate a simple trading system using EMA analysis.
Next Article >> Metatrader Exponential Moving Average Settings >>
Previous << Exponential Moving Average Crossover Indicator Explained <<