Investor appetite has turned bullish in the run-up to key US inflation data being released.
EURUSD has broken key technical levels and is primed for further gains.
Sterling's gains have lagged behind the euro's. Will GBPUSD join the party?
The US CPI inflation report due on Thursday 12th January could prove a pivotal moment in the markets. Any hint that inflation is losing momentum would open the door to a paradigm shift in risk appetite and lower US interest rates. Price moves in recent days point to forex traders already taking the view that the report contains good news.
Potential for further moves in the same direction after the release of the CPI number depends on which currency pair is being considered. Some, such as EURUSD, have broken key technical resistance levels and look primed for further gains.
Sterling's progress has been more sluggish. While that is more in line with what would usually be expected in the run-up to the CPI report, the question is how much additional momentum it might gain if there is upbeat news on Thursday.
EURUSD
The euro has been one of the big beneficiaries of traders adopting more aggressive positions in the run-up to the US inflation report being shared with the market. Its week-to-date gain of 1.06% follows a strong daily price move of +1.21% on Friday of last week. The currency pair has posted five consecutive up days and moved from 1.05221 to 1.07655.
It has also broken through the resistance level of 1.07366, which marks the price high of 15th December 2022 and leaves EURUSD trading at its highest levels for six months.
There is resistance offered in the region of 1.07870, the intraday price high of 30th May 2022. But if the CPI acts as a catalyst for pushing through that level, then the next swing-high resistance point is some way off at 1.11849, the price recorded on 31st March 2022.
EURUSD – Daily Price Chart 2022 – 2023 – Potential Breakout?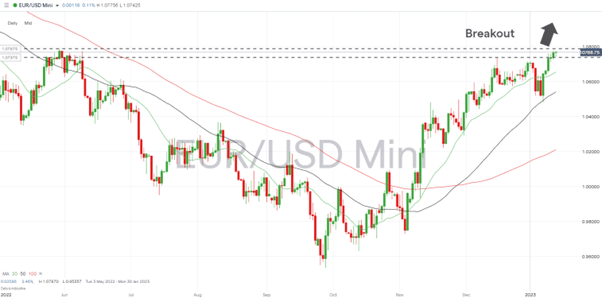 Source: IG
GBPUSD
Cable's upward price move has been less convincing. GBPUSD's week-to-date gain of 0.48% is less than half of that of EURUSD. It has also failed to test, let alone break through the December price high of 1.24470 recorded on 14th December.
Compared to EURUSD, cable looks ready to roll over. The cautious consolidation pattern over the last few days is what many would have expected in the run-up to an economic data release as important as the CPI. If that does show inflation is cooling, there is still room for gains before price reaches the 1.4470 level.
GBPUSD – Daily Price Chart 2022 – 2023 – Below Resistance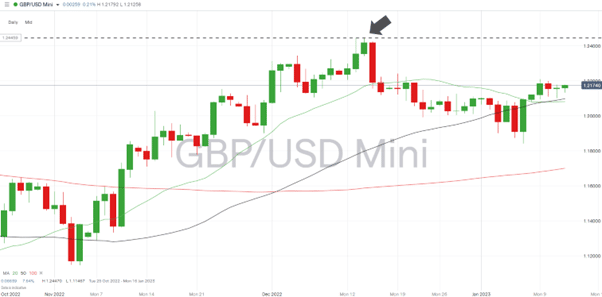 Source: IG
People Also Read
If you have been the victim of a scam, suspect fraudulent behaviour, or want to know more about this topic, please contact us at [email protected]