The Australian Dollar/New Zealand Dollar currency pair (also referred to as AUDNZD and AUD/NZD) is considered a minor pair. In this article, we will examine how AUDNZD is performing.
AUDNZD Key Stats
2021 high: 1.0947
2021 low: 1.0279
YTD high: 1.1179
YTD low: 1.0574
YTD % change: +3.94%
AUDNZD Forecast
The AUDNZD hit highs not seen since 2018 in late July, and most had expected the run to continue following Australia's consumer inflation expectations data. It had been expected to move higher but, in fact, came in at 5.9%, below the expectations of 6.2%. It has resulted in a slight downside for the AUDNZD pair, but nothing significant. With price pressures surging in the New Zealand economy, and New Zealand expected to continue rate rises, we see a near-term move to the downside. Especially after the recent run higher. While not significant, the first area we are watching is 1.0975.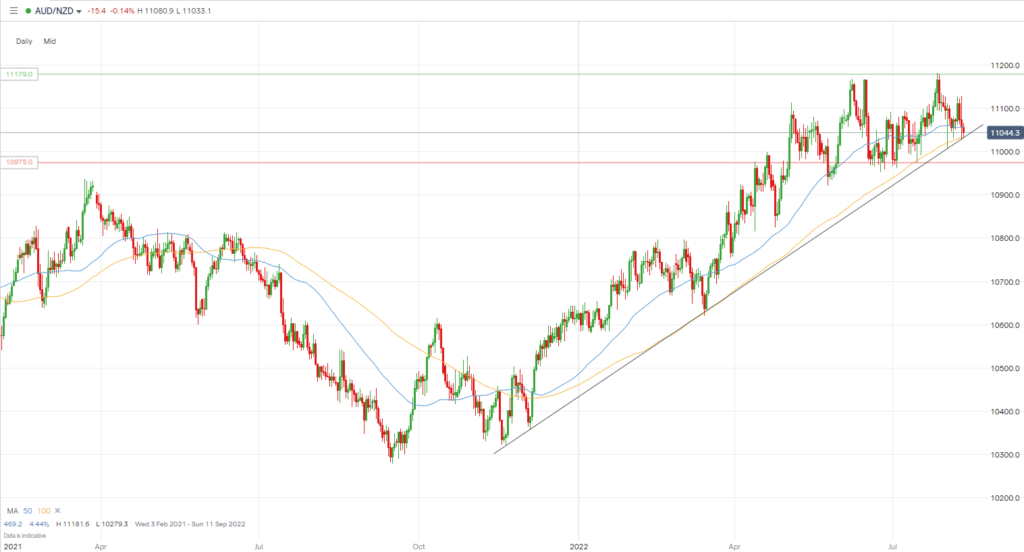 AUDNZD Fundamental Analysis
Fundamental analysis is key to major changes in the foreign exchange market. A clear directional bias can be established through fundamental analysis, and major changes in monetary policy or economic activity can impact a currency pair. Technical analysis is also important, but economic health can also be a defining factor.
The Australian Dollar is a frequently traded currency impacted by numerous global macroeconomic factors. A significant driver of the AUD price comes from its wealth of natural resources as well as its trading with Asian countries. India and China have been large importers of Australia's commodities and hold a strong relationship with Australia. Furthermore, Australia imports heavy machinery and goods produced in those countries. Therefore, the AUD is not only affected by its own economy, but when other economies, such as China, suffer a downturn, it negatively impacts Australian exporters, hurting the supply chain and resulting in a weakening Australian dollar. Therefore, AUD traders must keep up to date with the Australian economy and its trade counterparts.
On the other hand, the New Zealand Dollar is considered a carry trade currency. This is due to it being a relatively high-yielding currency, so investors tend to buy the NZD and fund it with a lower-yielding currency. However, during a period of negative sentiment, this can impact a currency such as the NZD, and this was evident during the financial crisis when high-yielding currencies fell significantly. Meanwhile, other factors to consider include tourism numbers and dairy prices for the NZD. It is one of the biggest exporters of whole milk powder so the economy can benefit from higher milk prices.
AUDNZD Technical Analysis
Support Levels:
Resistance Levels:
Looking at potential downside areas for the AUDNZD, we see, as mentioned in our forecast, 1.0975 as a potential target. Price is still sitting within its bullish trend, currently above the 100 MA, but we see it moving lower and crossing below in the near future, potentially signalling a sustained downside move. The next level below that to keep an eye on is 1.0923, which has been tested a couple of times in 2022. Furthermore, also keep your eyes on 1.0822 as our longer-term downside target.
Resistance levels for our current stance on the pair represent potentially good entry points for a bearish move. For example, 1.1179 clearly stands out as a strong resistance level. This is the highest price point since 2018,  while just below that there is 1.113. In addition, beyond those two, we see 1.1270 as another potential area to watch if the price continues higher.
Trade AUDNZD with our top brokers