The Great British Pound/Euro currency pair (also referred to as EURGBP and EUR/GBP) is one of the most actively traded minor currency pairs in the world. In this article, we will examine how EURGBP is performing.
EURGBP Key Stats
2021 high: 0.90585
2021 low: 0.8367
YTD high: 0.8618
YTD low: 0.8205
YTD % change: +1.88%
EURGBP Forecast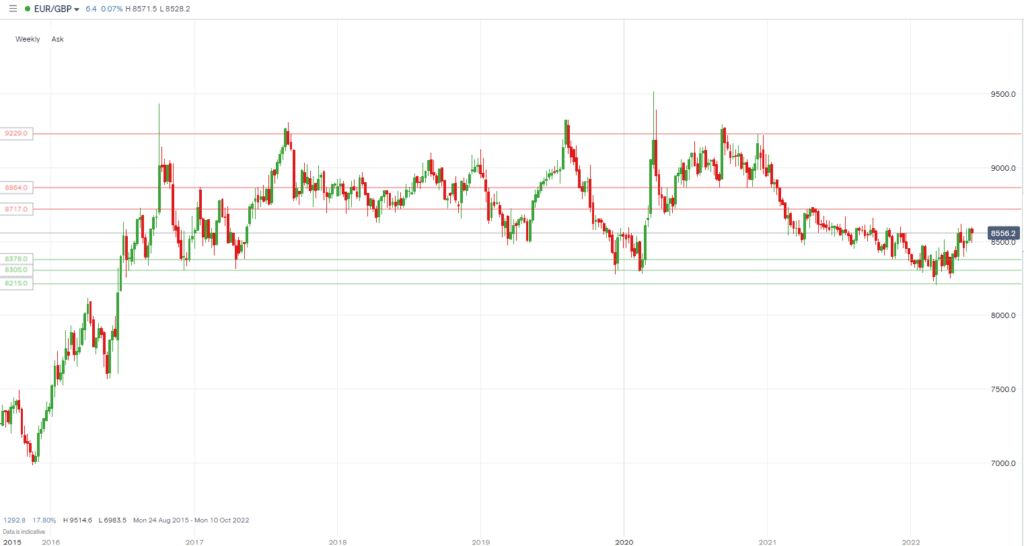 The EURGBP is still nowhere near its pre-Brexit level, and it's no surprise considering the constant stream of headwinds the UK economy has faced over the last few years. 2021 was a better year for the pound against the euro, and despite the euro gaining some strength against its European counterpart so far this year, we do expect another leg lower. Given the significant strength around the 0.8305 mark we see another retest of that level, but in order to get there, we will first need a break lower of the current uptrend on the daily chart.
EURGBP Fundamental Analysis
While technical analysis can help traders pinpoint entries and exits, fundamental analysis can help provide a directional bias. Changes in the economy through interest rates, monetary action, unemployment and much more can dictate major price swings. It's important to keep an eye on the major changes that may impact the EURGBP.
The GBP has suffered huge challenges over recent years, and those same challenges have yet to be solved. In terms of Brexit, the UK and European Union were able to make a deal. However, a trade agreement has not solved all of the problems, and investors must still consider the issues that may arise. Furthermore, inflation has soared in the UK (like other parts of the world), and the cost of living has risen as macro headwinds continue to hamper the British economy.
For the Euro, monetary action has been a talking point amongst investors. In its upcoming ECB meeting in June, it is unlikely we will see a rate hike. However, expectations for a more hawkish outlook in July or September are anticipated by analysts. Markets are pricing in a 50bp hike in one of the four remaining meetings, and this may add some strength to the EUR. Other macro factors to watch out for include inflation and how the EU deals with challenges — politically and economically (think energy) — as a result of the Ukraine-Russia war.
EURGBP Technical Analysis
Support Levels:
Resistance Levels:
The EURGBP has fluctuated for the past 5 years, and there is a clear range that has been tested. When looking at 0.8378, it held very well during 2017, and on a daily chart can be used as an excellent psychological level. As for 0.8305, that can be looked at as the bottom of the range. It has a history of holding strong and worked as an excellent support level a few months ago. In addition, 0.8215 has only been tested once in recent years, but history states it has been a strong level.
As for resistance levels, 0.8717 has yet to be tested since May last year. The level has shown strong resistance and may be difficult to break. Next is 0.8864, which has acted strong as a support level. After being broken in early 2021, it will be interesting to see how it holds as a resistance level. Meanwhile, level 0.9229 is quite a distance away but has held at the top of the range since 2016.
Trade EURGBP with our top brokers