The Great British Pound/Swiss Franc currency pair (also referred to as GBPCHF and GBP/CHF) is one of the most actively traded in the world.  In this article, we will examine how GBPCHF is performing.
GBPCHF Key Stats
2021 high: 1.3073
2021 low: 1.2102
YTD high: 1.2609
YTD low: 1.1538
YTD % change: -6.14%
GBPCHF Forecast
Given the strength of the bearish run, it is difficult to suggest a move in the opposite direction. However, in the very near term, we see a pullback towards the 1.1738 level before a continued move lower. However, our view is not concrete.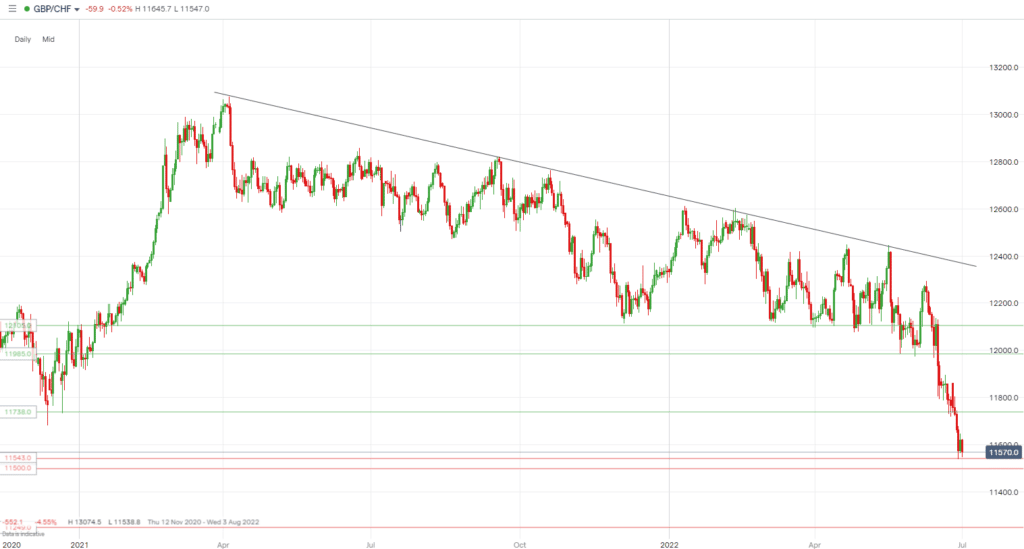 GBPCHF Fundamental Analysis
Currency pairs such as the GBP/CHF will have significant price swings on a daily basis as they are frequently traded. However, the currencies are impacted by numerous economic and geopolitical factors. Fundamental characteristics such as employment, GDP, and monetary policy changes will significantly influence the direction the pair trades.
The GBP has faced several challenges over the last few years, with Brexit causing a significant decline in the pound. Disputes have emerged over the trade agreement and border controls despite a deal between the UK and the European Union. Furthermore, GBP investors are yet to be convinced of the success of leaving the European Union, and issues remain in the long term. Finally, inflation is soaring, and with the last 25bps BoE rate rise not enough in many people's eyes, the BoE is expected to hike rates by 50bps in August.
The Swiss Franc is considered a safe haven by investors. Therefore, in times of economic downturn, the CHF benefits significantly. This is because Switzerland has a solid economic system with a limited but realistic growth rate. Furthermore, its income exceeds its expenses meaning there is no deficit making the currency stable. Finally, with inflation being a global challenge, historical inflation in Switzerland indicates stability during these difficult periods.
GBPCHF Technical Analysis
Support Levels:
Resistance Levels:
The GBPCHF is currently trading at its lowest level since 2020. And with the current global economic uncertainty and the CHF's safe-haven status, its bearish run is clear to understand. For the first technical level, 1.1500 can be considered a key physiological level for traders. It has reacted off the level previously and is an area for traders to be aware of. Below that, 1.1249 is another long-term area to watch for. Finally, if we move the chart from a daily to a 4-hour, a near-term level to focus on is 1.1543.
Moving back to the daily chart, there is a strong resistance level at 1.1738. It is also significant on the 4H chart and may be an area to watch for a potential pullback. Looking higher, there is a level at 1.1985, which has acted as a considerable support level in the past, being broken in early June following multiple tests. Furthermore, level 1.210 has also been broken this year. It has held well previously and is a key psychological level for traders.
Trade GBPCHF with our top brokers