This is the second article in our Bollinger Bands series. If you haven't already we suggest that you check out the first article about the Bollinger Bands Indicator. In that article, we covered the background of the Bollinger Bands indicator, how it is calculated, and how it looks on a chart. John Bollinger designed his bands in order to measure if prices were high or low on a comparative basis with relative volatility. Traders use the bands to anticipate increases and decreases in volatility that signal imminent trend changes are on the way.
The Bollinger Bands indicator reflects upon trend information by combining a moving average with the underlying currency's volatility. The indicator looks like an expanding and contracting envelope drawn about the pricing indicia on a typical chart. The two boundary lines represent two standard deviations of distance above and below the moving average. Over time, the bands act like an accordion playing music.
How to Read a Bollinger Bands Chart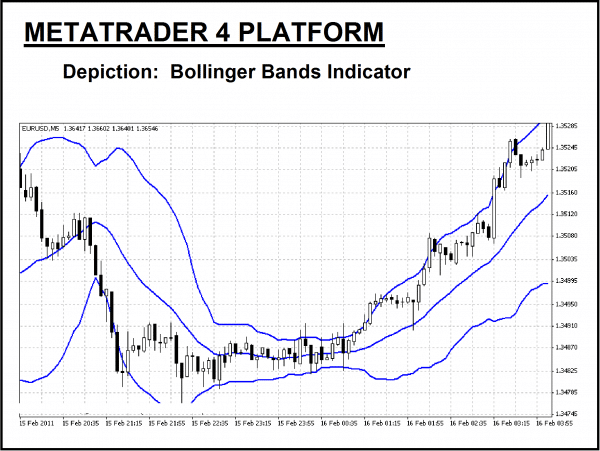 The Bollinger Bands are constructed with a Simple Moving Average with a period setting of "20", surrounded by two limit lines two standard deviations away from the SMA. The bands are noted by three "blue" lines presented in the above "5 Minute" chart for the "EUR/USD" currency pair. In the example above, the volatility starts with high values and a wide spread between the bands. Over time, the candlesticks converge on the centerline, signifying a period of consolidation and low volatility, only to breakout soon thereafter with a strong upward price thrust.
The key points of reference are band bounces and squeeze reactions. The "Bollinger Bands Accordion" reflects how volatility varies with price behavior. When the candlesticks "hug" one boundary limit, they tend to "bounce" back to the centerline. When the bands "squeeze", they also tend to expand quickly thereafter as a price breakout follows a consolidation.
As with any technical indicator, a Bollinger Bands chart will never be 100% correct. False signals can occur, but the positive signals are consistent enough to give a forex trader an "edge". Skill in interpreting and understanding Bollinger Band signals must be developed over time, and complementing the Bollinger Bands tool with another indicator is always recommended for further confirmation of potential trend changes.
In the next article on the Bollinger Bands indicator, we will put all of this information together to illustrate a simple trading system using Bollinger Band analysis.
More articles about forex indicators
Next Article >> Metatrader Bollinger Bands Settings >>
Previous Article << Bollinger Bands explained <<

Forextraders' Broker of the Month
ForexTB is generally considered a reliable and reputable firm. It offers a variety of desirable features and attracts traders from all over Europe. The brokerage is fully regulated and licensed by the Cyprus Securities and Exchange Commission (CySEC) and is fully compliant with the European Securities and Markets Authority (ESMA). Customer reviews are usually positive, and independent industry websites that have reviewed ForexTB have concluded that the broker is safe...