The "Commodity Channel Index", or "CCI", indicator is a popular member of the "Oscillator" family of technical indicators. Donald Lambert created the CCI to measure the difference between the mean price of a currency and the average of the mean price over a chosen period of time. Traders use the index to determine overbought and oversold conditions and the beginnings and endings of cycles in the forex market.
The CCI is classified as an "oscillator" since the majority of values fluctuates between values of "100" and "-100". The indicator typically has lines drawn at both the "100" and "-100" values as warning signals. Values exceeding these boundary limits are interpreted as a strong overbought condition, or "selling" signal when over "100", and if the curve dips below "-100", a strong oversold condition, or "buying" signal, is generated.
CCI Formula
The CCI indicator is common on Metatrader4 trading software, and the calculation formula sequence involves these straightforward steps:
Choose a predetermined period "X" (Standard setting = "14");
Calculate "True Price" = TP = (High + Low + Close)/3;
Calculate an SMA for TP over "X" periods;
Calculate the standard deviation of the SMA from each TP;
Then CCI = (TP – SMA)/(0.015 X Standard Deviation value)
Software programs perform the necessary computational work and produce a CCI indicator as displayed by the "Red" line in the bottom portion of the following chart: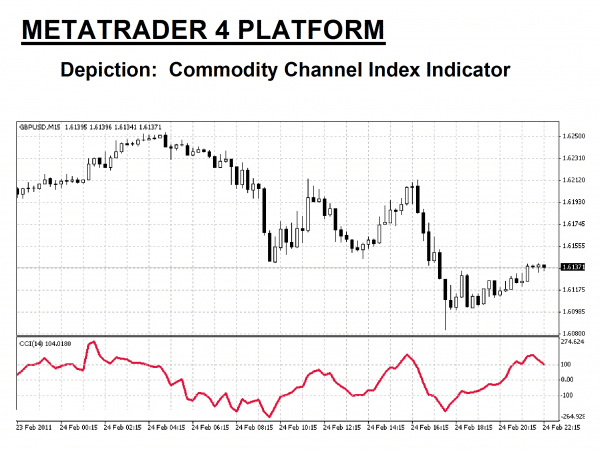 The CCI indicator is composed of a single fluctuating curve. The CCI is viewed as a "leading" indicator, in that its signals foretell that a change in trend is imminent. The indicator was designed to hover between its boundary limits 70% to 80% of the time, thereby giving alerts 20% to 30% as well. The principle behind the CCI is that cycles repeat. It works best when the period is one-third of the asset's cycle. The weakness in the indicator is that cycles are often difficult to determine in the forex market.
When the cycle of the underlying currency changes, the CCI can generate false signals or a succession of signals that are inconclusive, as in the first portion of the above chart. It is prudent to complement the CCI with another indicator.
The next article in this series on the CCI indicator will discuss how this oscillator is used in forex trading and how to read the various graphical signals that are generated.
Next Article >> Commodity Channel Index Strategy >>

Forextraders' Broker of the Month
ForexTime (FXTM) is an award-winning platform that certainly has the feeling of being set up by people who know what they are doing. The firm demonstrates an understanding of what helps traders make better returns, and its success can be measured by the fact that it's doubled the number of clients it supports in recent years. The fact that the broker has grown to have more than two million accounts suggests it is getting things right for clients.