This is the second article in our Ichimoku series. If you haven't already we suggest that you check out the first article about the Ichimoku Indicator.  In that article, we covered the background of the Ichimoku indicator, how it is calculated, and how it looks on a chart. The system combines a variety of indicators to create an overall picture of the market, thereby providing traders with high probability trading signals.  The chart can appear visually complex, but signals are easily seen.
The Ichimoku trading system is classified as an "oscillator".  The system also has the unique quality of extending into the future, while also depicting prior market sentiment.  Nomenclature follows Japanese tradition, but the "cloud" is the distinguishing feature with three additional line indicators that help signal potential trading patterns and set-ups.  Longer timeframes help eliminate market "noise" and increase the effectiveness of this technical support tool.
How to read an Ichimoku Chart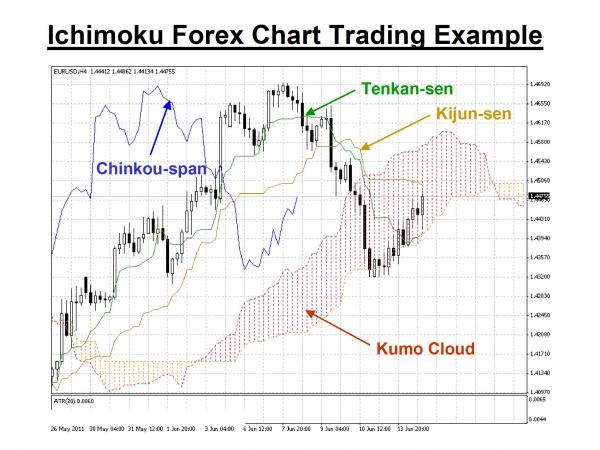 The Ichimoku trading system consists of the "cloud" and three other line indicators.  Position traders are the primary users of these charts since longer timeframes work best with this tool.  The above chart is a 4-hour chart, but daily and weekly versions have also gained support.  The "cloud" represents areas of support and resistance, and the lines work much like the "MACD" indicator lines.
The key points of reference are when the various components intersect.  There is a wealth of information available, but a conservative trader waits for pricing candlesticks to break free from the "cloud" and other lines.  The "Green" line has a "9" setting that allows it to move more quickly, its slope being a good measure for momentum.  The slower "Gold" line is framed over 26 periods.  The "Blue" line represents current closing prices moved back 26 periods, thereby comparing the overall trend with current price momentum.  The "cloud" acts much like a filter, and when prices break through these regions, accompanied by a subsequent move above or below, a "breakout" condition exists. A wise trader will typically look for more confirmation to bias the odds in his favor.
As with any technical indicator, an Ichimoku chart will never be 100% correct.  False signals can occur, but the positive signals are consistent enough to give a forex trader an "edge".  Skill in interpreting and understanding Ichimoku signals must be developed over time, and complementing the Ichimoku tool with another indicator is always recommended for further confirmation of potential trend changes.
In the next article on the Ichimoku charts, we will put all of this information together to illustrate a simple trading system using this Ichimoku indicator.
Next >> Part 3: A simple trading system using the Ichimoku Indicator >>
Previous << Part 1: The Ichimoku Indicator explained, what is the Ichimoku Indicator? <<