This is the third article in our Ichimoku series. If you haven't already, we suggest that you check out the first article about the Ichimoku Indicator.  In the previous two articles, we have covered the background, the calculations involved, and how to use and read the Ichimoku indicator.  The system combines a variety of indicators to create an overall picture of the market, thereby providing traders with high probability trading signals.  The chart can appear visually complex, but signals are easily seen.
Forex traders focus on the Ichimoku key points of reference, which are when the various components intersect.  There is a wealth of information available, but a conservative trader waits for pricing candlesticks to break free from the "cloud" and other lines.  As with any technical indicator, an Ichimoku chart will never be 100% correct in the signals that it presents, but the signals are consistent enough to give a forex trader an "edge".  Skill in interpreting and understanding Ichimoku indicator signals must be developed over time.  In the example below, let's develop a simple trading system based on Ichimoku signals and alerts.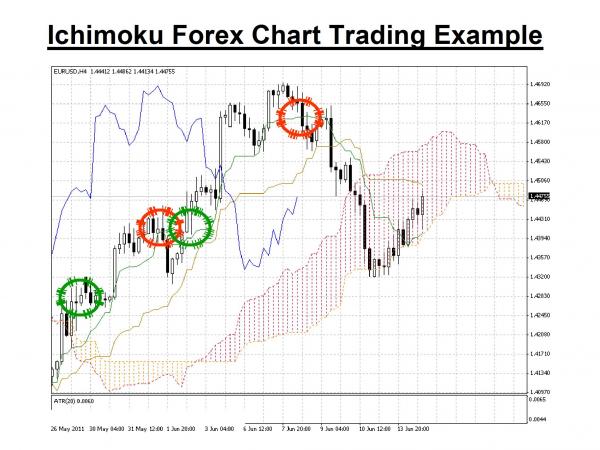 The following trading system is for educational purposes only.  Technical analysis takes previous pricing behavior and attempts to forecast future prices, but, as we have all heard before, past results are no guarantee of future performance.  With that disclaimer in mind, the "green" circles on the above chart illustrate optimal entry points, "red" equals exits, that can be discerned from using Ichimoku analysis on the 4-hour example above.  Longer timeframes help eliminate market "noise" and increase the effectiveness of this technical support tool.
A simple trading system would then be:
1)    Determine your entry point after pricing candlesticks close above the "cloud" and the two moving average lines;
2)    Execute a "Buy" order that puts no more than 2% to 3% of your account at risk;
3)    Place a stop-loss order at 60 "pips" below your entry point, per the ATR;
4)    Determine your exit point after the closing price falls below an indicator line.
Steps "2" and "3" represent prudent risk and money management principles that should be employed.  This simple trading system would have yielded two profitable trades of 110 and 200 "pips", but do remember that the past is no guarantee for the future.  However, consistency is your objective, and hopefully, over time, Ichimoku Technical Analysis will provide you with an "edge".
That concludes our series on the Ichimoku indicator. For further reading visit our Forex indicators section.
Previous << Part 2: How to use the Ichimoku Indicator in Forex Trading <<

Forextraders' Broker of the Month
ForexTB is generally considered a reliable and reputable firm. It offers a variety of desirable features and attracts traders from all over Europe. The brokerage is fully regulated and licensed by the Cyprus Securities and Exchange Commission (CySEC) and is fully compliant with the European Securities and Markets Authority (ESMA). Customer reviews are usually positive, and independent industry websites that have reviewed ForexTB have concluded that the broker is safe...