This is the second article in our Momentum series. If you haven't already we suggest that you check out the first article about the Momentum Indicator. In that article, we covered the background of the Momentum indicator, how it is calculated, and how it looks on a chart. The Momentum indicator attempts to measure the momentum behind price movements for the underlying currency pair over a period of time. Traders use the index to determine overbought and oversold conditions and the strength of prevailing trends.
The Momentum indicator is classified as an "oscillator" since the resulting curve fluctuates values about a "100" centerline, which may or may not be drawn on the indicator chart. Overbought and oversold conditions are imminent when the curve reaches maximum or minimum values. The addition of a Smoothed Moving Average with the indicator improves interpretation of imminent trend changes.
How to Read a Momentum Chart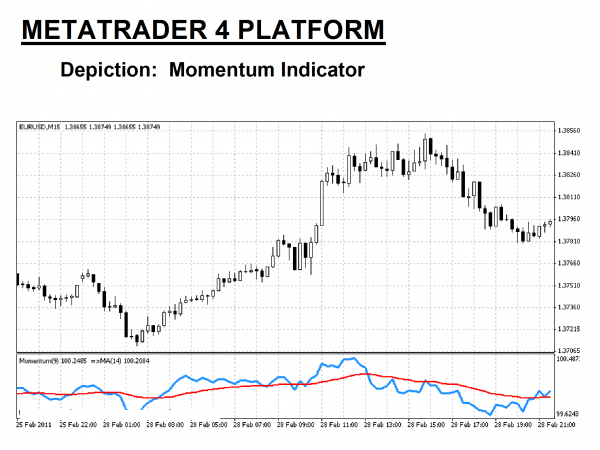 The Momentum indicator with a period setting of "9" is presented on the bottom portion of the above "15 Minute" chart for the "EUR/USD" currency pair. In the example above, the "Blue" line is the Momentum indicator, while the "Red" line, added as an additional option on the "Metatrader 4" platform, represents a smoothed moving average for fourteen periods. Momentum values at upper and lower extremes are worthy of attention. The SMA confirms when shifts in momentum occur.
The key points of reference are highpoints and lowpoints. The "Momentum Rollercoaster" tends to denote strong trends at its extremes, but when values hover about the centerline area, prices are said to be ranging. The SMA visually conveys the slope of the Momentum indicator. Trading signals result when slope changes in the SMA occur. In the above chart, two oversold and one overbought conditions are evident by virtue of the Momentum indicator and SMA crossovers.
As with any technical indicator, a Momentum chart will never be 100% correct. False signals can occur, but the positive signals are consistent enough to give a forex trader an "edge". Skill in interpreting and understanding Momentum signals must be developed over time, and complementing the Momentum tool with a Smoothed Moving Average is always recommended for further confirmation of potential trend changes.
In the next article on the Momentum indicator, we will put all of this information together to illustrate a simple trading system using this Momentum oscillator.
Next Article >> Metatrader Momentum Settings >>
Previous Article << Momentum Indicator Explained <<

Forextraders' Broker of the Month
ForexTime (FXTM) is an award-winning platform that certainly has the feeling of being set up by people who know what they are doing. The firm demonstrates an understanding of what helps traders make better returns, and its success can be measured by the fact that it's doubled the number of clients it supports in recent years. The fact that the broker has grown to have more than two million accounts suggests it is getting things right for clients.