This is the second article in our Relative Vigor Index series. If you haven't already we suggest that you check out the first article about the Relative Vigor Index Indicator. In that article, we covered the background of the Relative Vigor Index indicator, how it is calculated, and how it looks on a chart. The RVI is very similar to Stochastics in its design. Traders generally expect the RVI to signal direction shifts and to increase in Bullish markets when momentum is on the rise and closing prices exceed opening values. Fluctuations tend to be smoother such that divergences between the index and price behavior have more meaning.
The Relative Vigor Index is classified as an "oscillator" since the values fluctuate between computed positive and negative values. The indicator chart typically has a centerline at "0.00" with the RVI and its companion weighted moving average vibrating about it. High values are interpreted as a strong overbought condition, or "selling" signal, and low values, a strong oversold condition, or "buying" signal.
How to Read a Relative Vigor Index Chart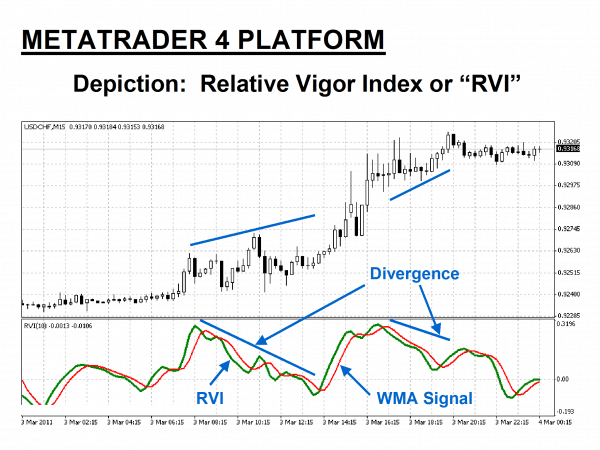 The Relative Vigor Index oscillator with a setting of "10" is presented on the bottom portion of the above "15 Minute" chart for the "USD/CHF" currency pair. In the example above, the "Green" line is the Relative Vigor Index, while the "Red" line represents the signal line that acts like a weighted moving average for four periods.
The key points of reference are highpoints, lowpoints, divergences, and occasionally crossovers. The "Relative Vigor Index Rollercoaster" tends to be less "choppy" than other oscillators, but the rather large divergence periods that occur can be confusing if not interpreted correctly. Two divergent periods are noted in the chart where the RVI is declining while prices are still increasing, the opposite of what a trader might expect.
As with any technical indicator, a Relative Vigor Index chart will never be 100% correct. False signals can occur, but the positive signals are consistent enough to give a forex trader an "edge". Skill in interpreting and understanding Relative Vigor Index signals must be developed over time, and complementing the Relative Vigor Index tool with another indicator is always recommended for further confirmation of potential trend changes.
In the next article on the Relative Vigor Index indicator, we will put all of this information together to illustrate a simple trading system using this Relative Vigor Index oscillator.
All our articles on forex indicators
Next Article >> Metatrader Relative Vigor Index Settings >>
Previous Article << Relative Vigor Index Explained <<