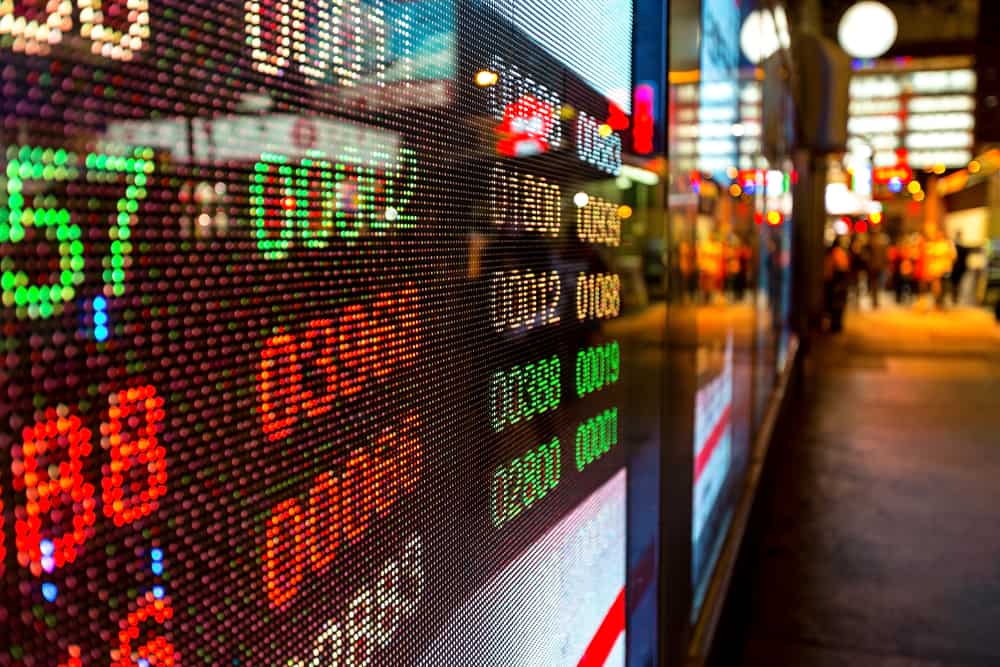 FOCUS ON: Risk Appetite Remains Strong, but Markets Could be Over-Extended on a Short-Term Basis
US Martin Luther King Day holiday on Monday results in a shortened trading week
UK data dominates with employment and inflation data due this week
Last week's US CPI report was in-line with analyst expectations.
The first two weeks of 2023 saw the US Non-Farm Payroll jobs report and US CPI numbers dominate the headlines. While those reports didn't in themselves signal the end of inflation, the lack of any alarming numbers has resulted in investor sentiment turning largely bullish.
With risk-on assets such as GBPUSD, EURUSD, and the S&P 500 index already showing healthy year-to-date returns, there is every chance that prices in some markets suffer a short-term pullback. The path of least resistance continues to appear upward, but prices look to be overextended against some medium and long-term metrics.
Forex
GBPUSD
A busy news week for sterling includes the release of December's inflation report. The CPI data will be released at 7 am (GMT) on Wednesday 18th January, with the previous month's number reporting an 11.5% year-on-year rise in UK prices.
GDP data released on Friday 13th surprised many analysts by being positive. The 0.1% month-on-month gain in output was attributed to spending during the FIFA World Cup, with most predicting it delays, rather than avoids, a UK recession being confirmed at some point in 2023.
GBPUSD Chart – Daily Price Chart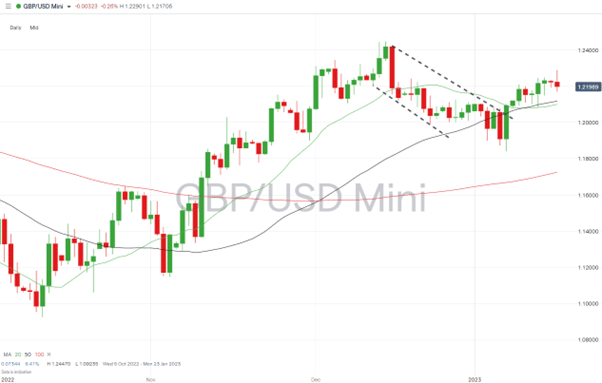 Source: IG
UK unemployment numbers are due to be released at 7 am (GMT) on Tuesday 17th January, and will offer further insight into the health of the UK economy.
Further Q4 earnings releases could also influence the price of GBPUSD. This week Crest Nicholson releases full-year numbers on Tuesday 17th, and trading updates are provided later in the week by WHSmith, Burberry, Just Eat Takeaway, Dunelm, Boohoo, and Kier.
EURUSD
The German XEW reading for January, which is due to be released at 10 am on Tuesday 17th January, is the only major economic release for Eurozone countries this week. With little outside influence due, technical indicators can be expected to guide price.
EURUSD Chart – Daily Price Chart – Price Channel Break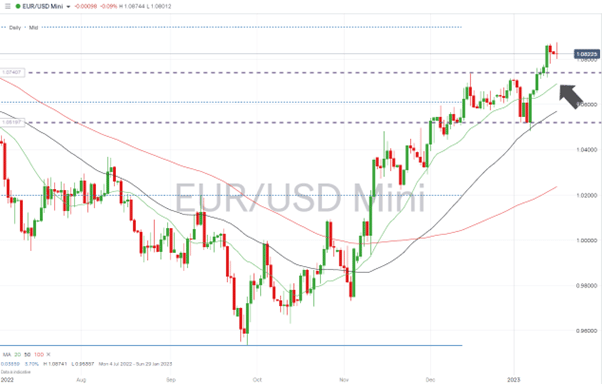 Source: IG
Indices
S&P 500
Earnings season picks up speed this week with Netflix and Alcoa joining airlines and banks in releasing quarterly earnings updates.
With the next batch of NFP and CPI numbers not due for several weeks and a US holiday on Monday 16th January, this will be a week when all eyes turn to the big corporations releasing investor updates.
S&P 500 Chart – Daily Price Chart – Approaching Trendline Resistance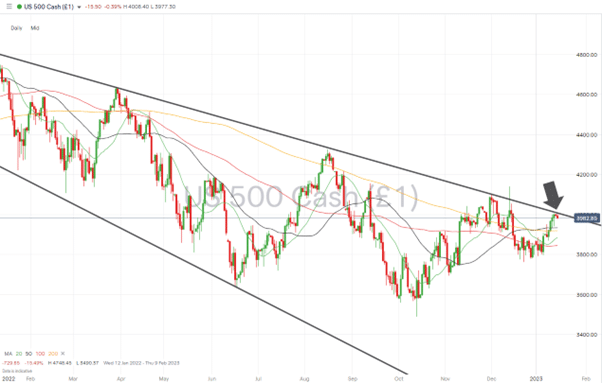 Source: IG
Earnings releases due this week:
Tuesday 17th: United Airlines, Morgan Stanley, Goldman Sachs.
Wednesday 18th: Alcoa.
Thursday 19th: American Airlines, Netflix.
Friday 20th: Schlumberger.
People Also Read
Risk Statement: Trading financial products carries a high risk to your capital, especially trading leverage products such as CFDs. They may not be suitable for everyone. Please make sure that you fully understand the risks. You should consider whether you can afford to take the risk of losing your money.