The Australian Dollar/Canadian Dollar currency pair (also referred to as AUDCAD and AUD/CAD) is a very interesting minor pair, given these currency's correlation with gold and oil respectively. In this article, we will examine how AUDCAD is performing
AUDCAD Key Stats
2021 high: 0.9993
2021 low: 0.8971
YTD high: 0.9515
YTD low: 0.8883
YTD % change: -2.38%
AUDCAD Forecast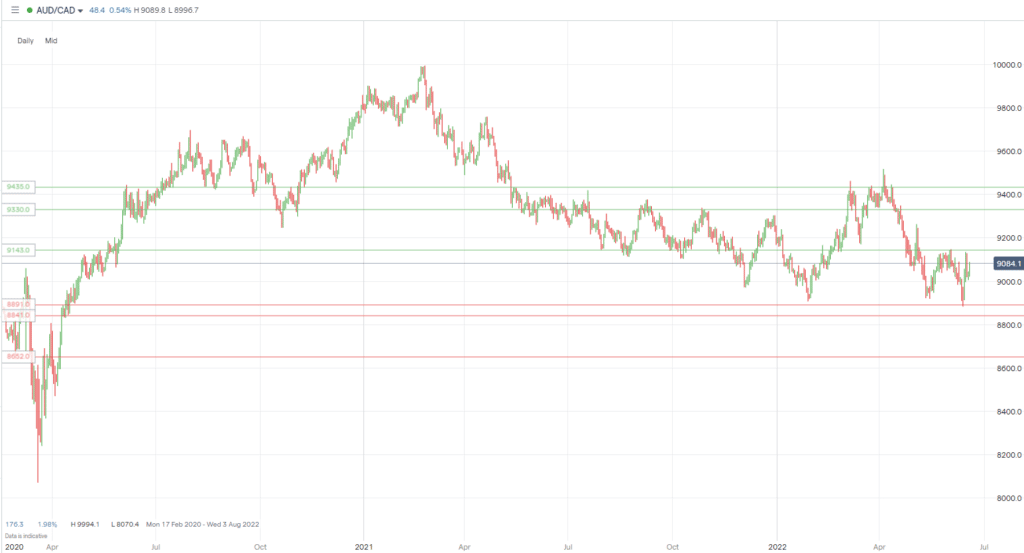 The pair has been steadily declining since early 2021, despite a few attempts at breaking higher. When it comes to fundamentals, we have two scenarios at play here, the demand for commodities such as precious metals, which Australia has an abundance of, and the demand for oil which Canada has plenty of. Given the current demand for oil we slightly edge towards a stronger Canadian dollar over the next month or two. However, our view is not clear-cut and we are, for now, sitting on the sidelines.
AUDCAD Fundamental Analysis
It's important to understand the major swings in currency pairs on a day-to-day basis. Macroeconomic factors can change quite often, so it's essential to keep up to date with the changes in economic data, monetary policy, unemployment and/or retail sales.
The Australian dollar is a frequently traded currency. The country is rich in natural resources, making it a popular partner to trade with. The majority of its trade is with Asian countries such as India and China, which are large importers of Australian commodities. In addition, Australia imports heavy machinery and goods produced by China and India. If the China economy is restricted, which it has been in recent weeks, it will impact demand for Australian exports and weaken the Australian Dollar.
The Canadian dollar is rich in oil, specifically crude oil. It is one of the largest producers and exporters of crude oil in the world. The demand for oil has significantly increased in 2022, and with economic activity only expected to increase further, the CAD may benefit considerably. The demand for oil has, of course, been boosted by the Russia-Ukraine war, which has restricted the supply into Europe and elsewhere, forcing buyers to look at alternative sources of supply.
AUDCAD Technical Analysis
Support Levels:
Resistance Levels:
Support levels help identify key areas where price may react. For the AUD/CAD pair, there are two key areas we are watching which are fairly close together,  0.8891 and 0.8841. The two areas have maintained strength over the years, with price in recent years bouncing from both. A break and close below both will, in our view, signal a potential further downside move. In addition, 0.8652 has been a significant level. The last test came in 2020, and before that, in 201. Scroll back far enough, and you will see it has acted as an excellent support level in years gone past.
As for resistance levels, they act as an upper barrier to price. First, we have 0.9143, a level not too far off the current price. It is a very decisive level that has been adhered to several times previously. Beyond that, we have our eyes on 0.9330 and 0.9435, which was tested back in April this year, remaining firm.
Trade AUDCAD with our top brokers