The Australian Dollar/Indian Rupee currency pair (also referred to as AUDINR and AUD/INR) is an exotic currency pair.  In this article, we will examine how AUDINR is performing.
AUDINR Key Stats
2021 high: 58.6090
2021 low: 52.6240
YTD high: 57.6248
YTD low: 52.3110
YTD % change: +0.70%
AUDINR Forecast Summary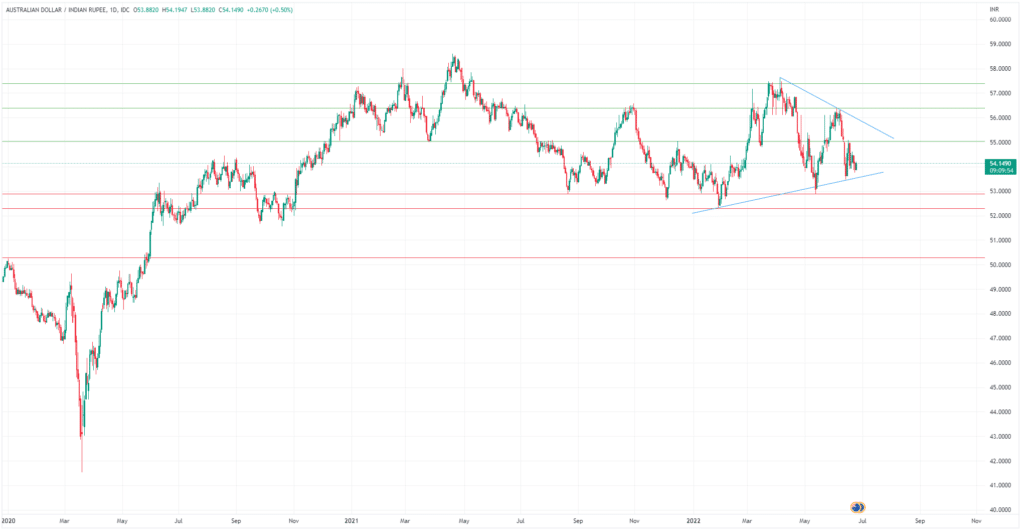 Given the current geopolitical and macroeconomic situation, we prefer the AUD/INR to the upside, although we have to admit it is not a very strong view, and we could be easily swayed if we see any macro changes. Our near-term target to the upside is 55.05, with a long-term view towards the 57.40 level.
However, there are risks to our view with the  Reserve Bank of India intervening in order to maintain stability in the rupee.
AUDINR Fundamental Analysis
The direction in which a pair trades on any given day, week, month, or year, is significantly influenced by macroeconomic factors. At the moment, the Ukraine-Russia conflict, inflation, soaring energy prices, and more are impacting how markets, including FX pairs, move. Therefore, keeping up to date with economic/geopolitical data and activity is essential.
The Australian Dollar is one of the most traded currencies worldwide. Australia has a wealth of natural resources such as iron ore, coal, and gold which make up a significant percentage of its exports. India and China are large importers of Australia's commodities, and Australia imports heavy machinery and goods produced in those countries. When countries that are big importers of Australian goods experience an economic downturn, it impacts Australian exporters, hurting the supply chain and resulting in a weakening Australian dollar.
Those rising commodity prices have impacted the Indian rupee in 2022. The Reserve Bank of India has increased interventions in an effort to slow its currency's decline and maintain stability, protecting importers and exporters from potential shocks. In addition, during times of economic instability, investors will typically exit positions in what they perceive as riskier currencies such as the rupee and invest in so-called safe-haven currencies such as the Japanese yen and US dollar. The recent market downturn, inflation, and economic worries have seen the INR fall so far this year.
AUDINR Technical Analysis
Support Levels:
Resistance Levels:
After a strong rally in 2020, the AUDINR has failed to find a clear direction over the last couple of years. On a few occasions, it has tested a key support level at 52.90, and below that, 52.30. If it were to break eventually, watch out for a key level at 50.30.
Looking to the first level we want to target is around 55.05, before a further move higher will push our focus to the 56.40 mark. The highest level we have our eye on at the moment is 57.40.
Trade AUDINR with our top brokers: