Bill Williams introduced the Alligator indicator in 1995.  The Alligator is as much a metaphor as it is an indicator.  It consists of three lines, overlaid on a pricing chart, that represent the jaw, the teeth and the lips of the beast, and was created to help the trader confirm the presence of a trend and its direction.  The Alligator indicator can also help traders designate impulse and corrective wave formations, but the tool works best when combined with a momentum indicator.
The "traits" of the Alligator are numerous.  If the three lines are entwined, then the Alligator's mouth is closed and he is said to be sleeping.  As he sleeps, he gets hungrier by the minute, waiting for a breakout from his slumber when he will eat.  When the trend takes shape, the Alligator wakes and starts eating.  Once satiated, the Alligator closes his mouth once again and goes to sleep.
Alligator Formula
The Alligator indicator is common on Metatrader4 trading software, and the calculation formula sequence involves these straightforward steps:
1)    The Alligator's Jaw, the "Blue" line, is a 13-period Smoothed Moving Average, moved into the future by 8 bars;
2)    The Alligator's Teeth, the "Red" line, is an 8-period Smoothed Moving Average, moved by 5 bars into the future;
3)    The Alligator's Lips, the "Green" line, is a 5-period Smoothed Moving Average, moved by 3 bars into the future.
Software programs do the hard work and produce a chart similar to the one below: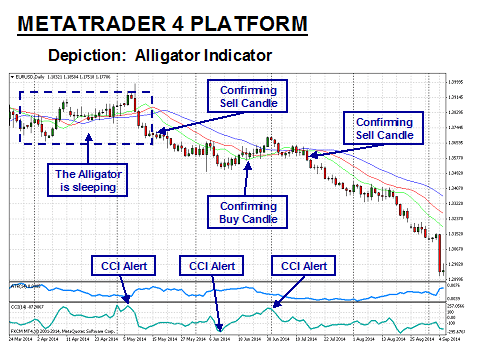 The Alligator indicator is composed of three smoothed moving averages.  Traders will occasionally add an "Oscillator" like the "CCI", as above in Aqua, to enhance the value of the trading signals.  In the example above, the "Jaw", "Teeth", and "Lips" are entwined while the Alligator sleeps during the initial part of the price action depicted. When the Alligator awakes, the Green line moves first, followed by the Red line, to confirm a breakout in a new direction. In this example, the CCI sent an overbought alert first. The Alligator lagged, but confirmed the signal after a Candle closed beneath the three-line set. The weakness in the indicator is that timing may "lag" due to its future positioning, the reason for attaching a momentum indicator to anticipate the Alligator's signal.
The Alligator indicator helps the trader stay in the position for a longer period and works best the longer the period of sleep. In the above example, you would stay in the trade until a Candle closed above the middle Red line. Williams also developed a "Gator" histogram indicator to help visually with interpretation, and many other traders have added their own "twist" to enhance the reliability of this indicator.
The next article in this series on the Alligator indicator will discuss how this indicator is used in forex trading and how to read the various graphical signals that are generated.