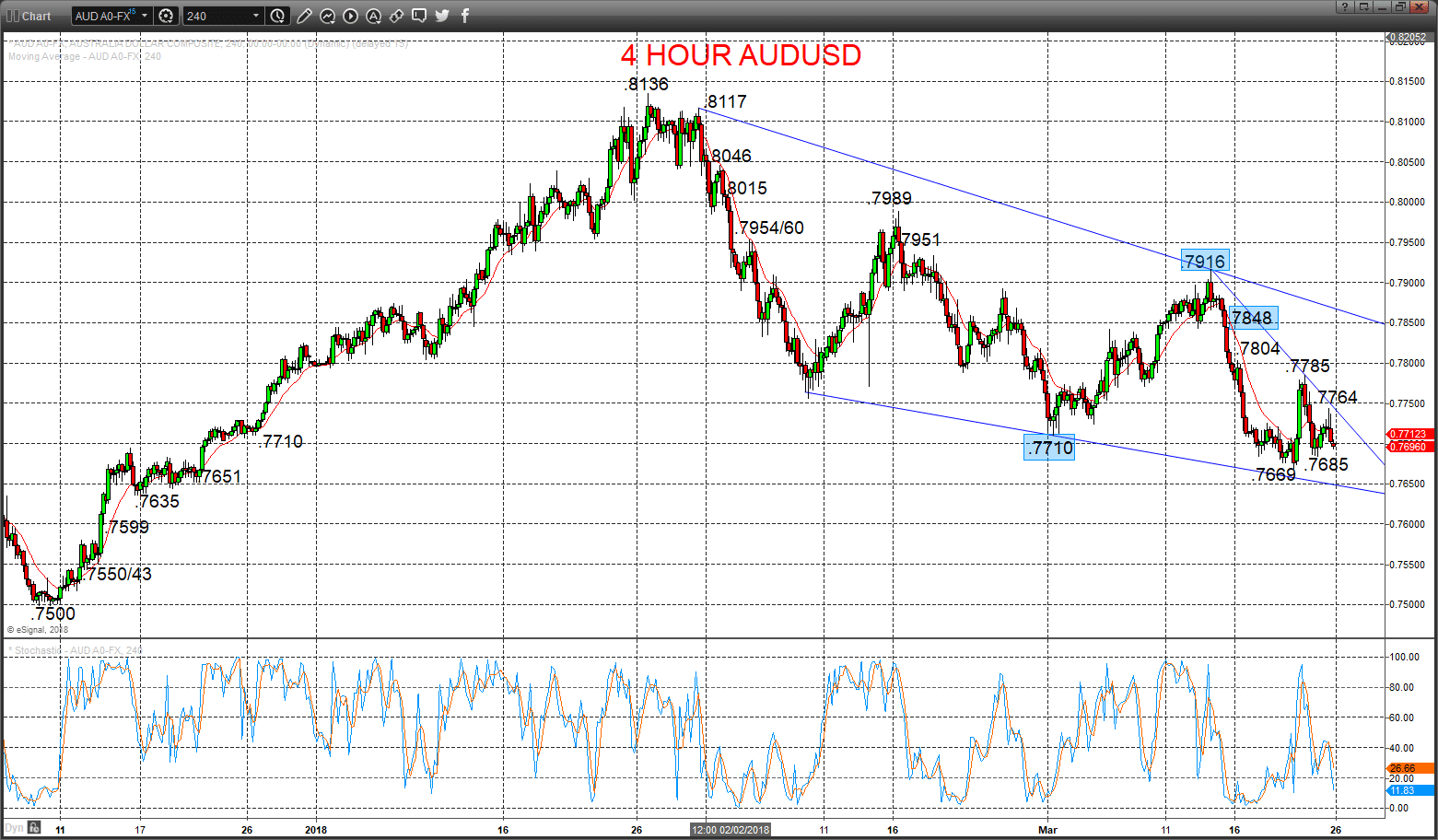 ---
The US Dollar has resumed a more positive tone against both the Australian and New Zealand currencies into late March.
This is in reaction to the spectre of a global trade war with developments in tariffs from both the US and China, plus a general "risk off" mode from the ensuing equity market sell offs, impacting global Forex markets.
For AUDUSD the latter March surrender of .7710 has shifted the intermediate-term outlook to bearish.
For NZDUSD we see an intermediate-term range theme for now, but with heightening threat of a bearish shift with the signal below .7151.
Read all technical analyses
AUDUSD Downside risks resume
A Friday rebound and setback from below our .7764 resistance level, reinforcing Thursday's significant selloff through .7705 support and the recent selloff through key .7710 support, keeping the bias back to the downside Monday.
The mid-March push below .7710 signalled an intermediate-term shift from a range theme to a bearish trend, intact whist below .7848
For Today:
We see a downside bias for .7685 and .7669; break here aims for .7651.
But above .7764 opens risk up to .7785.
Intermediate-term Outlook – Downside Risks: We see a downside risk for .7635.
Lower targets would be .7500, .7368/31 and .7155/41.
What Changes This? Above .7848 shifts the outlook back to neutral; above .7916 is needed for a bull theme.
Resistance and Support:
| | | | | |
| --- | --- | --- | --- | --- |
| .7764 | .7785* | .7804* | .7848*** | .7916*** |
| .7685* | .7669* | .7651* | .7635 | .7599 |
4 Hour AUDUSD Chart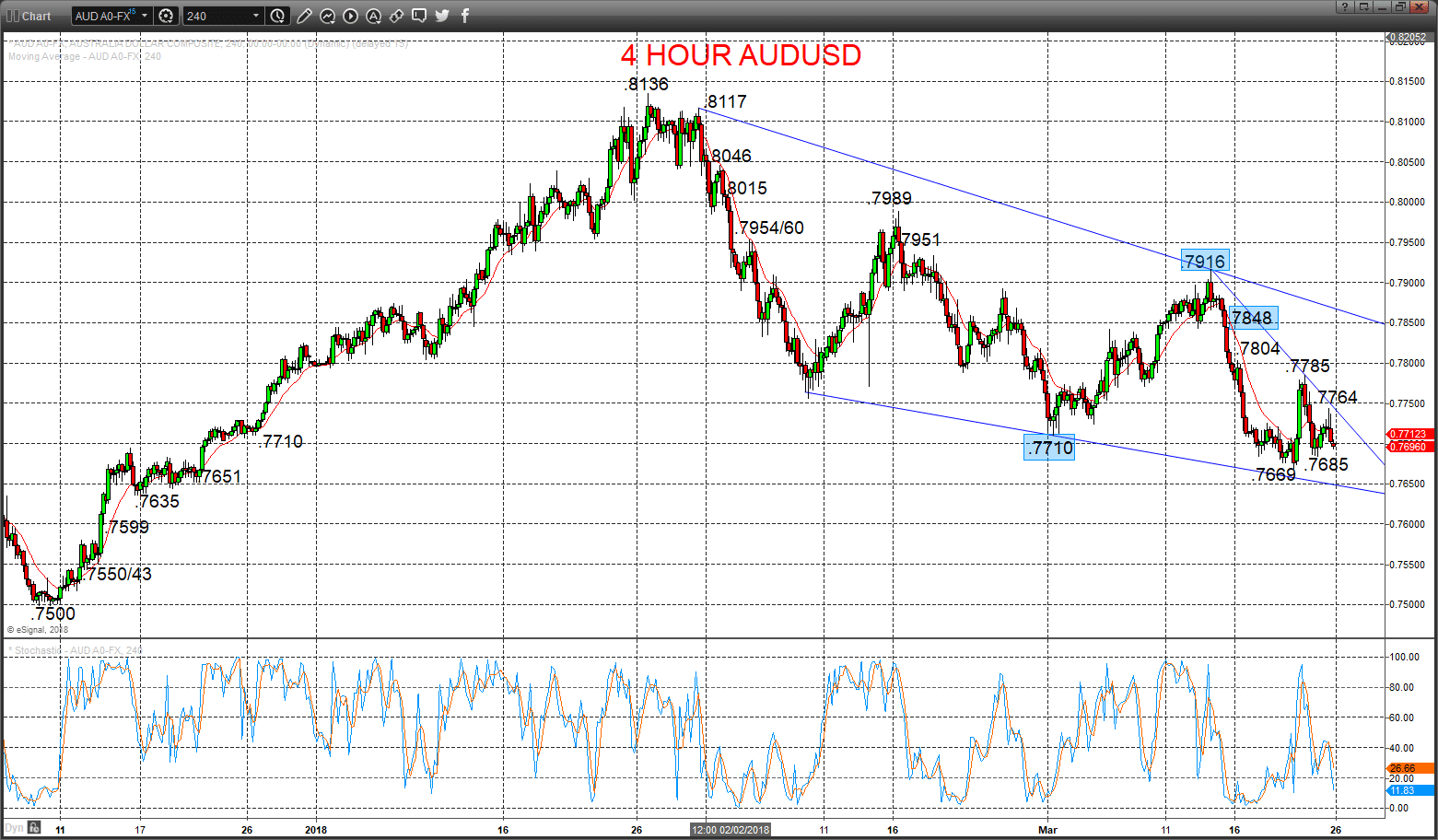 NZDUSD Intermediate-term range, but downside threat intact
A Friday rebound, but a failure back from just above our .7261/63 (down from .7273), to sustain negative pressures from Wednesday's push down through our key .7175 level (for a intermediate-term Double Top), keeping the risks for a push lower Monday.
We now see an intermediate-term range theme defined as .7151 to .7355.
For Today:
We see a downside bias for .7198; break here aims for critical .7151.
But above .7274 opens risk up to .7323.
Intermediate-term Range Breakout Parameters: Range seen as .7151 to .7355.
Upside Risks: Above .7355 sets a bull trend to aim for .7558 and .7744.
Downside Risks: Below .7151 sees a bear trend to target .6951 and .6778.
Resistance and Support:
| | | | | |
| --- | --- | --- | --- | --- |
| .7274 | .7323* | .7355*** | .7386** | .7411* |
| .7198 | .7151*** | .7140/38** | .7109 | .7070/69** |
4 Hour NZDUSD Chart