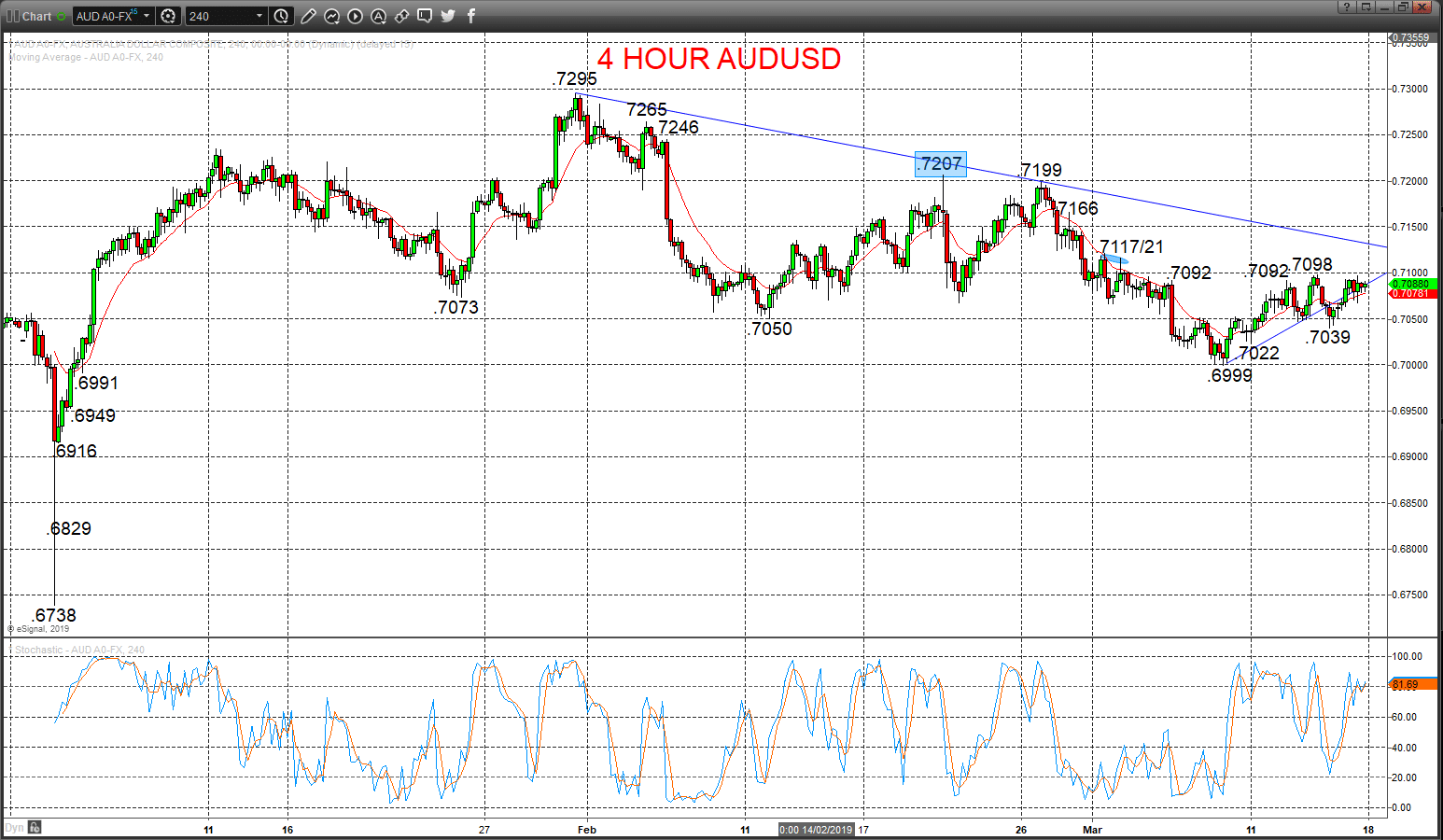 ---
When we last reported on both the AUDUSD and NZDUSD currency pairs here on 7th March we highlighted negative outlooks for both Forex rates.
Over the past week, however, previous US Dollar strength has faded with a broad weakening of the US$, as global financial markets have moved back to a "risk on" phase, with the US currency falling as the flight to quality move has receded.
This has allowed both the AUDUSD and NZDUSD FX rates to rally, which for AUDUSD sets a positive correction tone within an intermediate-term bearish trend.
While for NZDUSD the bias is to the upside within a broader, intermediate-term range, with risks for an intermediate-term bull shift (but only above .6942, see below).
AUDUSD bias remains positive
A dip and a rebound for a solid, inside pattern consolidation Friday after Thursday's push above the resistances at .7092 to .7098 and a bounce from new .7039 support, to sustain the whole recovery theme from early March (from within the notable support area at .7000/6991), to keep risks higher for Monday.
The early February push .7073 set an intermediate-term bear trend.
For Today:                                                        
We see an upside bias for .7098; break here aims for .7117/21, possibly towards .7166.
But below .7039 opens risk down to .7022, maybe towards .6999/91.
Intermediate-term Outlook – Downside Risks: We see a downside risk for .6916.
Lower targets would be .6829 and .6738
What Changes This? Above .7207 shifts the intermediate-term outlook straight to a bull theme.
Resistance and Support:
| | | | | |
| --- | --- | --- | --- | --- |
| .7098 | .7117/21 | .7166 | .7199* | .7207** |
| .7039 | .7022 | .6999/91* | .6949* | 6916* |
4 Hour AUD/USD Chart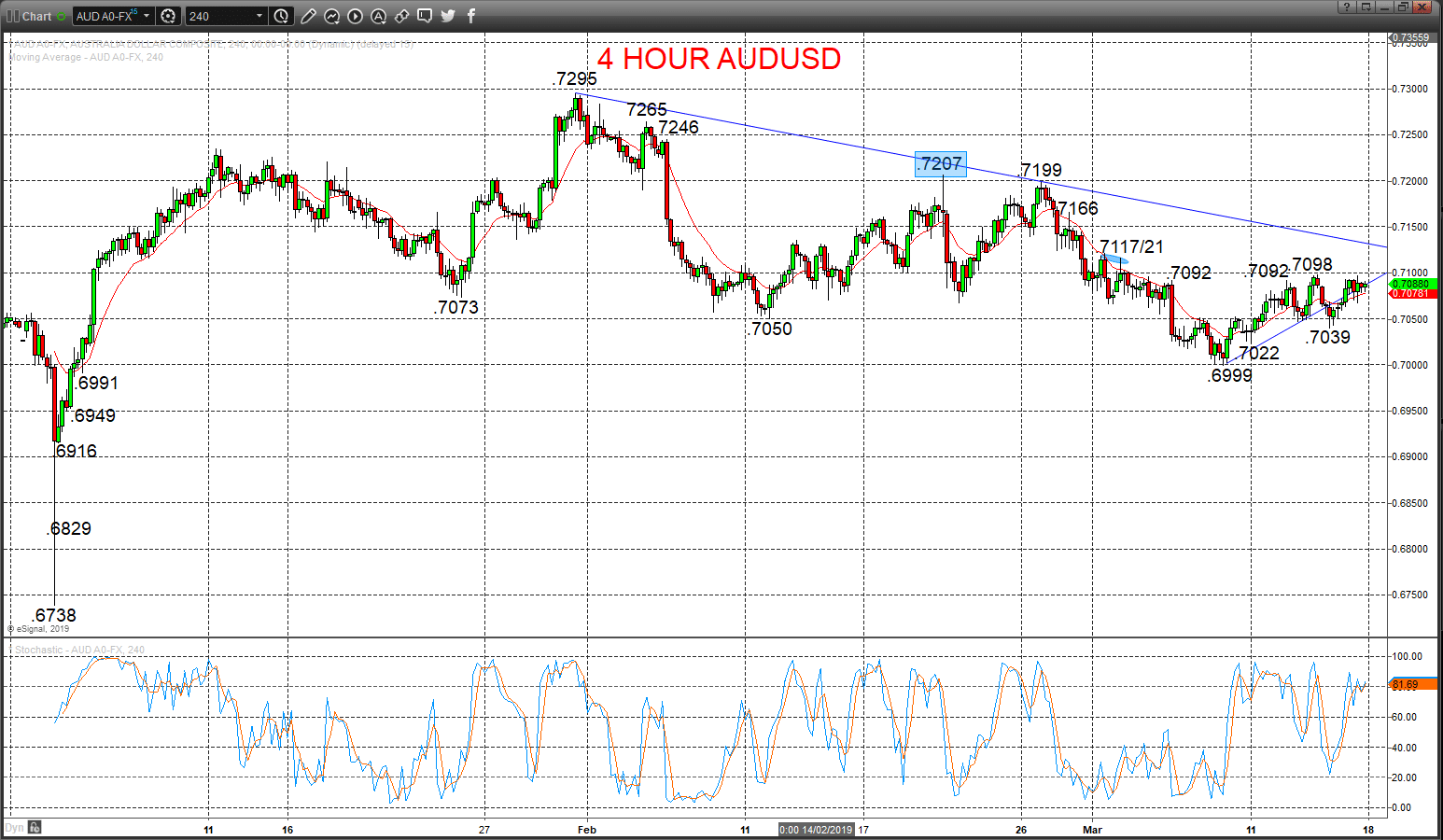 NZDUSD holding on to a positive tone
A firm, inside pattern digestion on Friday with a dip and rebound to echo Thursday's bounce from above .6786/80 supports (from .6805), to sustain the positive recovery theme from earlier in March off of .6743, keeping the bias to the upside Monday.
We see an intermediate-term range defined as .6716 to .6942, BUT now with a growing threat for a upside challenge.
For Today:
We see an upside bias for .6865/73, then the notable.6903/10 resistance area; break here aims for key .6942.
But below .6805 aims for .6786/80 and maybe opens risk down towards .6743 and .6723.
Intermediate-term Range Breakout Parameters: Range seen as .6716 to .6942.
Upside Risks: Above .6942 sets a bull trend to aim for .6969, .7060 and .7437.
Downside Risks: Below .6716 sees a bear trend to target .6583, .6347 and .6195.
Resistance and Support:
| | | | | |
| --- | --- | --- | --- | --- |
| .6865/73 | .6903/10*** | .6942*** | .6969*** | .6984 |
| .6805 | .6786/80* | .6743* | .6723* | .6716*** |
4 Hour NZD/USD Chart