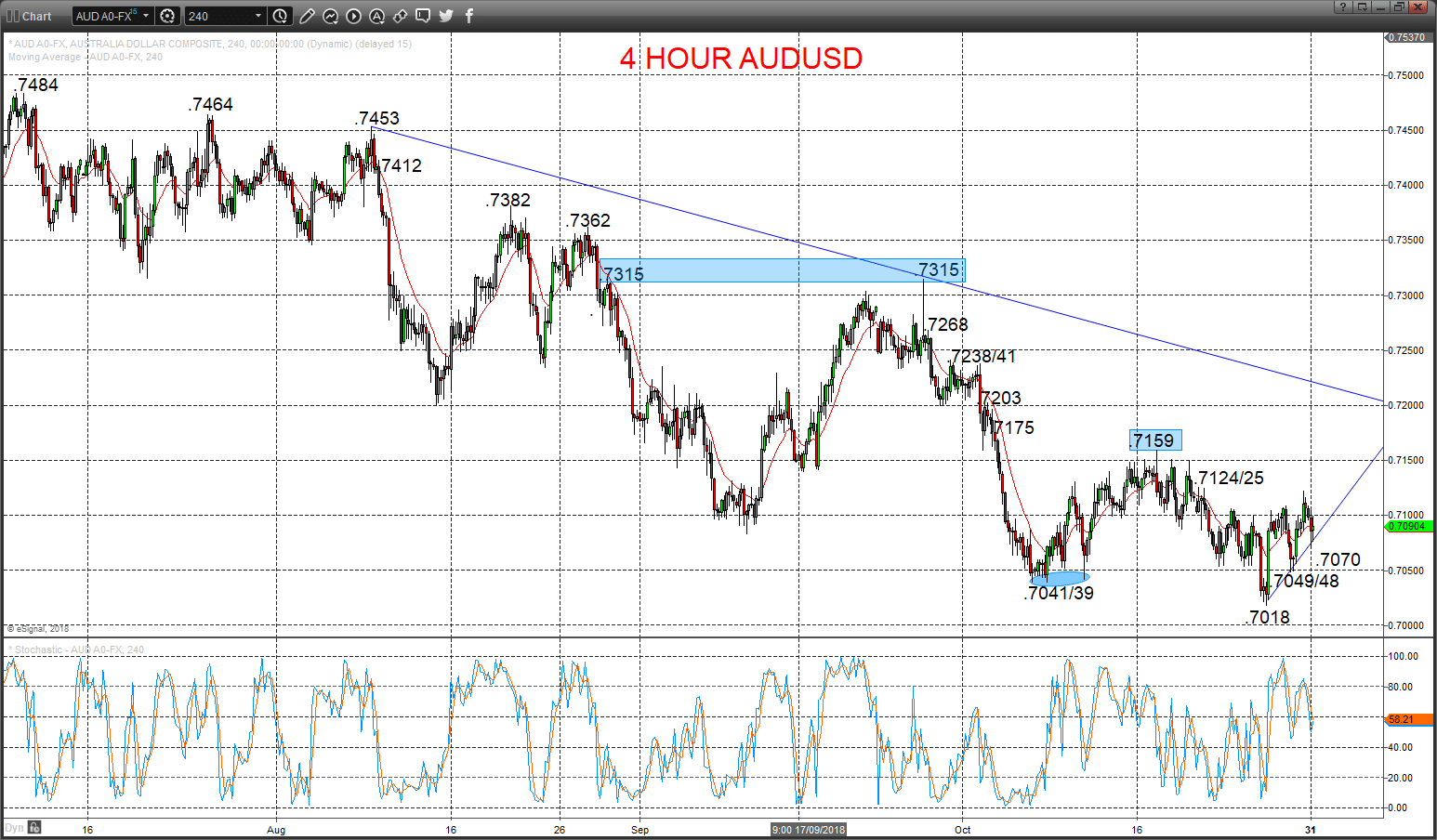 ---
We last looked at AUDUSD and NZDUSD spot currency rates here in our 22nd October report we looked at potential for rebounds and for intermediate-term positive signals.
Since then, these FX rates have dipped back lower, but then seen firm recoveries, which again sets risks for further gains into November.
The threat is for AUDUSD to shift from an intermediate-term bear theme to neutral, above .7159 (and even further out possibly to bullish above .7315).
For NZDUSD, above .6618 would see the intermediate-term outlook shift to bullish.
AUDUSD
Still an upside risks for a base above key .7159
A dip and a rebound Tuesday from just below our .7049 support (from .7048) to push above .7106/09 resistances, to sustain a positive bias from Friday's bullish outside daily pattern and positive Hammer candlestick recovery (from a new cycle low) to keep risk higher for Wednesday.
We see an intermediate-term bear trend, BUT see risks for a push above .7159, which would see an intermediate-term shift to neutral.
For Today:
We see an upside bias for .7124/25; break here aims for key .7159, maybe towards .7175/77.
But below .7070 aims for .7049/48, which we would again look to try to hold. Below aims for the new .7018 low and possibly towards .7000.
Intermediate-term Outlook – Downside Risks: Whilst below .7159 we see a downside risk for .7000, .6825 and maybe towards .6500
What Changes This? Above .7159 shifts the intermediate-term view to neutral, and only above .7315 to bullish.
Resistance and Support:
| | | | | |
| --- | --- | --- | --- | --- |
| .7109 | .7124/25 | .7159*** | .7175/77 | .7203/09* |
| .7070 | .7049/48 | .7018* | .7000** | .6969 |
4 Hour Chart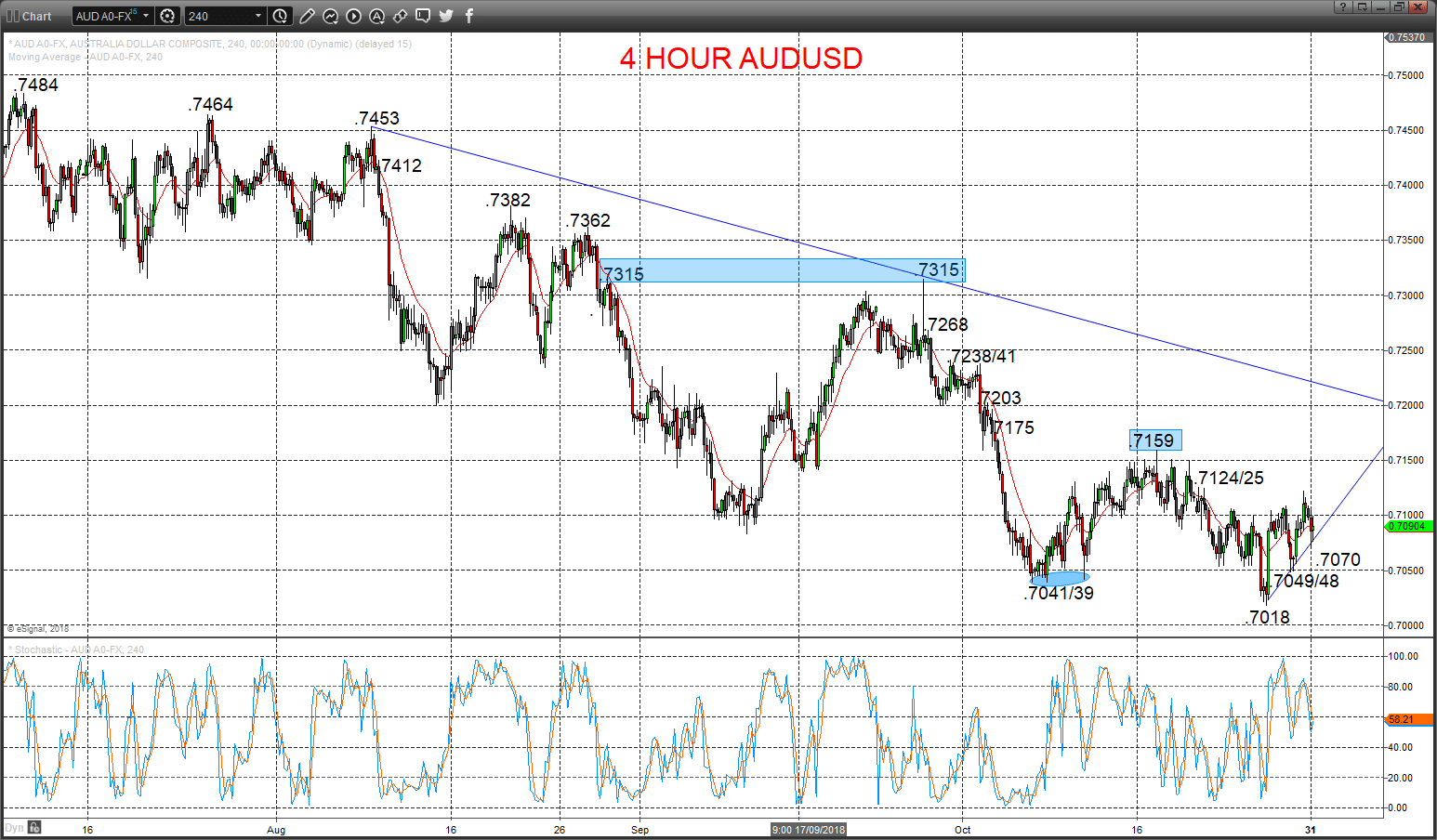 NZDUSD
Bull threat again to .6618
A strong advance Tuesday after a rebound from new platform support at .6518, to push up through initial .6556 resistance and also .6567/69 swing peaks, to further build on Friday's plunge and intraday rebound from below the key .6492 support (from .6461), to keep risks higher for Wednesday.
We see an intermediate-term range theme defined as .6618 and .6421, BUT with skewed risk for an intermediate-term bullish shift above .6618
For Today:
We see an upside bias for .6573/83; break here aims for key .6618 and maybe towards .6640.45 area.
But below .6518 targets .6489 and maybe aims for.6461.
Intermediate-term Range Breakout Parameters: Range seen as .6618 and .6421.
Upside Risks: Above .6618 sets a bull trend to aim for .6696/99, .7060, .7437 and .7558.
Downside Risks: Below .6421 sees a bear trend to target .6348, .6195 and maybe .6000.
Resistance and Support:
| | | | | |
| --- | --- | --- | --- | --- |
| .6573/83 | .6618* | .6640/45* | .6680 | .6696/99*** |
| .6518** | .6489* | .6461** | .6440** | .6424/21*** |
4 Hour Chart