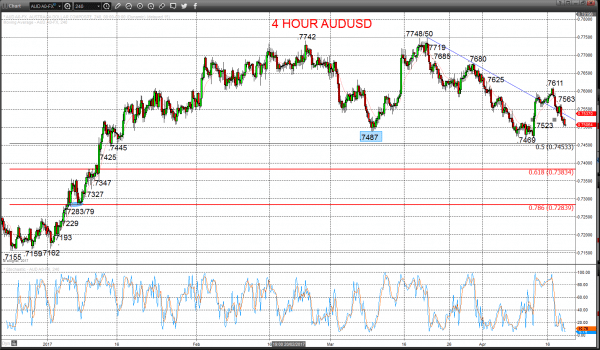 ---
Losses for the Australian Dollar versus the US Dollar in early April and again since the Easter holiday have highlighted a negative tone for AUDUSD. This leaves risk for a more negative tone, particularly given the an intermediate-term bearish shift, previously signaled by the probe below .7487.
However, NZDUSD retains a more positive outlook through the middle of April, rejecting threat of a more bearish shift, which would only be triggered below .6867.
Read more technical forex analyses
AUDUSD
A negative tone on Wednesday, reinforcing the Tuesday push down through the .7555 support with a break below .7523, sustaining downside pressures into Thursday.
Furthermore, the early April breach of .7487 produced an intermediate-term bearish shift.
For Today:
l We see a downside bias for .7500; break here aims for .7469, Maybe down to the .7453/45 area.
l But above .7563 opens risk up to .7611 and .7625.
Intermediate-term Outlook – Downside Risks:
l We see a negative tone with the bearish threat to .7283/79.
l Below here targets .7155/41/06 area, .7000 and .6971.
What Changes This? Above .7778 signals a bullish tone.
4 Hour Chart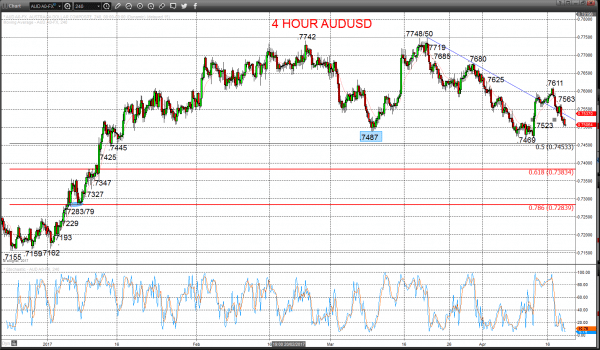 NZDUSD
A probe lower on Wednesday, but only after an advance up through the .7039/45 resistance area, but whilst holding above initial support at .6995, we still see upside pressures and a bias higher into Thursday.
This activity has eased the immediate risk of an intermediate-term bearish shift, only confirmed below .6867.
For Today:
l We see an upside bias for .7053; break here aims for .7090.
l But below .6995 aims for .6973 and opens risk down towards .6910.
Intermediate-term Range Parameters: We see the range defined by .7403 and .6867.
Range Breakout Challenge
l Upside: Above .7403 aims higher for .7485, .7564 and .7744.
l Downside: Below .6867 sees risk lower for .6800, .6676/64, .6572/41 and maybe as deep as .6343.
4 Hour Chart