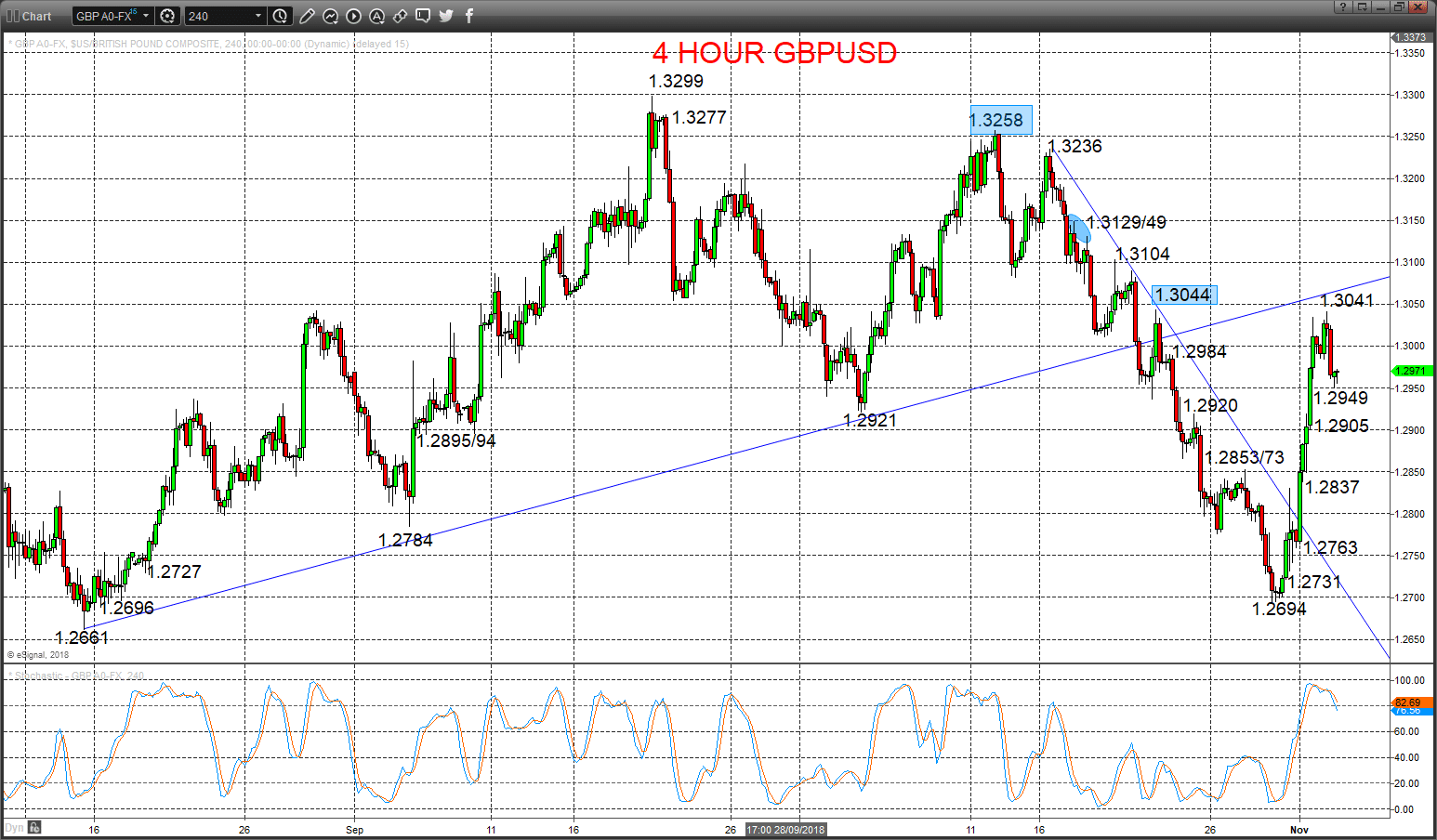 ---
We last looked at GBPUSD and EURUSD in our 25th October report here and downside threats.
Late October-early November gains for the GB Pound have been driven by positive statements from senior UK Government officials regarding Brexit, and a weakening US Dollar with a shift back towards a global "risk on" environment.
This has seen GBPUSD threaten an intermediate-term shift from bearish back to a more neutral theme, above 1.3044.
EURUSD remains within an intermediate-term range, and had threatened a bearish signal below 1.1300, BUT the turn of month rebound exactly from this level has eased immediate bearish risks.
GBPUSD Upside risks intact
A Friday setback from just below key resistance at 1.3044, but whilst above 1.2949 we still see upside forces from Thursday's aggressive surge above multiple resistance factors, to keep risk higher for Monday.
The latter October break below 1.2894 set an intermediate-term bear trend, BUT risks is now for a push above 1.3044 for a move back to an intermediate-term range theme, even above 1.3258 for an intermediate-term bullish shift.
For Today:
We see an upside bias for 1.2991 and key 1.3044; break here aims for 1.3104 and 1.3129/49 area, maybe even closer to 1.3226 and critical 1.3258.
But below 1.2949 opens risk down to 1.2905 and possibly towards t 1.2837.
Intermediate-term Outlook – Downside Risks: We see a downside risk for 1.2661 and 1.2500.
What Changes This? Above 1.3044 shifts the outlook back to neutral; above 1.3258 is needed for a bull theme.
Resistance and Support:
| | | | | |
| --- | --- | --- | --- | --- |
| 1.2991 | 1.3041/44*** | 1.3104* | 1.3129/49** | 1.3236* |
| 1.2949 | 1.2905* | 1.2837* | 1.2763** | 1.2731 |
4 Hour GBPUSD Chart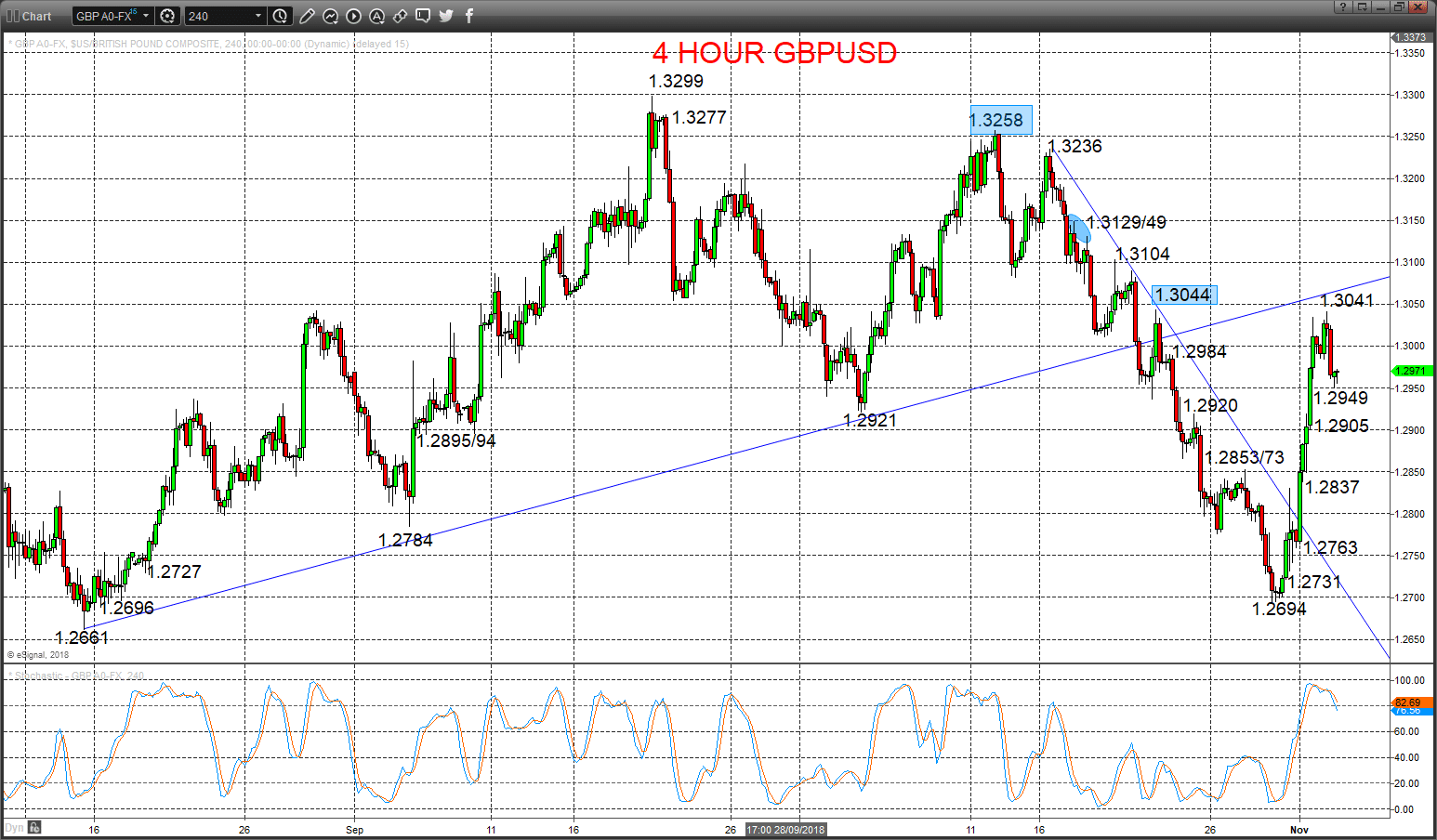 EURUSD Risks shift higher
An extremely erratic tone Friday with a push above the 1.1421/33 resistance area shifting risks higher, then a plunge back lower, but to then rebound from 1.1371, to just set an upside bias into Monday.
We see an intermediate-term range as 1.1815 to 1.1300, BUT with risk for an intermediate-term bearish shift below 1.1300.
For Today:
We see an upside bias for 1.1422; break here aims for 1.1456 and 1.1477.
But below 1.1371 opens risk down to 1.1355, maybe key 1.1300.
 Intermediate-term Range Breakout Parameters: Range seen as 1.1815 to 1.1300.
Upside Risks: Above 1.1815 sets a bull trend to aim for 1.1996/2000 and 1.2476.
Downside Risks: Below 1.1300 sees a bear trend to target 1.1119, 1.1000 and 1.0839.
Resistance and Support:
| | | | | |
| --- | --- | --- | --- | --- |
| 1.1433** | 1.1477 | 1.1507 | 1.1550** | 1.1580/81* |
| 1.1371 | 1.1335* | 1.1300*** | 1.1277 | 1.1251/50 |
4 Hour EURUSD Chart