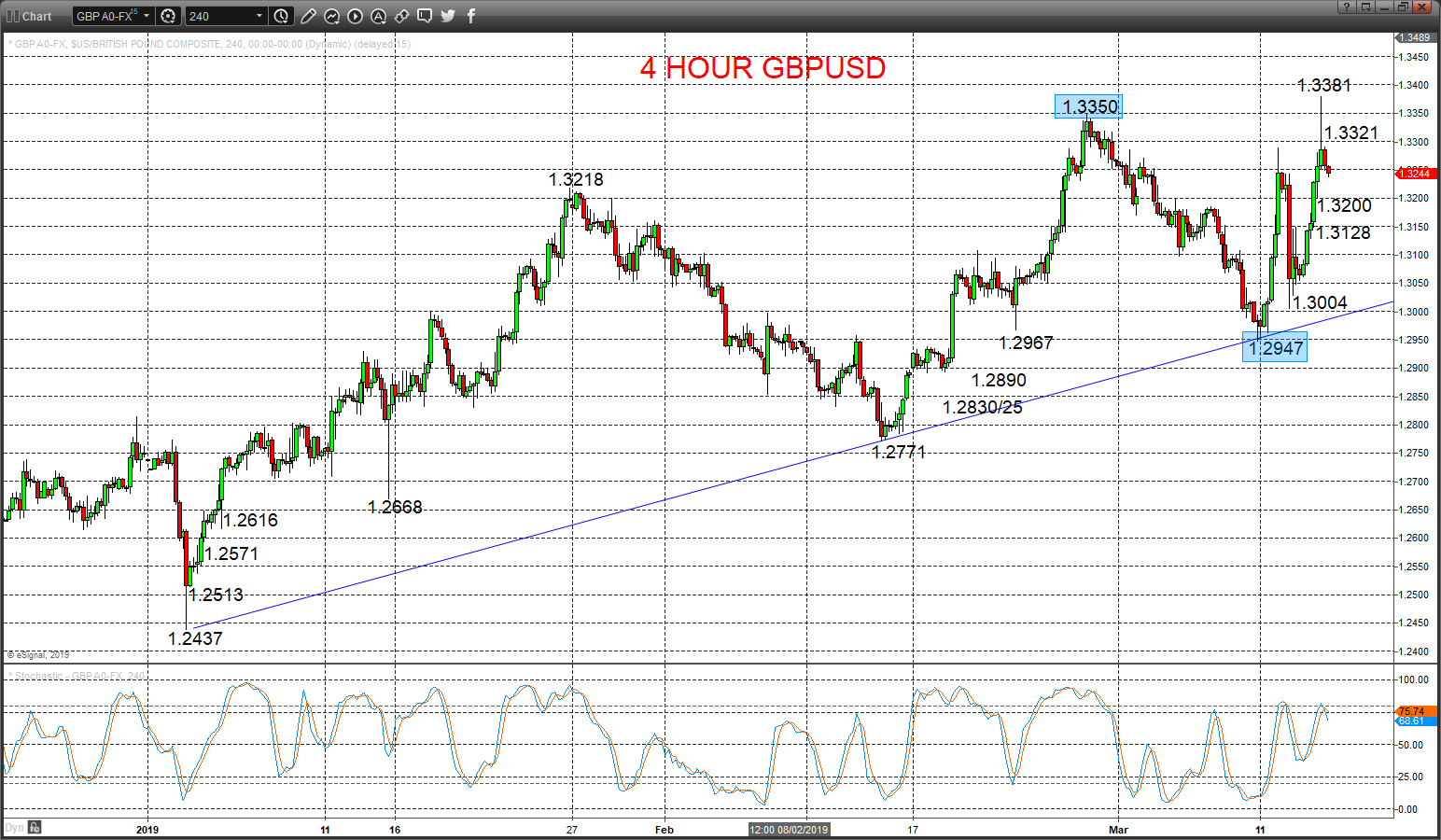 ---
We last looked at the GBPUSD and EURUSD Forex rates in our 4th March report here with a bullish GBPUSD outlook and EURUSD rebound bias, but markets have sent significant signals since then!
For the GBPUSD currency pair, extremely choppy trading activity has dominated in early March through to mid-month, with key Brexit votes this week.
A GBPUSD selloff initially neutralised the intermediate-term bull trend with a probe below 1.2967 to 1.2947, but the subsequent rebound over the past 24 hours has seen an intermediate-term bullish shift again with a new high for 2019.
The EURUSD FX pair signalled an intermediate-term move to a bear trend earlier in March, with a post-European Central Bank Meeting plunge through 1.1214.
However, subsequent recovery activity leaves short-term risks skewed towards the upside, maybe to neutral again above 1.1420.
GBPUSD Intermediate-term bull shift
An aggressive advance Wednesday and a spike higher through the late February peak at 1.3350, to switch the intermediate-term outlook to bullish.
Furthermore, this price action also sets risks higher into another key Brexit vote Thursday.
For Today:
We see an upside bias for 1.3321; break here aims for 1.3381/89 and maybe 1.3423.
But below 1.3200 opens risk down to 1.3128, maybe 1.3004.
 Intermediate-term Outlook – Upside Risks: We see an upside risk for 1.3473.
Higher targets would be 1.3608 and 1.4000
What Changes This? Below 1.2947 shifts the intermediate-term outlook straight to a bear theme.
Intermediate-term Range Breakout Parameters: Range seen as 1.2771 to 1.3350.
Upside Risks: Above 1.3350 sets a bull trend to aim for 1.3473 and 1.3608.
Downside Risks: Below 1.2771 sees a bear trend to target 1.2668 and 1.2437.
Resistance and Support:
| | | | | |
| --- | --- | --- | --- | --- |
| 1.3321 | 1.3381/89* | 1.3423 | 1.3473** | 1.3500** |
| 1.3200 | 1.3128 | 1.3004* | 1.2947** | 1.2890* |
4 Hour GBP/USD Chart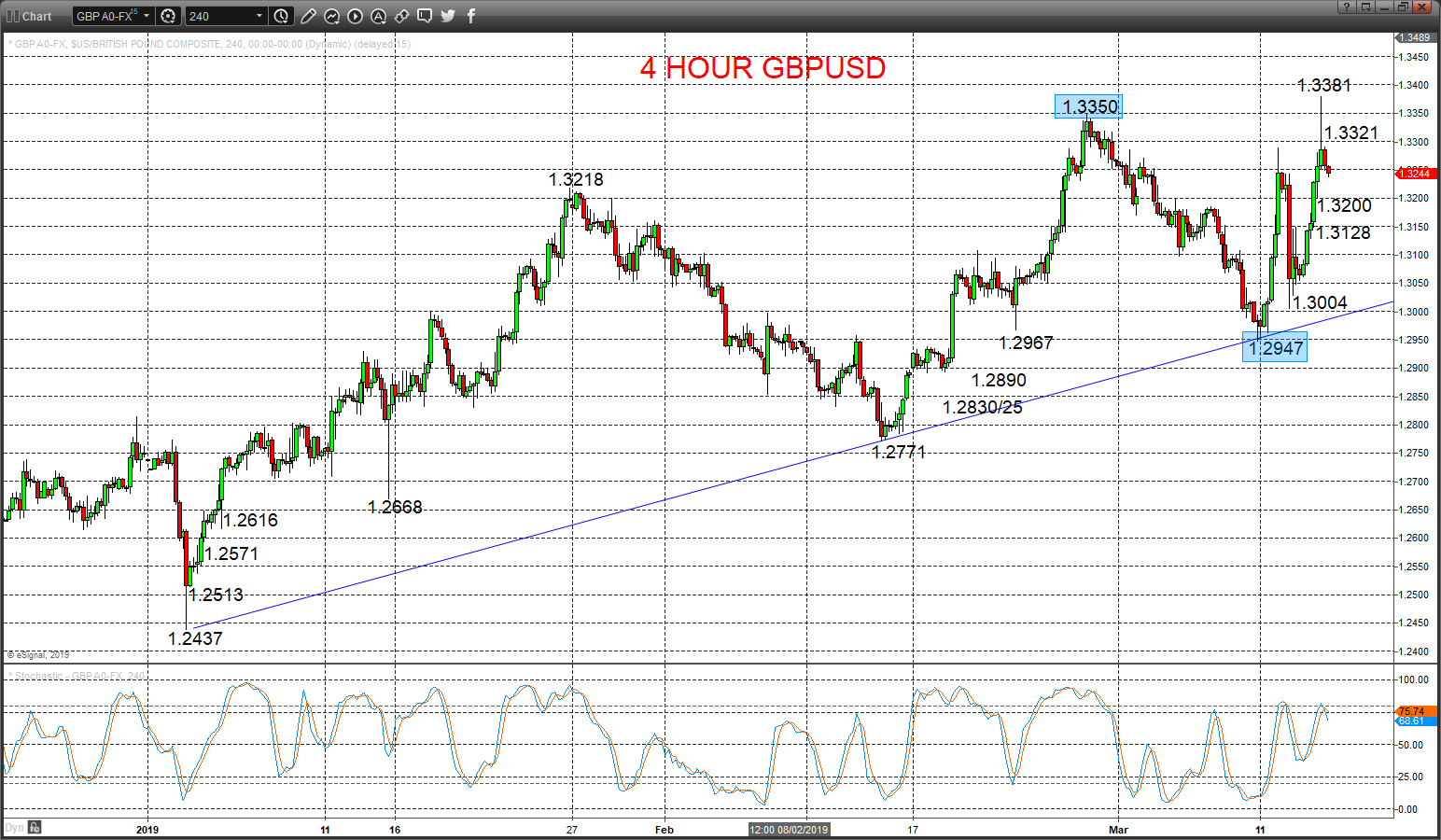 EURUSD Risks stay higher
A firm advance Wednesday as we had flagged for through 1.1305 and 1.1325 resistance, the latter being the impulse point from last week's ECB plunge (below key 1.1214 support), to reinforce Tuesday's rebound above the down trend line from late February, to keep risks higher for Thursday.
The early March, post-ECB plunge through 1.1214 saw an intermediate-term move to a bear trend.
For Today:
We see an upside bias for 1.1339; break here aims for 1.1389, maybe even closer to key 1.1420.
But below 1.1299 opens risk down to 1.1276, maybe even towards 1.1248.
 Intermediate-term Outlook – Downside Risks: We see a downside risk for 1.1119.
Lower targets would be 1.1000 and 1.0839
What Changes This? Above 1.1420 shifts the outlook back to neutral; above 1.1509 is needed for a bull theme.
Resistance and Support:
| | | | | |
| --- | --- | --- | --- | --- |
| 1.1339 | 1.1389 | 1.1420*** | 1.1434 | 1.1488* |
| 1.1299 | 1.1276* | 1.1248 | 1.1213/11 | 1.1175/71* |
4 Hour EUR/USD Chart