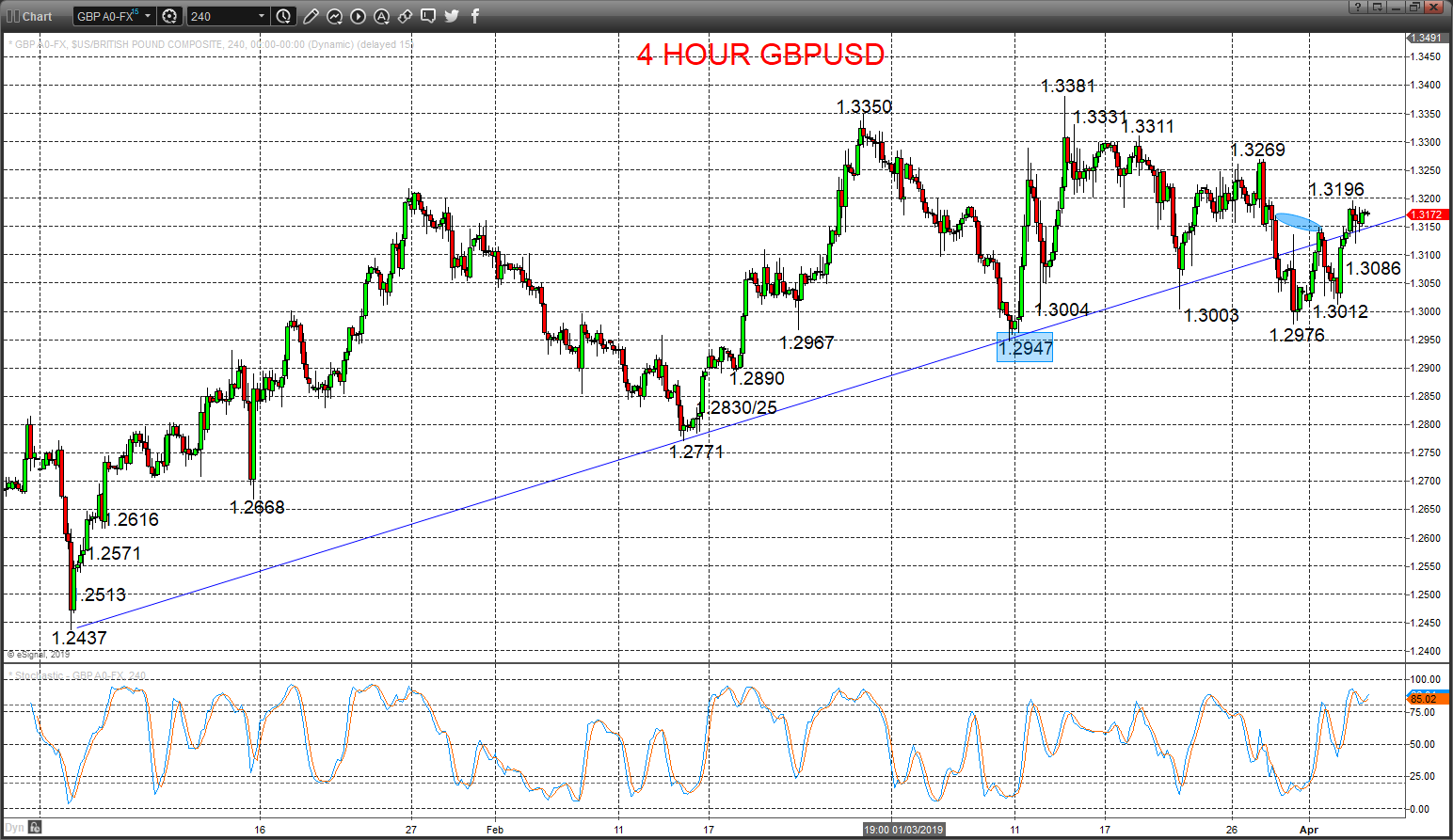 ---
In our last look at  the GBPUSD Forex rate and the EURUSD currency pair here in our March 23rd report we signalled a positive outlook still for GBPUSD and negative tone for EURUSD.
Again, Brexit uncertainty clouds the outlook for the Pound, but a more conciliatory approach from Prime Minister Theresa May in early April has sustained the upside risks for Sterling.
In the past week, GBPUSD has seen another selloff and rebound from above our 1.2947 key support, thereby reinforcing our intermediate-term bullish theme.
The EURUSD FX pair has continued the aggressive selloff from mid-March through month- and quarter-end, to push still lower into early April and threaten an intermediate-term bearish shift, below 1.1175.
GBPUSD Risks stay higher
A push higher Wednesday through the 1.3150/69 resistance area to just stall at the 1.3206 level (at 1.3196) but leaving an upside bias from Tuesday's firm rebound from 1.3012, keeping risks higher Thursday.
The aggressive, mid-March advance through the late February peak at 1.3350 switched the intermediate-term outlook to bullish.
For Today:                                              
We see an upside bias for 1.3196/3206; break here aims for 1.3269 and maybe 1.3311/31.
But below 1.3086 opens risk down to 1.3012, maybe 1.2976.
 Intermediate-term Outlook – Upside Risks: We see an upside risk for 1.3473.
Higher targets would be 1.3608 and 1.4000
What Changes This? Below 1.2947 shifts the intermediate-term outlook straight to a bear theme.
Resistance and Support:
| | | | | |
| --- | --- | --- | --- | --- |
| 1.3196/3206* | 1.3269** | 1.3311/31* | 1.3381** | 1.3423 |
| 1.3086 | 1.3012 | 1.2976* | 1.2947*** | 1.2890 |
4 Hour GBPUSD Chart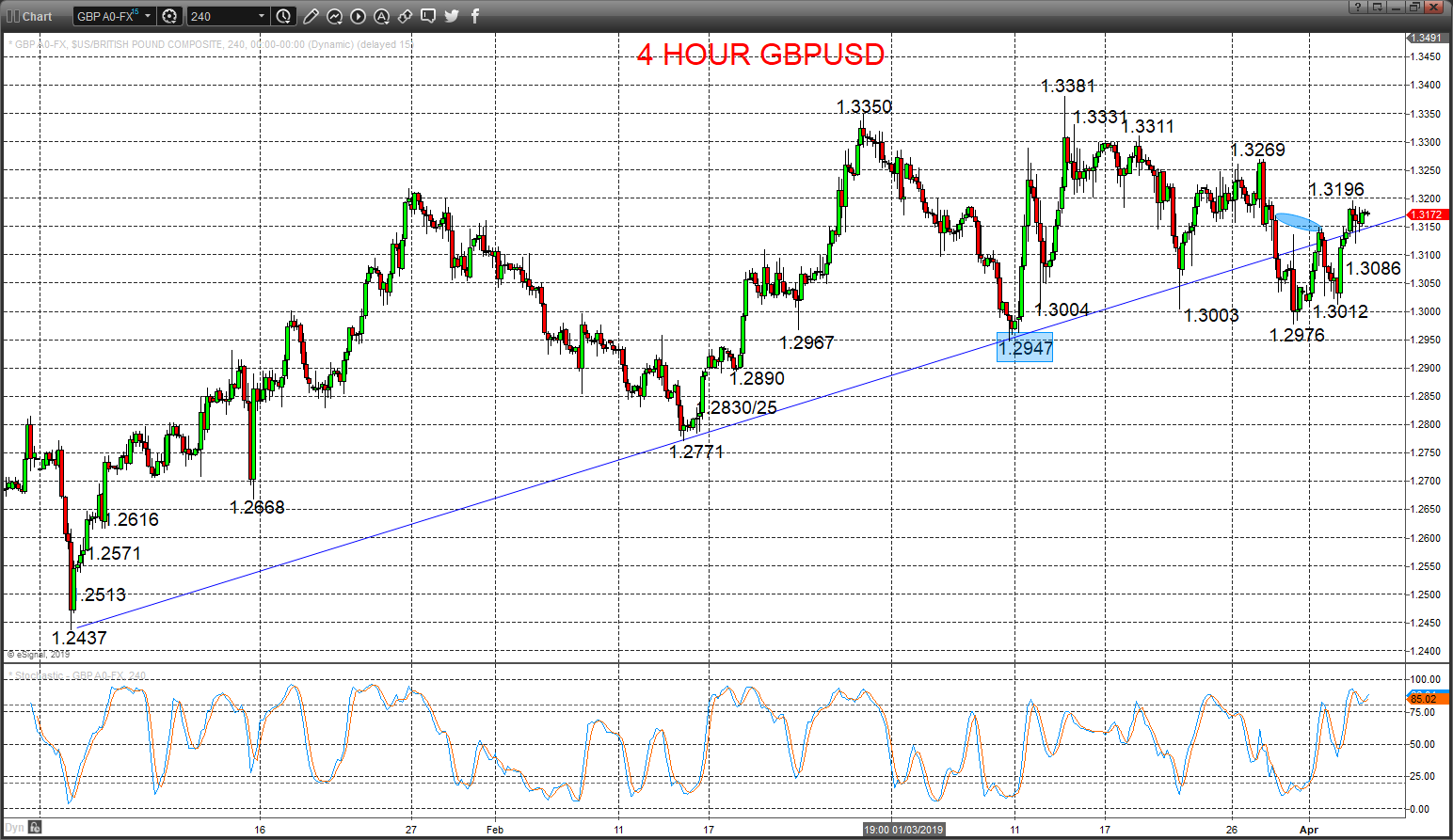 EURUSD Risks just stay lower
A rebound Wednesday, but a stall within our 1.1247/61 resistance area (from 1.1255), still then holding onto bear pressures from the aggressive March selloffs down from 1.1448 and 1.1390, to keep risks lower for Thursday.
The latter March surge post-Fed Meeting above 1.1420 set a broader range we see as 1.1509 to 1.1175, BUT with risks skewed towards an intermediate-term bearish shift through 1.1175.
For Today:
We see a downside bias for 1.1213; break here aims for key 1.1175 and maybe towards 1.1144.
But above 1.1255/61 aims for 1.1286/95 and maybe 1.1332/41.
 Intermediate-term Range Breakout Parameters: Range seen as 1.1509 to 1.1175.
Upside Risks: Above 1.1509 sets a bull trend to aim for 1.1570/1.1621, 1.1815/52 and 1.1996/1.2000.
Downside Risks: Below 1.1175 sees a bear trend to target 1.1119, 1.1000 and 1.0839.
Resistance and Support:
| | | | | |
| --- | --- | --- | --- | --- |
| 1.1255/61 | 1.1286/95* | 1.1332/41* | 1.1390** | 1.1448** |
| 1.1213 | 1.1175*** | 1.1144 | 1.1119** | 1.1100 |
4 Hour EURUSD Chart