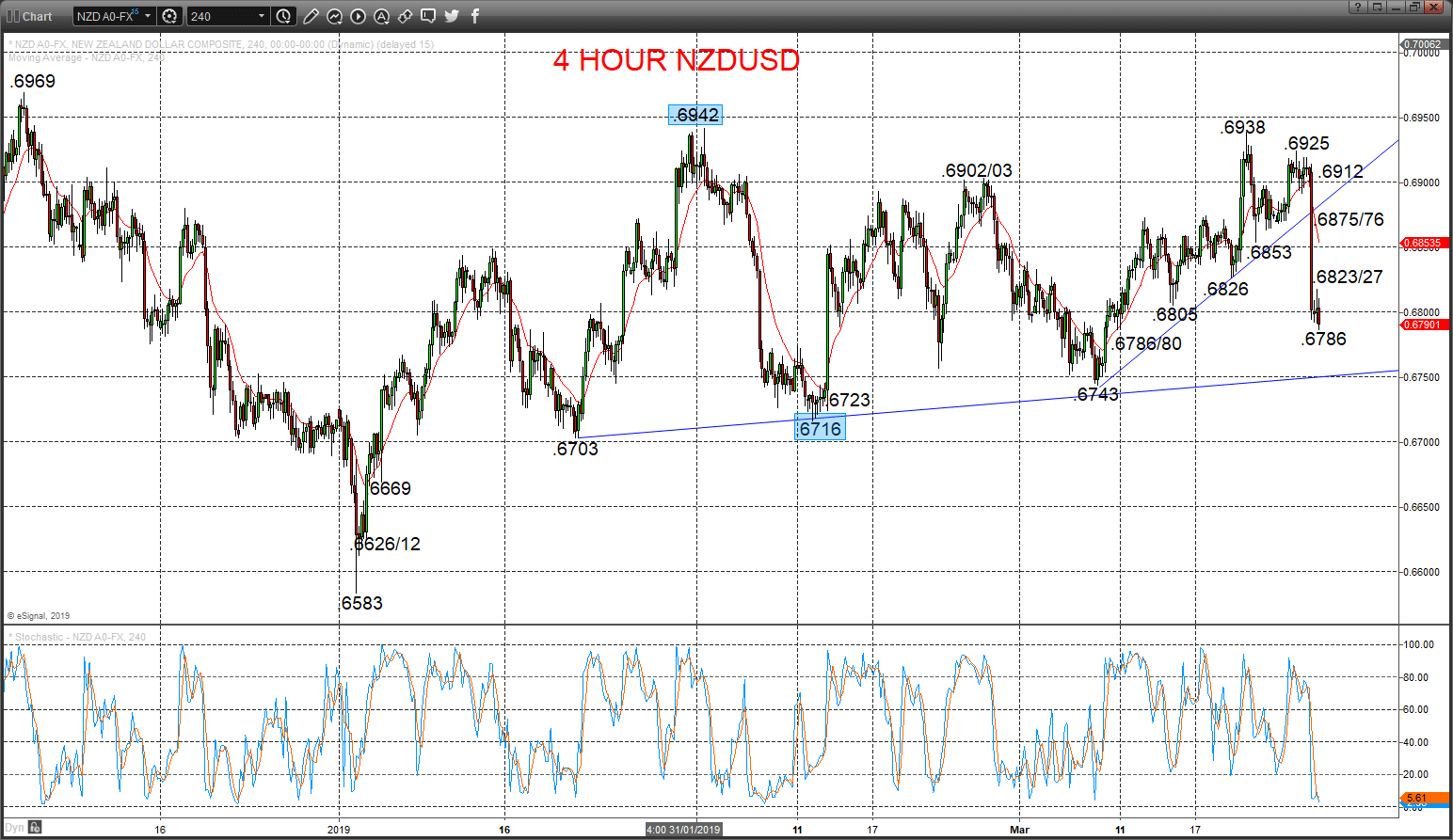 ---
We last looked at the AUDUSD and NZDUSD Forex rates here on 17th March and highlighted upside risks for both currency pairs.
The more dovish tone from the FOMC on Wednesday 20th March initially allowed for a broad weakening of the US Dollar against many major currencies, encouraging both AUDUSD and NZDUSD higher.
However, the Wednesday 27th March Reserve National Bank of New Zealand (RBNZ) Meeting highlighted a very dovish tone with risks for an interest rate cut as the next move in New Zealand.
This encouraged a plunge lower for the NZDUSD FX rate from below a key resistance level at .6942, and also pulled the AUDUSD currency pair lower to.
This activity leaves a still bearish intermediate-term trend for AUDUSD and risks for an intermediate-term bearish shift for NZDUSD, but only triggered below .6716.
NZDUSD Bear threat after dovish RBNZ
A plunge Wednesday after a far more dovish tone than the market had expected from the RBNZ, wiping out the March up trend line and notable supports at .6853, .6826 and .6805 to stop exactly at the top of our next .6786/80 support area, but very much reinforcing the negative bias from the latter March failure from just below the key February spike high at .6942, to keep risks lower Thursday.
We see an intermediate-term range defined as .6716 to .6942, BUT NOW with growing risk for an intermediate-term shift straight to bearish below .6716.
For Today:
We see a downside bias through .6786/80; break here maybe aims for .6743, .6723 and maybe critical .6716.
But above .6823/27 opens risk up to .6875/76.
Intermediate-term Range Breakout Parameters: Range seen as .6716 to .6942.
Upside Risks: Above .6942 sets a bull trend to aim for .6969, .7060 and .7437.
Downside Risks: Below .6716 sees a bear trend to target .6583, .6347 and .6195.
Resistance and Support:
| | | | | |
| --- | --- | --- | --- | --- |
| .6823/27* | .6875/76 | .6912/25** | .6938/42*** | .6969*** |
| .6786/80* | .6743** | .6723 | .6716*** | .6703** |
4 Hour NZDUSD Chart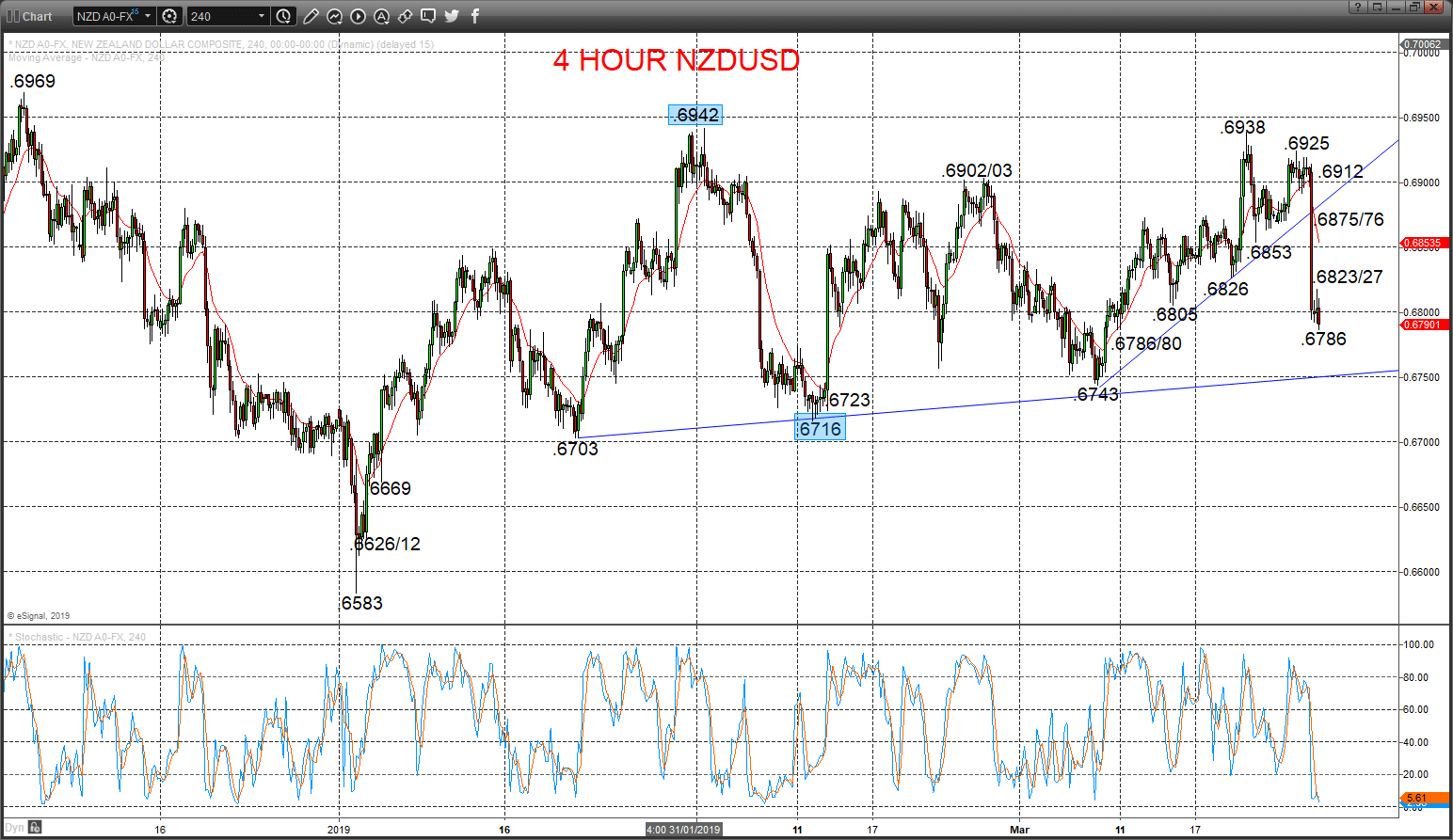 AUDUSD Negative theme reinforced
A selloff Wednesday through .7079 support driven lower by New Zealand Dollar weakness after a more dovish tone from the RBNZ, rejecting this week's modest advance through the initial .7119 resistance level, restarting negative pressures from last Thursday's failure from .7168, to keep risks lower for Thursday.
The early February push .7073 set an intermediate-term bear trend,
For Today:                                                        
We see a downside bias for .7055; break here aims for .7039, maybe .7022 and even .6999.
But above .7108 aims for 7148 and opens risk up to .7168.
Intermediate-term Outlook – Downside Risks: We see a downside risk for .6916.
Lower targets would be .6829 and .6738
What Changes This? Above .7207 shifts the intermediate-term outlook straight to a bull theme.
Resistance and Support:
| | | | | |
| --- | --- | --- | --- | --- |
| .7108 | .7148* | .7168** | .7199* | .7207*** |
| .7055* | .7039* | .7022 | .6999** | .6991 |
4 Hour AUDUSD Chart