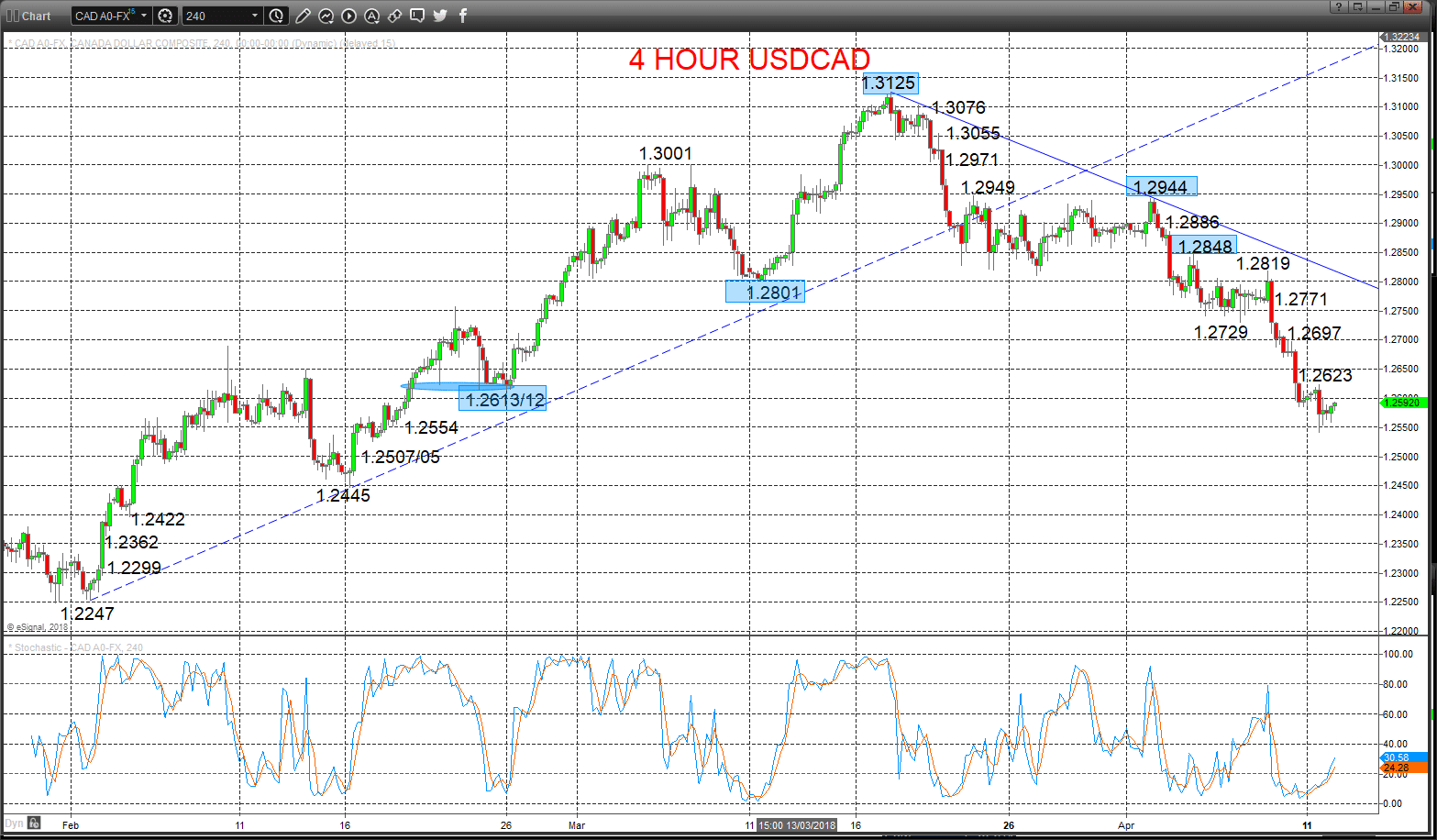 ---
Although global equity markets remains very volatile, bigger bearish threats from the February and mid-March sell offs are easing, with the tone shifting from "risk off" towards "risk on".
In this scenario, the US Dollar has started to weaken against major currencies, with anticipation of a global recovery, whilst USDJPY aims higher with a move away from the safe haven Yen (given the more positive global outlook).
For USDJPY we now see an intermediate-term range theme with the bear trend neutralised above 107.30, with risk for an intermediate-term bull trend, signalled above 107.90..
The April plunge lower by USDCAD has not only neutralised the intermediate-term bull trend below 1.2801, but the recent surrender of 1.2612 now sets an intermediate-term bear trend.
Read all technical analysis.
USDJPY
Erratic consolidation, upside risk
A Wednesday dip, but holding above our 106.59 support level (as on Tuesday), just sustaining a resilient consolidation tone and upside pressures from the early April push above key 107.30 resistance, and whilst holding 106.59 keeping the bias higher Thursday.
The early April push above 107.30 shifted the intermediate-term outlook from bearish to a range theme (range seen as 107.90 to 104.54), with the skewed bias currently for a bullish intermediate-term shift above 107.90.
For Today:
We see an upside bias for 107.19 and 107.49/68; above here aims for key 107.90, maybe 108.51.
But below 106.59 opens risk down to 105.97, maybe 105.63.
Intermediate-term Range Breakout Parameters: Range seen as 107.90 and 104.54.
Upside Risks: Above 108.00 sets a bull trend to aim for 110/48, 111.48 and maybe 113.75.
Downside Risks: Below 104.54 sees a bear trend to target 101.15 and 100.00.
Resistance and Support:
| | | | | |
| --- | --- | --- | --- | --- |
| 107.19 | 107.49/68* | 107.90*** | 108.51* | 108.87 |
| 106.59 | 105.97* | 105.63** | 105.29* | 104.89* |
4 Hour Chart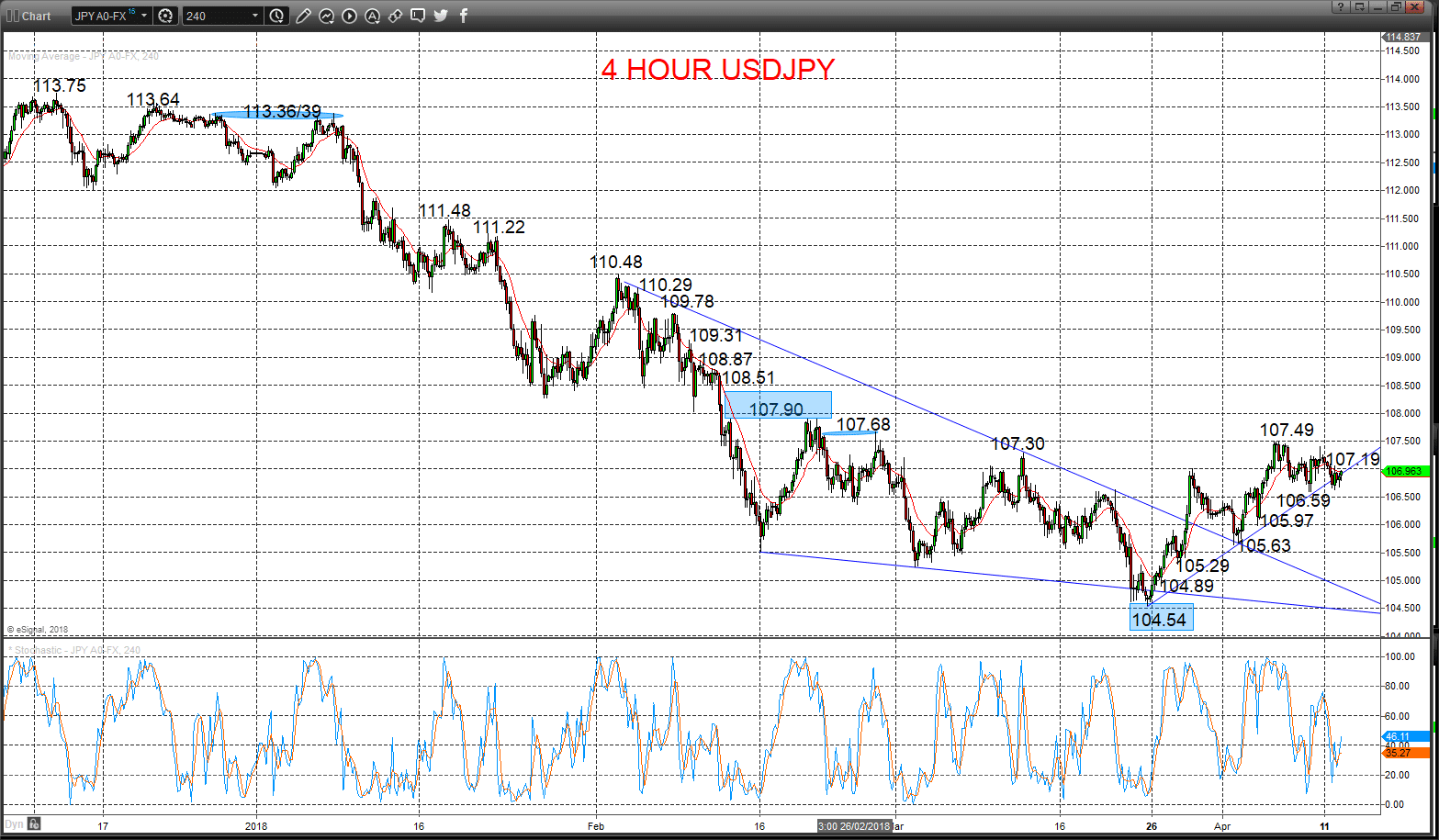 USDCAD
Negative pressures intact after intermediate-term bear shift
Another break lower Wednesday through 1.2584 and 1.2554 supports, sustaining bear pressures from Tuesday's plunge below key 1.2612 support, keeping risks lower for Thursday.
The mid-April surrender of key 1.2613/12 support area shifted the intermediate-term outlook to bearish.
For Today:
We see a downside bias for 1.2507/05; break here aims for key 1.24451.2554 and maybe towards 1.2422.
But above 1.2623 aims at 1.2697 and opens risk up to 1.2771.
Intermediate-term Outlook – Downside Risks: We see a downside risk for 1.2445.
Lower targets would be 1.2247 and 1.2000.
What Changes This? Above 1.2848 shifts the outlook back to neutral; above 1.2944 is needed for a bull theme.
Resistance and Support:
| | | | | |
| --- | --- | --- | --- | --- |
| 1.2623 | 1.2697* | 1.2771 | 1.2819** | 1.2848** |
| 1.2507/05 | 1.2445** | 1.2422 | 1.2362 | 1.2299 |
4 Hour Chart