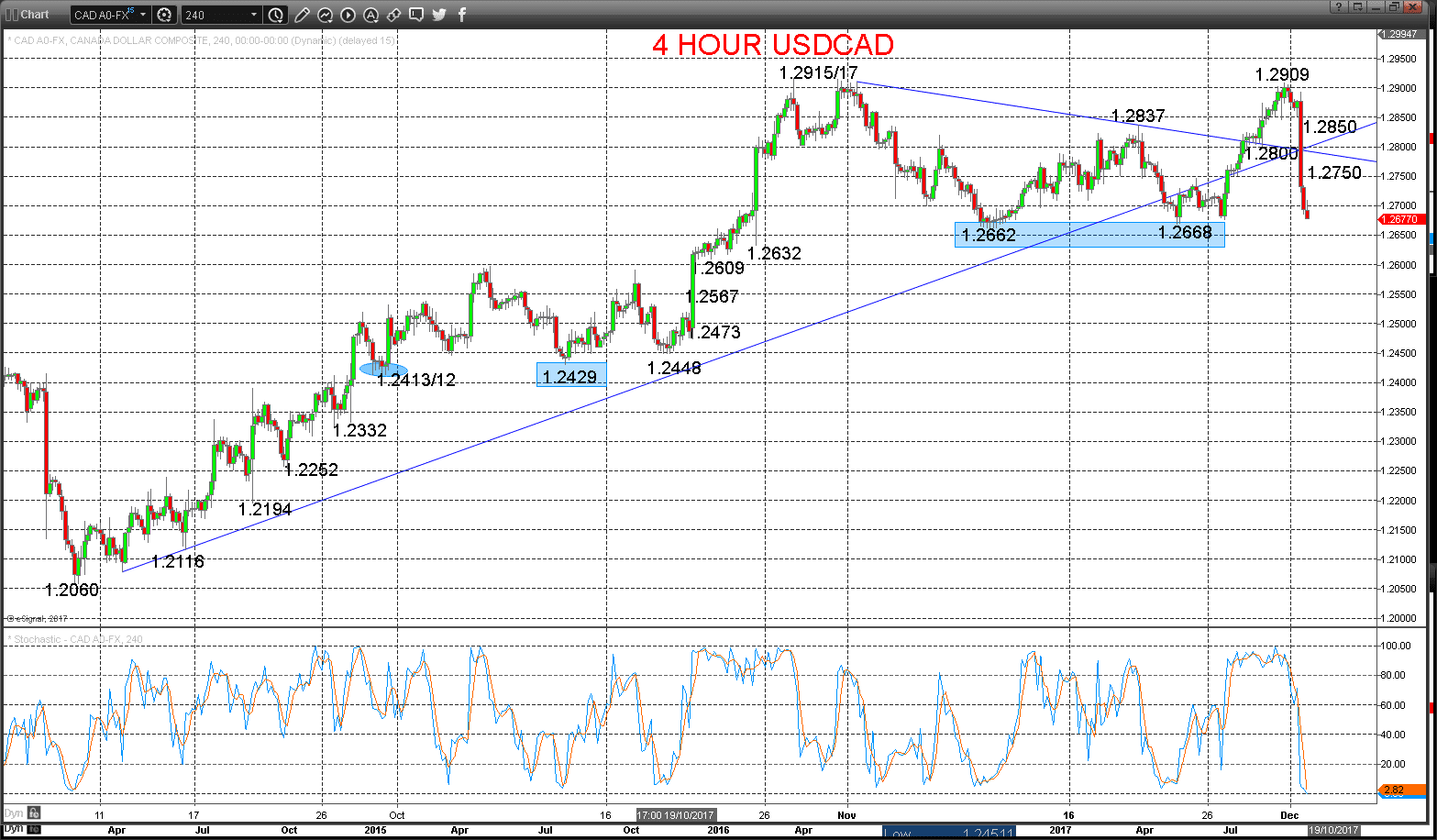 ---
A mixed tone for the US Dollar is emerging across the major G10 currencies and here we highlight a potentially weaker bias for USDCAD, whilst USDJPY aims higher.
The USDCAD intermediate-term outlook remains bullish for now, BUT the short-term outlook is negative, with risk to neutralize the intermediate-term bull theme (below the 1.2668/62 area).
Conversely for USDJPY, the intermediate-term outlook is bearish, BUT the risk is growing for a push higher and to shift to a more neutral intermediate-term outlook (above 113.33).
See all currency forecasts
USDCAD Downside bias
A plunge lower Friday through multiple supports from the latter November rebound, rejecting this up move and flipping the risks to the downside for Monday.
The late October surge above resistance at 1.2778 shifted the intermediate term outlook to bullish, BUT growing risk is for a December break below the 1.2668/62 area, which would see the intermediate term view shift back to neutral (only to bearish below 1.2429).
For Today:
We see a negative tone to target key support in the 1.2668/62 area; below aims for 1.2632, 1.2609, maybe 1.2587.
But above 1.2750 aims for 1.2850.
Intermediate-term Outlook – Upside Risks:
Whilst just holding above the 1.2668/62 area, we see a positive tone with the bullish threat to 1.3015.
Above here targets 1.3347 and 1.3550.
What Changes This? Below the 1.2668/62 area signals a neutral tone, only shifting negative below 1.2429.
Resistance and Support:
| | | | | |
| --- | --- | --- | --- | --- |
| 1.2750 | 1.2850* | 1.2909/15/17** | 1.2930/33 | 1.3000/15** |
| 1.2668/62*** | 1.2632** | 1.2609* | 1.2587 | 1.2473** |
4 Hour USDCAD Chart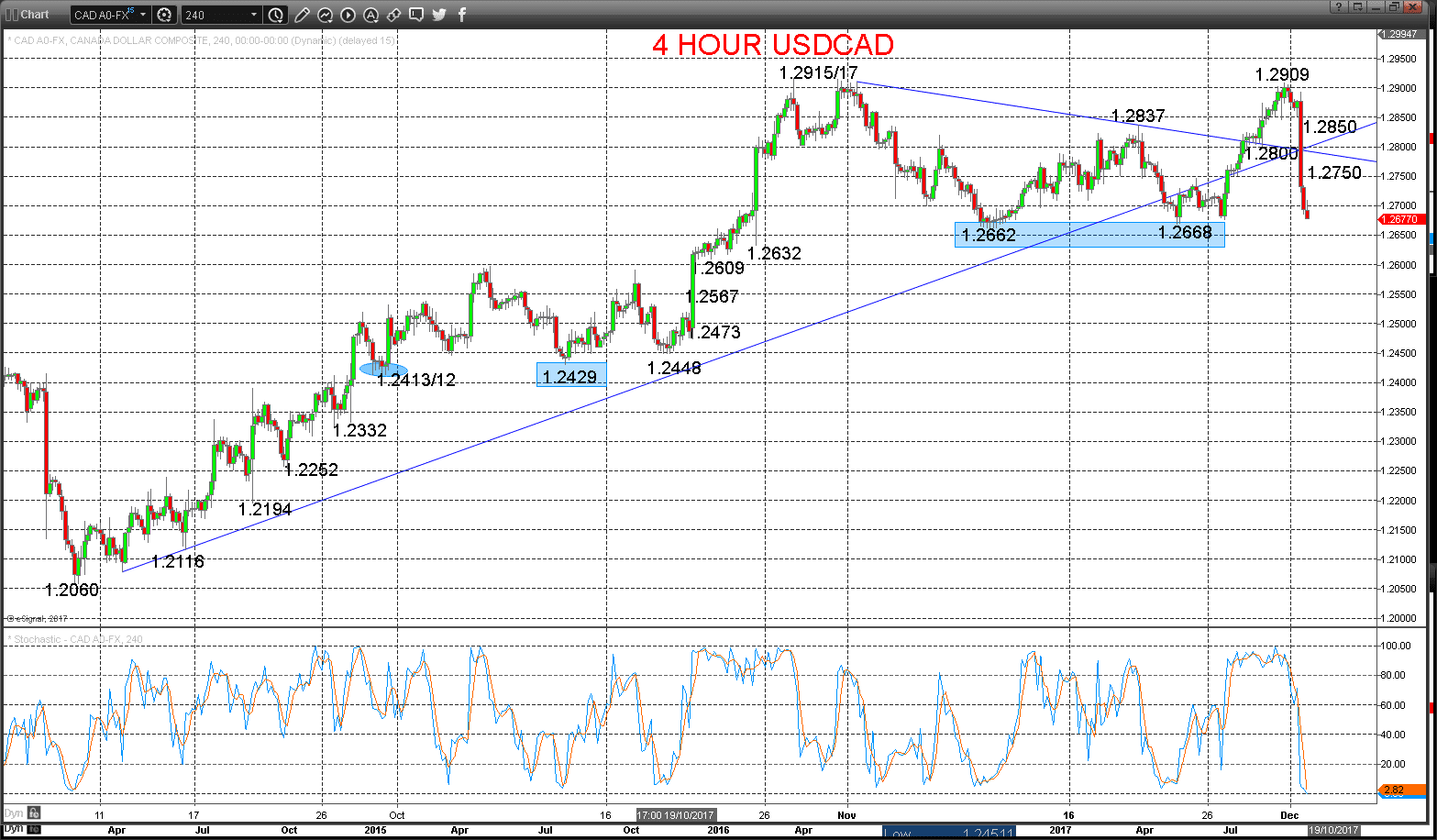 USDJPY Correction bias still higher
A further rebound effort Friday as also seen Thursday through resistance in the 112.69/72 area (building on Wednesday's push up through 111.69) and despite an erratic end to the week with the plunge and rebound from 111.39, we still see the bias to the upside Monday.
The November break below 111.63 completed a bigger top and an intermediate-term bearish shift, BUT risks is growing for a challenge to 113.33. above which would shift the bias back to neutral.
For Today:
We see a rebound bias for 112.88; above here would target the key 113.33 level.
But back below 111.39 sees the bias quickly to 111.12, maybe even 110.82.
Intermediate-term Outlook – Downside Risks:
We see a negative tone with the bearish threat to 110.00.
Below here targets 109.53 and maybe 107.29.
What Changes This? Above 113.33 signals a neutral tone, only shifting positive above 114.73
Resistance and Support:
| | | | | |
| --- | --- | --- | --- | --- |
| 112.88* | 113.33*** | 113.91** | 114.34** | 114.73*** |
| 111.39* | 111.12 | 110.82/75* | 110.32 | 110.00** |
4 Hour USDJPY Chart