---
A far more negative intermediate-term outlook for the US$ against may major currencies so far in 2017, with USD bull themes from November-December 2016 neutralized.
Furthermore, this has allowed for potentially more negative trends to emerge for the US Dollar versus some currencies.
The USDCAD break below 1.2996 in late January has established a far more bearish USDCAD outlook on an intermediate-term basis.
In addition, USDJPY is positioned for an equally negative technical statement, but only confirmed by a break through 111.32.
More technical analysis
USDCAD
A further rebound Friday, but whilst below modest resistance at 1.3160, we see downside pressures from the recent sell-off intact into Monday.
The previous break below 1.3077 neutralised the intermediate-term bull trend, switching to an intermediate-term neutral tone, and we again see risk into February for an intermediate-term shift to bearish (only triggered through 1.2996).
For Today:
We see a downside bias for 1.3044; break here aims as deep as 1.3016, 1.3002 and even critical 1.2996.
But above 1.3160 opens risk up to 1.3250
Short/ Intermediate-term Range Parameters: We see the range defined by 1.2996 and 1.3598
Range Breakout Challenge
Upside: Above 1.3598 aims higher for 1.3837/59 and 1.4000/17.
Downside: Below 1.2996 sees risk lower for 1.2759, 1.2676/51 and 1.2457.
Daily USDCAD Chart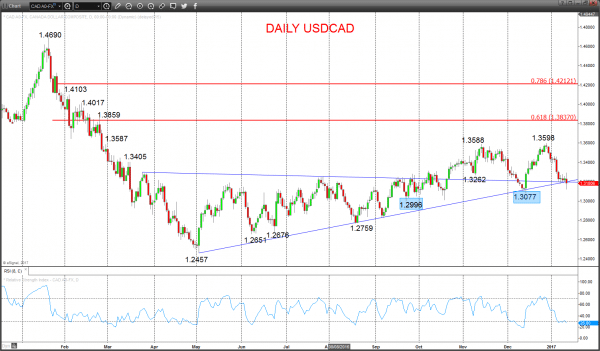 USDJPY
A negative consolidation on Friday after rebound efforts last week were capped below resistance at 1.3126.
We therefore, still see negative pressures from the January sell-off through the key 1.2996 level into Monday.
The end of January plunge though 1.2996 set a bearish intermediate-term outlook.
For Today:
We see a downside bias for 1.2965/55; break here aims at 1.2906, maybe 1.2847
But above 1.3126 opens risk up to 1.3169, maybe 1.3250.
Short/ Intermediate-term Outlook – Downside Risks:
We see a negative tone with the bearish threat to 1.2759.
Below here targets 1.2676/51 and 1.2457.
What Changes This? Above 1.3387 signals a neutral tone, only shifting positive above 1.3598.
Daily USDJPY Chart