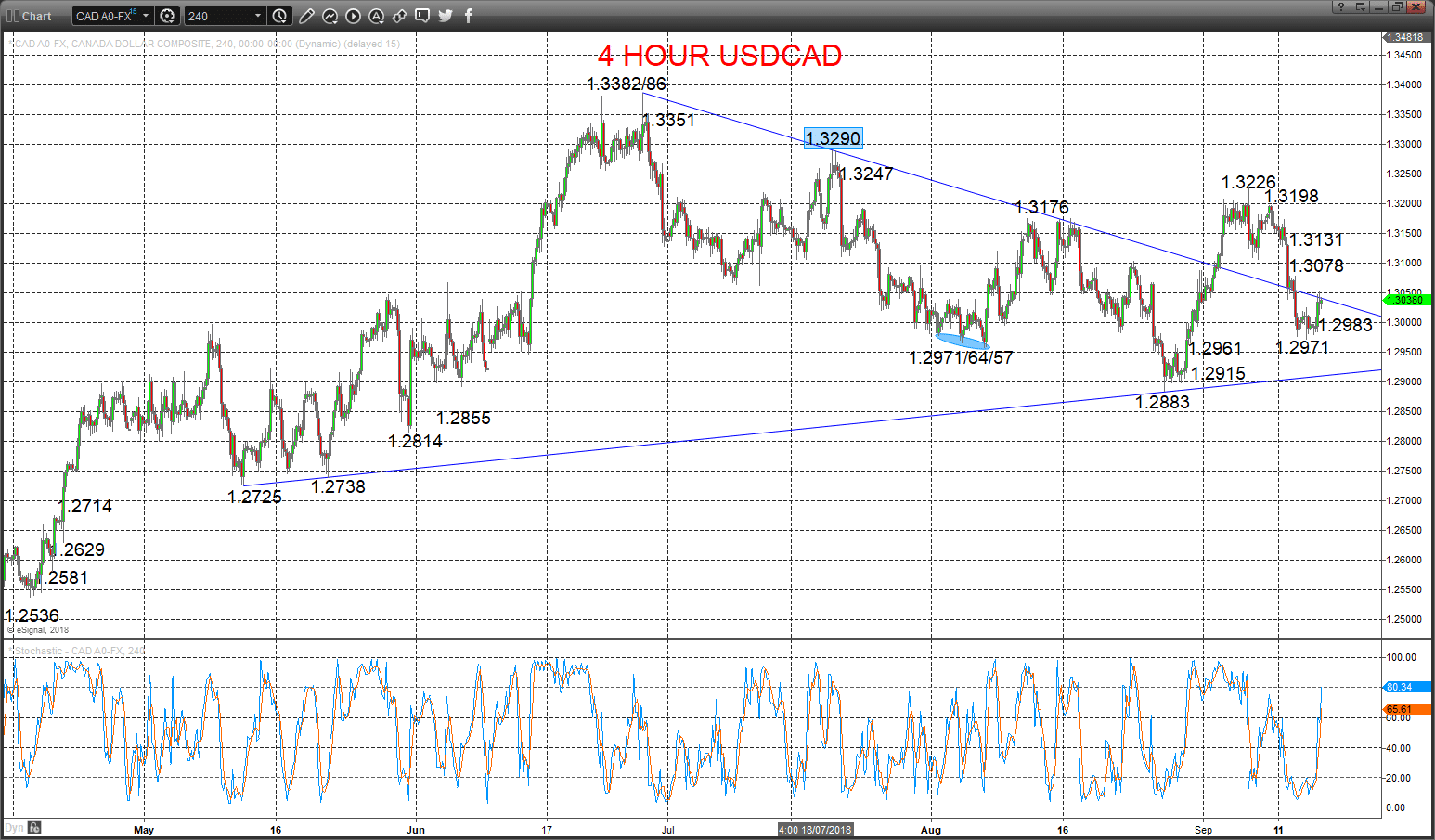 ---
An improving backdrop to the US-Sino trade war has seen global asset classes shift towards more of a "risk on" environment, which has seen broader US Dollar weakness, BUT then an even weaker Japanese Yen.
The USDCAD currency intermediate-term bearish view has been reinforced by the recent selloff into mid-September, down from below a key resistance at 1.3290, sustaining the intermediate-term bearish theme into late Q3.
With respect to the USDJPY Forex rate, the shift to "risk on" has allowed for a probe above key 112.15, to shift the intermediate-term outlook from bearish straight to bullish.
USDCAD Negative theme intact
A rebound Friday but whilst contained by 1/3078 resistance we still see downside pressures from the Tuesday-Thursday plunge lower through numerous supports, keeping risks lower Monday.
We see an intermediate-term bearish theme.
For Today:
We see a downside bias for 1.2983 and 1.2971/61; break here aims for 1.2915 and key support at 1.2883.
But above 1.3046 aims for 1.3078 and maybe opens risk up to 1.3131.
Intermediate-term Outlook – Downside Risks: Whilst below 1.3290 we see a downside risk for 1.2814.
Lower targets would be 1.2725 and 1.2536
What Changes This? Above 1.3290 shifts the intermediate-term outlook straight bullish.
Resistance and Support:
| | | | | |
| --- | --- | --- | --- | --- |
| 1.3078 | 1.3131 | 1.3198* | 1.3226* | 1.3290*** |
| 1.2983/71/61 | 1.2915 | 1.2883** | 1.2855** | 1.2814** |
4 Hour USDCAD Chart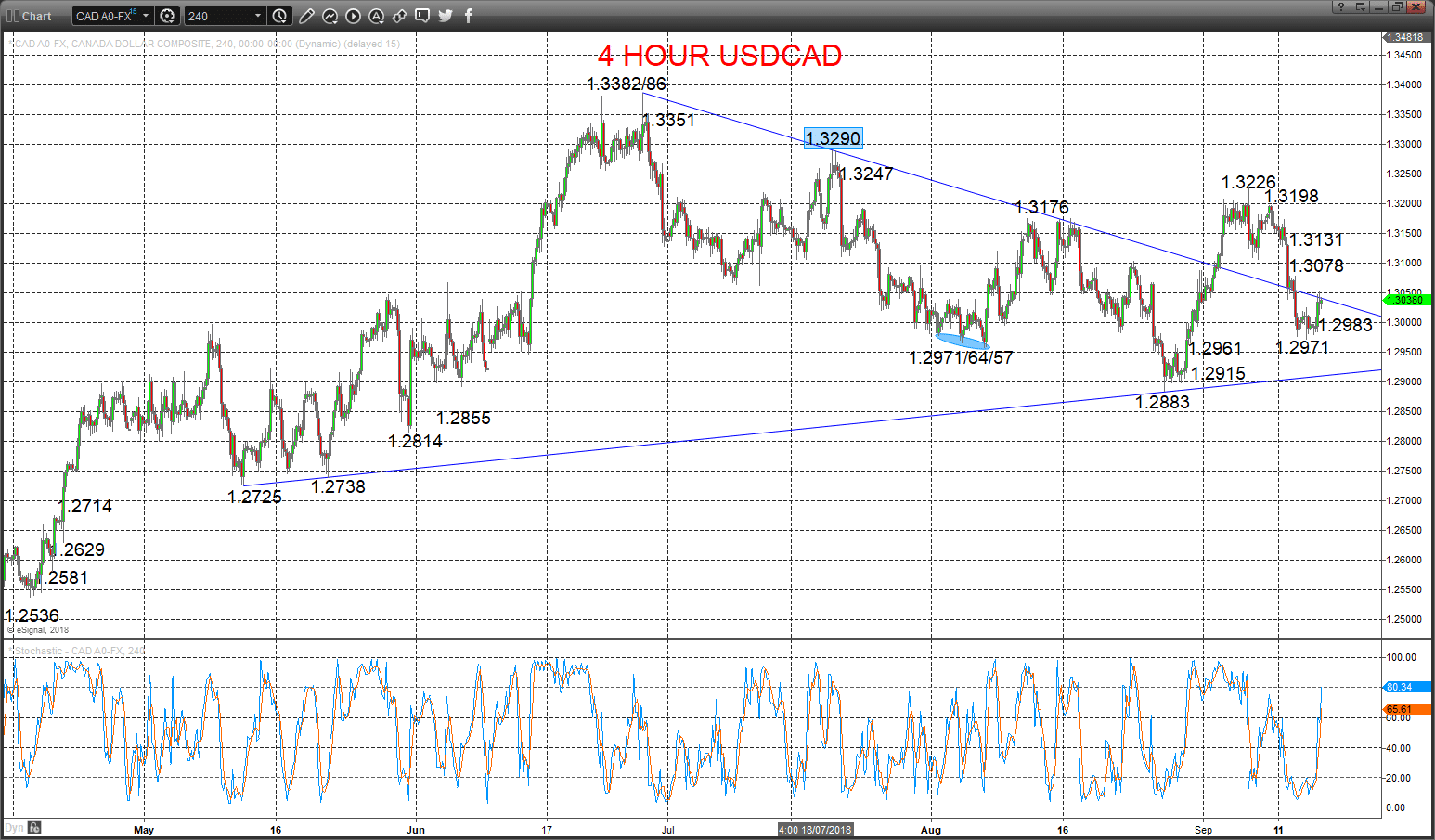 USDJPY Intermediate-term bull shift above 112.15
We have stressed in September reports that "growing risk is for an intermediate-term shift to bullish above 112.15" and the Friday push above here sets an intermediate-term bull trend.
This positive price action also sets risks higher into Monday.
For Today:
We see an upside bias for 112.17, above aims towards the 112.55/60 area, possibly closer to the key 113.14/18 cycle peaks.
But below 111.73 opens risk down to 111.35 and maybe towards 111.09/01.
Intermediate-term Outlook – Upside Risks: We see an upside risk for xxxx.
Higher targets would be xxxxxxxx, xxxxx and xxxxxx
What Changes This? Below xxxxx shifts the outlook back to neutral; through xxxxxx is needed for a bear theme.
Resistance and Support:
| | | | | |
| --- | --- | --- | --- | --- |
| 112.17 | 112.55/60* | 113.14/18** | 113.55 | 114.00/03 |
| 111.73* | 111.35 | 111.09/01** | 110.71 | 110.36** |
4 Hour USDJPY Chart