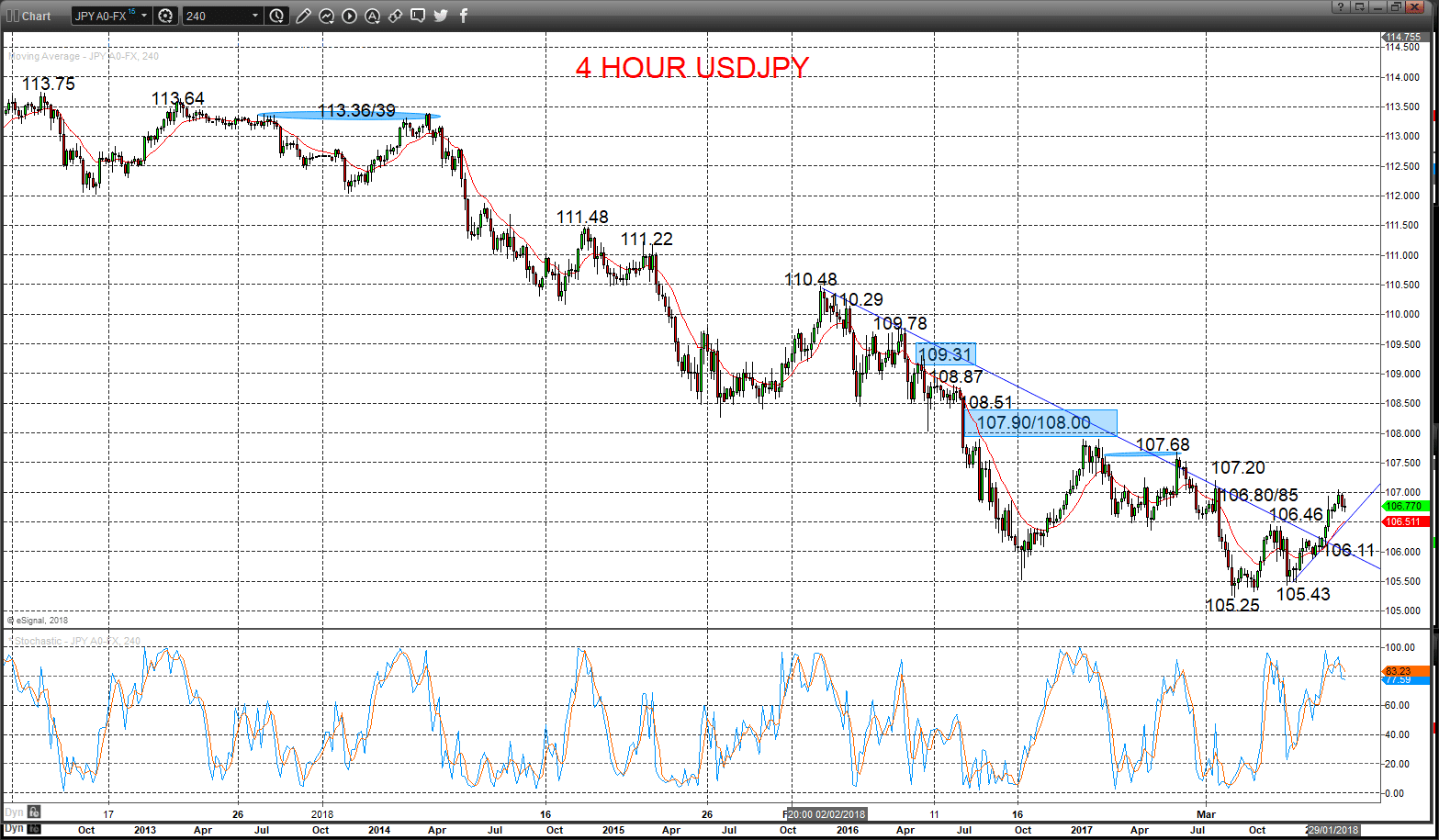 ---
The past week has seen a renewal of a "risk on" environment across multiple asset classes, highlighted by the price action after Friday's US Employment report, with the bearish themes from a global trade war and a more hawkish FOMC dissipating.
For the US Dollar, a modest weakening against Major currencies has emerged, although the start of a potential strengthening against the Japanese Yen, the "go to" safe haven currency.
Although the US$ has setback against most major currencies in the past week, USDJPY has begun to rebound, threatening a small base and maybe a better recovery tone.
The US Dollar has rallied significantly against the Canadian Dollar from February, with the threat of a trade war and the implementation of tariffs by the US, BUT negative USDCAD price action over the past week, leaves USDCAD open to a deeper, corrective setback through mid-March.
Read more technical analysis.
USDJPY
Upside correction bias
A prod higher Friday above 106.46, 106.80/85 resistances and significantly the down trend line from early February (as we had flagged), to build on Wednesday's intraday bounce from 105.43, setting the bias higher Monday.
The mid-January selloff below 112.01 produced an intermediate-term bearish shift.
For Today:
We see an upside bias for 107.05; break here aims for 107.20, maybe for 107.68.
But below 106.11 opens risk down to 105.70 , possibly then for 105.43, 105.25 and 105.16.
Intermediate-term Outlook – Downside Risks:
Whilst below 108.00 we see a bear theme with the downside threat to 104.93,104.06 and 101.15.
What Changes This? Above 108.00 signals a neutral tone, shifting bullish below 109.31.
Resistance and Support:
| | | | | |
| --- | --- | --- | --- | --- |
| 107.05 | 107.20** | 107.68** | 107.90/108.00*** | 108.51* |
| 106.11 | 105.70 | 105.43 | 105.25/16** | 105.00/104.93*** |
4 Hour Chart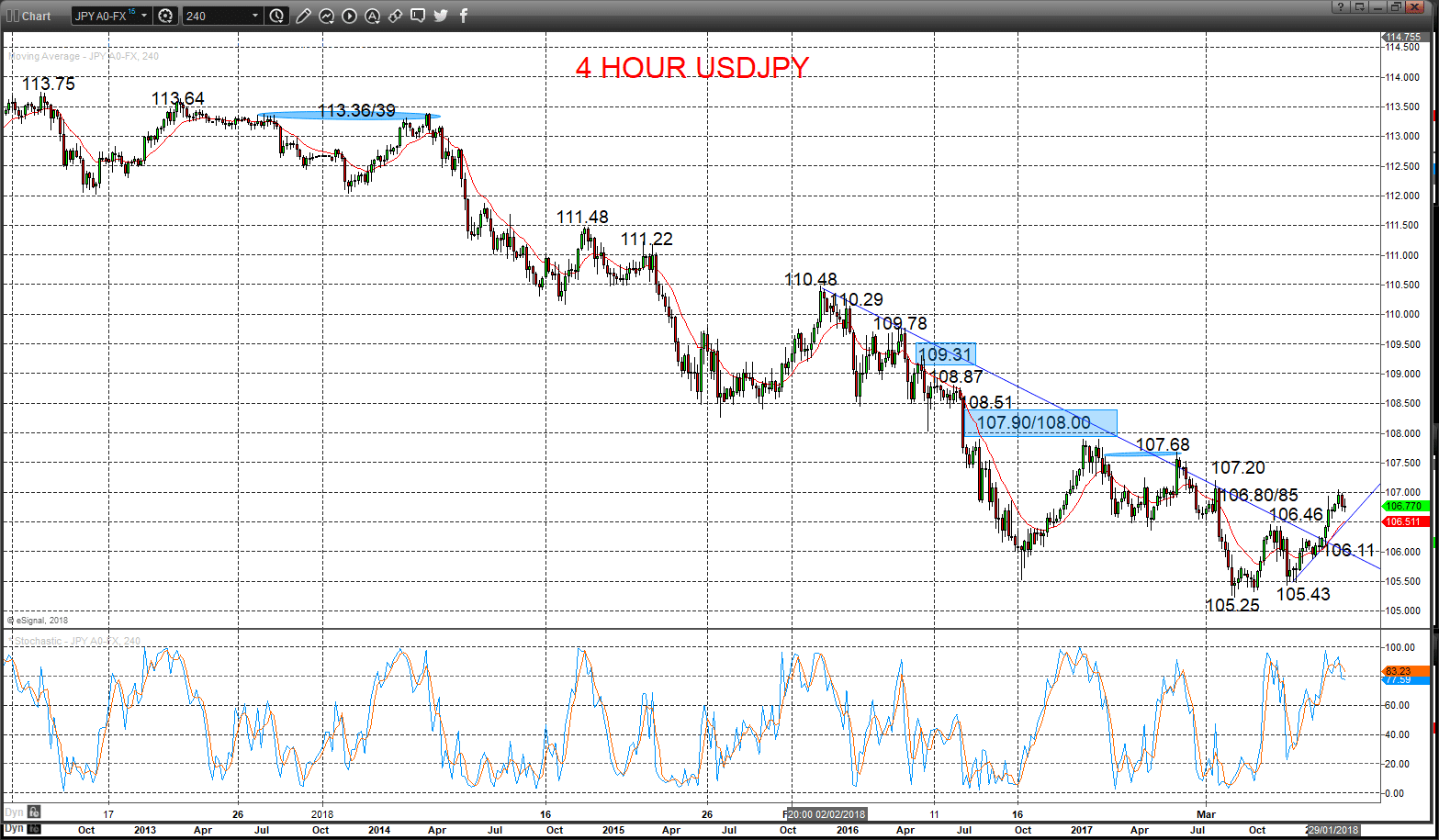 USDCAD
Deeper downside correction bias
A more significant setback Friday as we had been looking for through the 1.2861/53 support area, reinforcing the failure last week back from the new cycle high (set Tuesday) at 1.3001 (from 1.2961), to keep the bias for a deeper correction lower Monday.
The latter February break above 1.2728  set a bullish intermediate-term view.
For Today:
We see a downside bias for 1.2805; break here aims for 1.2758, maybe 1.2727.
But above 1.2853 opens risk up to 1.2891 and maybe towards 1.2961.
Intermediate-term Outlook – Upside Risks:
Whilst above 1.2612 we see a positive tone with the bullish threat to 1.3000/15 and 1.3347.
What Changes This? Below 1.2612 signals a neutral tone, only shifting negative below 1.2445.
Resistance and Support:
| | | | | |
| --- | --- | --- | --- | --- |
| 1.2853 | 1.2891* | 1.2961* | 1.3001** | 1.3051 |
| 1.2861/53* | 1.2805** | 1.2758** | 1.2758* | 1.2727 |
4 Hour Chart